News: Not officially, but this is probably the real deal.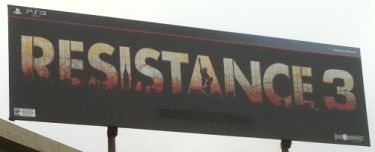 Sony's Columbia Pictures will be releasing a movie called
Battle: Los Angeles
on February 18, 2011. The sci-fi action flick will feature an alien invasion of Los Angeles and the Marines, lead by Aaron "Two-Face" Eckhart, who fight back. The movie is currently filming in Shreveport, Louisiana and an intrepid NeoGAF user got an interesting eyeful of the set.
NeoGAF user "goldsoundz" took the picture of the billboard you see above for
Resistance 3
. The in-movie ad also reveals that developer Insomniac Games is hard at work on the third game in the series and that it will be coming to the PS3 (looks like 2011 is still too early for the PS4).
The logo for the game also includes silhouettes of the Statue of Liberty and the Empire State Building, so it's more than likely that the game will take place in New York.
But the big question is, is it real?
It's not unheard of for companies to slip fantasy advertisements into the background of big movies. For example, 2007's
I Am Legend
famously featured a movie poster advertising the long-dead
Batman vs Superman
film.
But the Resistance series is one of Sony's biggest on the PS3 and a third game in the series is almost assured. So the only real question to ask is, will it really be set in New York? Because Resistance 3 on the PS3 is more or less a certainty.
As long as I'm making educated guesses, it's possible the game could be released as early as 2010. Insomniac has alternated between developing a Resistance game and a Ratchet & Clank game since 2006. With
Ratchet & Clank Future: A Crack in Time
releasing this year, 2010 would be a Resistance year if the same schedule is followed. But that's all speculation at this point.
Larger images of the billboard can be found at NeoGAF and we will definitely have more soon.
source: NeoGAF