Hands-On Preview: This preview contains ZERO ?Why? Just Cause, too!? jokes. Read without fear.
You've refined every breakable object into fine Mars dust and finally put down the hammer-smashing game Red Faction Guerrilla. You've moved on to the second and final GTA IV expansion pack, The Ballad of Gay Tony, in which you're saving your in-debt and drug-addicted boss as Luis Lopez. As fulfilling as this gaming experience is, it's still just an expansion of an existing game and won't last you too far into the new year. So, which sandbox video game will suit your open-world appetite in 2010?
According to Square Enix and Swedish developer Avalanche Studios,
Just Cause 2
will be the sandbox experience that stands out among the delayed-to-2010 crowd and, to see that for myself, I playtested it in Los Angeles.
No one will blame you if you haven't thought about the first Just Cause since its 2006 release. But, if you played even a minute of that game, you'll quickly recall the stunt-filled shooting gameplay and all of its high altitude BASE jumping into jungles. The sequel has even more over-the-top game physics that'll sidetrack you from the main missions. This time, however, it takes advantage of the greater resources of current consoles and PCs so that the action looks even more dynamic. Yes, the first game was released on the Xbox 360, but it was built for the PS2 and the original Xbox in mind. Now, it's being designed from the ground up for the Xbox 360, PS3 and newer PCs.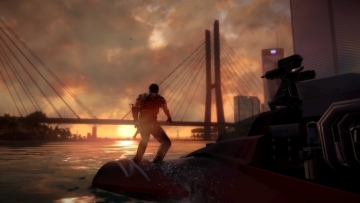 Just Cause 2 steps into the next generation and looks exceptional. The stepped-up physics of the Avalanche Engine 2.0 perfectly combine with the grappling hook and parachute of returning protagonist Rico Rodriguez, resulting in constant awe and laughter at what's happening on the screen. Grappling enemies, for example, is not just about pulling them toward you. That beginner's move is quickly outshined by harpooning one enemy and then hooking a second bad guy with the other end of the rope, violently and comically tying the two together.
Besides grappling enemies and lightweight objects and then pulling them toward Rico, it's possible to hookshot to new heights and extreme distances, making him seem like Spider-Man minus tights. But, this game goes beyond slinging to tall buildings. It's essential in one mission to grapple to the tops of speedily moving vehicles and, like Pursuit Force on PSP, unbelievably hop from car top to car top until reaching the lead 4X4. This doesn't go unnoticed, of course. Enemies immediately hang out of the windows of this target vehicle as well as the convoy trailing behind it.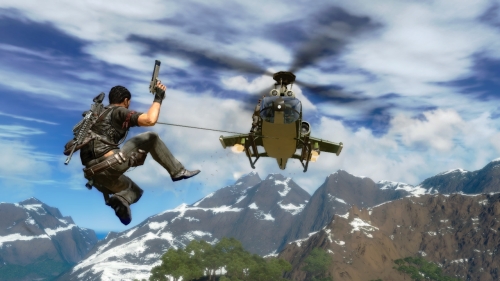 The situations Just Cause 2 put me in were reminiscent of the cool scripted scenes of Time Crisis 2. However, my latching onto the roof of a moving jeep and taking out enemies was entirely dynamic and my choice. I just happened to shoot an enemy hanging out the passenger-side window of a 4X4 and one of the pursuing jeeps carelessly ran him over as he tumbled onto the freeway. That's Time Crisis to a T, but it happened randomly, not on rails.
At this point, I found another use for the grappling hook. Enemies can be attached to moving vehicles, cruelly being dragged by one of their own drivers. Normally, grappling them doesn't always mean killing them, but this method is a sure way to execute pesky enemies. As soon as every enemy is shot, run over or flailing from the 4X4, it's time to pull the driver out of the seat by pressing the standard-issue GTA Y button. As soon as he's ripped out and flung, you take the wheel, but the chaos isn't over. You still have to outrun more tailing enemies while attempting to manipulate the loose physics brought on by the mountainous terrain.
Vehicles in Just Cause 2 spin out of control as much as they did in the first game. Luckily, there are more than 100 different types, so there's no dearth of vehicles or vehicle variety. In addition to having plenty of cars at his disposal, Rico is fortunate enough to always have a packed parachute, making it easy to exit a car if, say, he happens to be in it while it's falling hundreds of feet off the side of a cliff. Pressing the A button on an Xbox 360 controller when airborne pulls the virtual ripcord and allows him to slowly sail back to the ground.
It's thrilling to parachute drop in on an area that's teeming with clueless enemies. However, I still felt like I was parachuting into San Esperito, the first game's fictional South American island. Conversely, the sequel is set halfway around the world on the fictional Southeast Asian island of Panau. Behind the prominent jungle layers, I was able to spot a few differences. Certain buildings of Asian architecture, regional accents from people shouting at me after I almost ran them over, and playable tuk-tuk vehicles, which are sure to be unstable and undeniably fun to drive.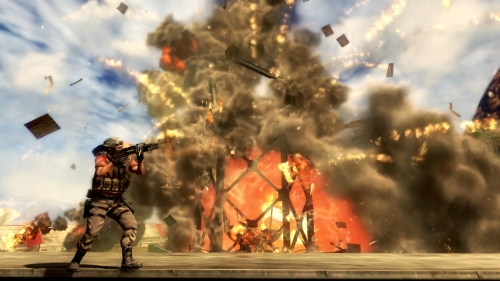 The Panau jungle gives off the same vibe as the first, but the developer brought about one big and tall change: everything is built up, like New York City is to Los Angeles. The total size of the island in Just Cause was impressive for 2006, but Just Cause 2 adds intimidating mountains, skyscrapers and radio antennas that dwarf the previous jungle environment. Additionally, this makes parachuting from the tallest points a guaranteed way you'll be distracted from completing the missions. And, you'll love every second of it.
Another time-waster is going to be the array of stat tracking. Meaningless data is calculated every time you drive a new vehicle type, freefall from a record distance, parachute climb to new heights, perform headshots and so on. All meaningless in the greater scheme, but like Achievements, irresistible nonetheless.