News: Characters from CrimeCraft, Dante's Inferno and Mafia II also make cut.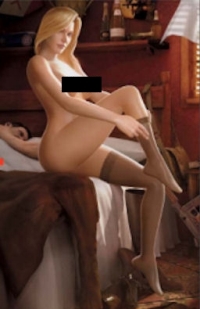 It's the end of the year and that means that Playboy's annual girls of gaming pictorial is ready to take over the pages of the January/February issue of the men's magazine.

Six developers have supplied Hugh Hefner's media empire with images of their leading ladies in various stages of nakedness. This year's "Playing Hard To Get" selections include women from some of 2009 and 2010's biggest games:


Lolita Cheng from Vogster/THQ's CrimeCraft

Beatrice from Visceral Games/EA's Dante's Inferno

Hecuba Manaros from Sony Santa Monica/SCEA's God of War III

Madison Paige from Quantic Dream/SCEA's Heavy Rain (pictured below)

Bella Antonelli from 2K Czech/2K Games' Mafia II

Skylar St. Claire from Pandemic/EA's The Saboteur (pictured to your left)





Interestingly, these characters definitely seem to come from a better class of game than is usually found in Playboy's annual article. Although, characters from God of War II and Quantic Dream's previous game, Indigo Prophecy made the cut in previous year.




More about the article (including more images) can be found at Playboy.com (this link is obviously not safe for work). You can also read up on covergirl Tara Reid and Playmates Jaime Faith Edmondson and Heather Rae Young. Reading, yup, that's what you'll be doing.

But if you just want to see all the pictures, Burn360 has censored versions up, but seeing these characters with a cartoon teddy bear covering their shame is more than a tad... let's go with weird.