Written by
GT Staff
on
December 31, 2009
Special: Here's the fourth part of our look back on our Favorite Games of 2009.
Part 1 | Part 2
Part 3 | Part 4
The Best of the Best
The end of the year is nigh. And while 2009 wasn't the best year for the video game industry (what with all the studio closures, game delays and lowered sales), there was still plenty of great new games released. And they need to be honored.
So sit back and relax as the editors of Gaming Target take you alphabetically through our favorite games of 2009...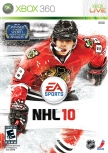 NHL 10
Platforms:
PS3, Xbox 360
Publisher:
EA Sports
Developer
EA Canada
Release Date:
September 15, 2009
"There aren't any mini-games and there's certainly no arcade play. That's never been what EA's hockey series has been about. NHL 10, like its predecessors, puts the emphasis on realism." - Matt Swider
Read the Full Review

OutRun Online Arcade
Platforms:
Xbox 360
Publisher:
Sega
Developer
Sumo Digital
Release Date:
April 15, 2009
"As a port of OutRun 2 SP (a game of rather recent vintage), OutRun Online Arcade features few changes beyond the cosmetic touchups needed to make the graphics high definition. Not that that's a bad thing. OutRun 2006 was a fantastic game that spent a good deal of time in my PS2 and OutRun Online Arcade retains the slick arcade racing gameplay of its predecessor. And seeing as how the game has never looked prettier, what's not to love?" - John Scalzo
Read the Full Review

Peggle
Platforms:
Xbox 360, PS3
Publisher:
PopCap Games
Developer
PopCap Games
Release Date:
March 11, 2009 (Xbox 360) / November 19, 2009 (PS3)
"Overall, the [Xbox 360/PS3] edition of Peggle has turned out to be the most feature-packed version of the game yet. It is nearly impossible to describe why all of the above is as addicting as it is, so if you haven't tried Peggle, I beg you to download the demo to see what you have been missing. At only 800 Microsoft Points/$10, this game is a steal that will provide countless hours of enjoyment for players of all ages." - Joe DeLia
Read the Full Review
The Saboteur
Platforms:
PC, PS3, Xbox 360
Publisher:
Electronic Arts
Developer
Pandemic Studios
Release Date:
December 8, 2009
As Pandemic's swan song, The Saboteur could have been a throwaway, incomplete game, but no, you get a full package of quality sandbox gaming in a familiar era - World War II - but in a completely different way. Instead of doing battle on the front lines of the Great War, you end up playing a wise-cracking thorn in the side of our favorite whipping boys, the Nazis, in a desperate attempt to liberate France. A fun story of one man's revenge against one single Nazi, along with hundreds of sabotage-based sidequests and the unique black-to-color visual style make Saboteur one of the most interesting and entertaining games of the year, albeit a bittersweet ride for Pandemic. At least they went out with one of their most unique and inspired games. - Adam Woolcott