Hands-On Preview: None of the 7 reasons contain VII as a reason.
Also Read:
Matt Swider's interview
with the legendary Final Fantasy XIII development team at Square Enix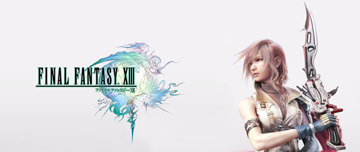 The number 13 is almost universally considered unlucky, but for Square Enix and its flagship franchise, Final Fantasy XIII is bound to be another million-plus seller on March 9. That's day one for the U.S. version of the game. Gaming Target was given the afternoon to play test it in English at Square Enix's Los Angeles offices, so we can tell you first hand why you don't want to avoid this superstition-free title and why it'll be next month's most popular videogame.
Reason 1: PS3, Xbox 360 (superior systems, fresh audience)
Generally, FFVII and FFX are considered the highlights of this successful JRPG series, and, in both cases, they were the debut FF games for their respective systems, PlayStation and PS2. Likewise, Final Fantasy XIII marks the debut of the franchise on Sony's third console, PS3. By premiering on such a high-end system, FFXIII is open to similar benefits of new gamers and more advanced technology. At the same time, it's also the first story-based Final Fantasy game to appear on the Xbox 360. While 360 owners did receive FFXI, it was an MMORPG and one that released two years after the PS2 version. Again, a fresh set of players and hardware that's leaps and bounds better than the previous generation.
Reason 2: HD Graphics from the ground up
Continuing with the game's sequence of firsts, FFXIII is the first FF to be developed from the ground up for high-definition consoles. From our time with the nearly complete English version, we got to experience a portion of the Pulse underworld, an open field ripe for battle. It was full of detailed enemies, including large-sized Behemoth Kings and massively-sized Adamantoise. But as rich as these animated beasts looked while roaming through the vast grass environment, it pales in comparison to what we didn't see in the demo. That's what has us excited the most. Besides Gran Pulse, the game boasts another world, Cocoon. It contrasts with Pulse in that it's a high-tech, man-made city built above the forest underworld. Because a majority of the countless hours you'll put into FFXIII take place in Cocoon, there's a lot we have yet to discover.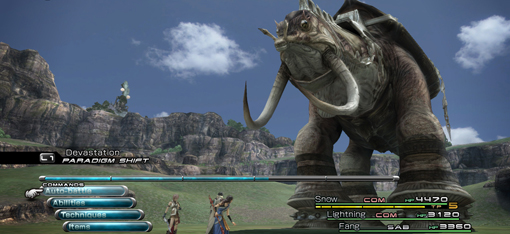 Reason 3: Enemies
Within one minute of sitting down in front of the PS3 and Xbox 360 running FFXIII on top of a long boardroom-style table at the Square Enix offices, we were battling with our first two enemies. The fierceness of the beasts gradually increased, as we were initially greeted by a pair of straightforward Gorgonopsids. This should've been an uncomplicated enemy encounter, but taking them on without preparation didn't end well. Having to start over right away was a quick reminder that FFXIII isn't a mindless menu-advancing game that requires zero thought.
Defeating both Gorgonopsid A and Gorgonopsid B, we moved on to an enemy who wasn't light in its look or name: The Behemoth King. It's safe to say this aggressive monster took more than one try to defeat and demanded that we properly learn how to use the new Paradigm Shift to switch roles during battle and heal, heal, heal.
The Behemoth King was as frighteningly detailed as he was powerful, but he's not the only gigantic enemy we saw roaming the Pulse prairie. As soon as we defeated him, seemingly seven hours later, we approached an Adamantoise, an enemy that's the scale of an AT-AT walker from Star Wars. Although we were bound for defeat by taking on this monster whose single foot dwarfed us and subsequently smooshed Lightning, we had to test our limits. What's even scarier than dying in an instant is that we're told that there's Super Adamantoise out there.
Reason 4: Paradigm Shift battle system
Even enemies like Adamantoise have weaknesses, and properly exploiting them and using the revamped battle system's new Paradigm Shift are the keys to success here. The localized English version of FFXIII allows players to pick the following character roles: Commando, Ravager, Sentinel, Synergist, Saboteur and Medic. Their names are slightly different in the already-released Japanese version, but perform the same job functions. So, Commandos still perform melee attacks, Ravagers arrive with the same magic move set and Medics come through with clutch healing powers.
With three characters, each with their own job, in a player's party, they combine to form a Paradigm and a Paradigm Shift is when you switch the combinations on the fly during battles. Since FFXIII is a JRPG that uses real-time and turn-based combat, it uses a series of menus that players have to get used to navigating. Thankfully, battles begin with a limited number of options and tutorials take rookies through the deep Paradigm and Active Time Battle systems. The best part is that once a player has the hang of setting up Paradigms and using them at opportune moments, battles can become streamlined and not as heavily weighed down in menu selection.
Reason 5: The Story (Have you seen the English trailer?!)
Even if you haven't played a Final Fantasy game before, just watching the four-and-a-half minute trailer instantly conveys how dramatic the story's events play out. Since the game takes dozens of hours to play through and the combined videos are the length of most normal video games, you can expect a lot of emotional moments from FFXIII.
Reason 6: Lightning is the type of character who hasn't struck FF before
Lightning isn't your typical female Final Fantasy character because she doesn't act like a damsel in distress. Director Motomu Toriyama says, ?For Final Fantasy XIII, Lightning is not only beautiful, but she's very strong. She has this independence. In battle, she's very graceful in her movements, but she's very powerful and she's very speedy.?
Not only does she hold her own, she holds a weapon that can switch between a gun and a sword called the Blaze Edge. As much as Lightning acts as a lone she-wolf, she isn't completely heartless. She cares for her sister after the death of their parents, as her creators didn't want her to seem too cold. As Motomu Toriyama pointed out, ?In the beginning, though, her strength was a lot more apparent. It came on a little bit strong. She didn't care as much for the other characters. She was a little rougher around the edges. But, as the story developed, [Character Designer] Tetsuya Nomura really wanted to be a little more careful about depicting the softer, compassionate side. So, she developed that way more fully into a character.?
Reason 7: Easy to get into, difficult to master
As I said in the beginning of this piece, FFXIII is going to be accessible by a new set of players thanks to its release on the new PlayStation, and for the first time for a story-based FF, the Xbox 360. With this in mind, Square Enix built the game to appeal to everyone who desires a quality JRPG. Legendary Final Fantasy Producer Yoshinori Kitase added, ?The story and the characters are completely separate, so you don't really need to have played a previous Final Fantasy to enjoy the next. Especially with Final Fantasy XIII, the battle system is completely renewed. It's something that's different from what Final Fantasy fans may be used to. Because it's so new, it might take fans some time to get used to. But, they've placed a lot of tutorials in the earlier portions of the game and placed a lot of steps.?
We noticed this delicate balance every time we died during our many battles with the Gorgonopsids, Behemoth King and Adamantoise. On the one hand, it took time and effort to defeat these aggressive monsters. However, on the other hand, our lead character Lightning always restarted in a spot that was near the enemy that caused her demise. This made it easy to jump back into battles for a rematch. We were told that this was a design decision that would appeal to new players.
Square Enix has always been capable of offering new experiences, convincing plots and gameplay that may be difficult at first, but provides an adventure that millions of people invest dozens of hours into for weeks at a time. Final Fantasy XIII looks to be no different when it launches March 9.