First Impressions: Only you can save Dotnia from peril!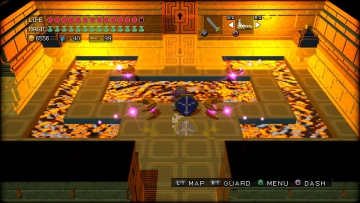 Having followed every piece of information on 3D Dot Game Heroes I could get my grubby mitts on, I was excited to be a part of Atlus' recent web demonstration for the game. In my imagination, the game was going to be epic: a throwback to those open-world games of yore with that nostalgic music and simple storyline mingled with incredibly detailed game design, all updated with glamorous new graphics and creative new ways to make your character truly your own. I've tried to stop thinking about it, because May is still very far away, but at least today I can say: it looks like my dreams have come true.
The first thing Aram Jabbari, Manager of Public Relations and Sales at Atlus, showed us in the web demo was the character creator. He built a quick character ? a simple 2-dimensional smiley face ? and briefly introduced us to the different options, including the ability to customize your character depending on what he's doing ? standing, walking, attacking, etc. He also pointed out that it was possible for you to play the game as a single pixel, an idea that hadn't crossed my mind but sounded hilarious (imagine that giant sword spinning out from a single pixel!). There's even a special preview space to ?test out? your newly created character and allow him to frolic about and see his different poses. For the uncreative out there, fear not ? there is a large pool of default characters to choose from, including, but not nearly limited to, Santa Claus, a ninja, and
a shark
. But for those of you who want to create and share, you can save your characters to a USB drive and upload them to a hub site.
After that, Aram walked us through the beginning of the game. Right from the start, the writing has a delightful sheen of irreverent humor, interpreted as closely as possible from the original Japanese. While taking us through the introduction, we were also given a brief overview of the three main character classes ? the Prince, the Hero, and the Scholar. The campaign length will vary ? seasoned veterans will be able to finish the game in around 12 hours, but those of us interested in side quests, mini-games (of which there are a plethora), and replaying the game (after unlocking ?From? mode, the hardest difficulty) will be looking down the analog sticks at 20-30 hours of gameplay.
Once he was done showing us some of the introduction and killing some bunnies ? which he assured me were not nice bunnies ? Aram took us through a bunch of loading screens and challenged us to figure them out. Populous, Smash TV, Galaga, and Legacy of the Wizard were just a few of the referential images that popped up before our adoring eyes. From there, he jumped into a saved game and took us right into a dungeon further along in the story. (The much darker feel of this area prompted one journalist to say, ?Is this pure black world tendency??) The boss was easily dispatched, and I learned some of the best news I got all day: bosses can also be captured into your bestiary just like any other enemy ? by attacking them with the book itself. The last part was a demonstration of the mini-games, my favorite of which was called ?Block Defense.? This tower defense mini-game allows you to set up towers along a path to kill enemies and collect coins and experience. Like everything else I'd seen, it was nostalgic, clever, and absolutely adorable.
In addition to all of the amazing gameplay, there was an inundation of new information. The North American version will have an optional hard drive install, which means faster load times ? a good thing for the impatient, but a bad thing for people affectionately looking forward to spending their loading times with the whimsical images. However, the loading screens will be available in a gallery, so all is not lost. Some of them were made specifically for the NA release, as were some of the custom characters, including the three mentioned above. In addition, the tower defense stages ? previously only available as DLC in the Japanese version ? will be included as well.