Hands-On Preview: Make your momma proud.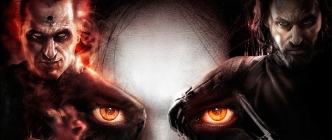 F.E.A.R. 3 (which WB Games prefers to refer to as F.3.A.R.) was on my list of top games I wanted to see at E3, and I was lucky enough to both see a demo with Senior Producer Dan Hay as well as get some hands-on time with the game. The hands-on part was behind a velvet rope at the Warner Bros. booth, locked away in a secret room, and for that it was all the scarier. Although being developed by Day 1 Studios and not Monolith, the makers of the previous two games, F.3.A.R. doesn't feel like it's had any negative changes. This will be the first game of the three to feature co-op, and I was able to experience it firsthand with one of the employees from WB Games, Mike, who played remotely as Paxton Fettel while I played Point Man. The results were staggeringly awesome.
F.3.A.R. continues from where the second game, F.E.A.R. 2: Project Origin, left off. It incorporates the stories from both games ? in the first one, it's discovered that Point Man and Paxton Fettel are both the children of Alma, a girl with powerful psychic abilities who was impregnated in order to create leaders who could instruct soldiers through a psychic link. The two men have a confrontation and Point Man kills Fettel. In the second game, you play as Michael Beckett, an elite soldier given psychic enhancements. The game ends with him impregnating Alma. And now, it's 9 months later, and if you thought Alma was bad before, well, just wait until the contractions start to kick in.
Dan Hay gave us a briefing before showing us the demonstration. The F.E.A.R. games have always been about three things: story, the combat with its groundbreaking AI, and, of course, horror. In trying to come up with a way to improve on this recipe, they decided to delve into the realm of co-op play. Part of what makes games like those in the F.E.A.R. franchise successful, however, is that feeling of total isolation ? so how would co-op play still allow for a frightening experience?
Easily ? in a unique turn, the two playable characters in co-op are Point Man and Paxton Fettel, the two brothers, connected by a psychic link. They have separate powers ? Point Man is the same as we remembered him, with his array of guns and his ability to slow down time; Fettel, now a ghost, can levitate enemies in the air and possess their bodies and use their weapons, but has only a weak melee attack as his spectral self. If they work together, things become easier ? when Point Man slows down time, Fettel's weak melee becomes stronger, allowing him to give a powerful clap that destroys enemies. Likewise, Fettel can hold enemies in the air so Point Man can shoot them more easily.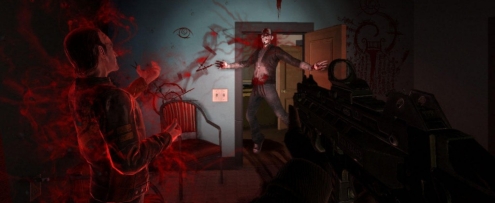 But the players can choose to not help one another, considering the two characters hate each other. This establishes an uneasy alliance between them ? an alliance which the players can choose to either utilize or exploit. Fettel can also get to places Point Man can't, allowing for interesting opportunities ? Fettel can keep this information to himself, or let Point Man in on it. It's now possible to do things like take different paths in order to flank enemies ? or find ways around obstacles alone and not tell your brother. This creates a brand new tension for the series, and one that has much potential. Of course, it's possible to finish the game in single player, but where's the fun in that? One option is to play the game with just Point Man, and then go back and play it with Fettel, creating a completely new experience.
There are two brand-new mechanics at play here as well. The first one is "Generative AI" which spawn and attack from variable points. They are generated from a single AI, so targeting and killing him will put an end to the torrent. The second one is "Generative Horror," which changes not just this game, but potentially the entire genre itself. With this, no frightening experience will ever be the same twice ? scary hallways with ghosts and other memorable moments will change with every subsequent playthrough.
Just before I heard this explanation from Dan, I'd gotten to play as Point Man, while Mike from WB Games played his ghostly brother. There is much that is similar but vastly improved ? the graphics are a step up, especially with Fettel and his outline of floating red blood around him, sneaking into my peripheral vision and startling me. As we traveled through subway cars around a ruined city, leaping from one to the other over a vast expanse with water far below, the details stood out clearly. Creepy dead bodies ? and parts of bodies ? were strewn, or being pulled under seats and through doorways.
We didn't get to our first real enemy for a few moments (though I was, certainly, shooting at the creepy stuff anyway). We got through the enemies, and Mike explained to me the whole dynamic of Point Man and Fettel, and how they could work together to flank enemies, as in the scene we'd arrived at. We continued to battle through the scene, discussing our favorite parts of F.E.A.R. 2, with Mike pointing out random tidbits ? like how that same excellent F.E.A.R. cover system is still in place (with a slight improvement ? you can now pop in and out of cover with a single button press), and then suddenly he said only, ?you're going to love this part.?