Hands-On Preview: *Your friend's mom is the only guaranteed groupie. Luckily, it's Stacy's Mom.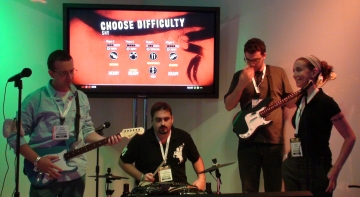 The differences between Rock Band 3 and the latest Guitar Hero couldn't be clearer. While Guitar Hero: Warriors of Rock features a literal beast in a silly story mode narrated by Gene Simmons, Rock Band 3 has become the proverbial beast, stepping it up with a game-changing keyboard and groupie-guaranteed pro instruments. This means that when you play the game's nearly 2,000 songs at launch, you can instantly switch to pro mode and stick it to people who annoyingly ask, ?Yeah, but can you play a
real
guitar??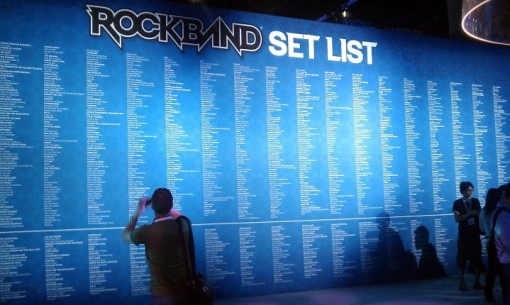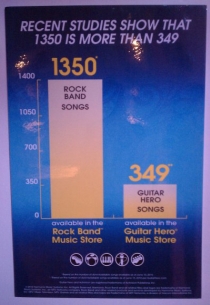 About 2,000 kidney-bursting songs at launch
When I playtested Rock Band 3 at E3 2010 along with three of my
writers
bandmates from Gaming Target, there were 1,500 songs available. That's only three fourths of the setlist the game will launch with this fall. Needless to say, we didn't feel cheated.
?The really cool thing about that is that it's 1,500 songs today, by launch we're hoping to have about 2,000 for you to play,? said Harmonix's John Drake, before putting that statement into more meaningful terms. ?That's stupid! That's a lot of music. You can't bitch about the [number of] songs. Go ahead, I dare you. If you did the ultimate bladder test with that, you'd probably pee your pants.?
A filtering system that makes Google's Advanced Search seem underwhelming
With so many songs, you'd think that it'd be nearly impossible to effectively sort through the entire setlist. Thankfully, Harmonix added a filtering system that's akin to a search engine's ?Advanced Search? option.
?It'll let you whittle down your giant setlist,? explained Drake, as he moved into a real life example. ?Let's do only Rock Band 3 songs. KaBoom. All of the other songs are gone. We could do only short songs. Awesome. So, right there we've already eliminated it down to five songs.?
?So, if you want to play only short songs because you have a 5-year-old with a sugar problem, that's great. You can also have family friendly songs vs. songs for everybody. This filtering system is the only real way to have to manage all of that content. We think it's really slick and cool and you should get excited about it at home.?
To further help weed out the good songs from the bad, Harmonix also added the ability to rate tracks so that they'll come up more or less in the setlist rotation. However, the developer didn't go with simple iTunes-like stars for its one to five rating system. It decided to use one-of-a-kind lighters. These rock and roll staples also help dictate the song recommendation system in the Rock Band Store.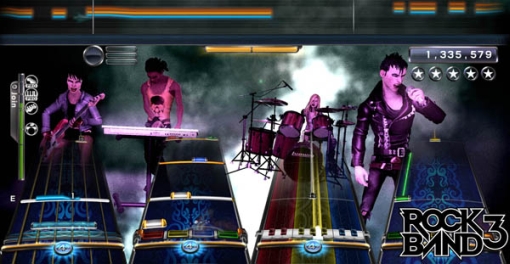 Custom Setlist Challenges and Road Challenges
Once you find songs you want to play with this advanced filtering system, you can add them to a custom setlist. Sure, previous games had the ability to create a setlist, but Rock Band 3 allows you to save and share them with friends.
?You can make the ultimate White Snake setlist,? Drake told us, ?and send it to your friend and have him play White Snake against you and see how he did. You can also be at work and if your boss is like ?Johnson, you're staying till 6 tonight!' You can be like ?Cool, I'm staying till 6 and making an awesome Rock Band punk setlist and sending it to myself so when I get home, I'm going to fight the man via Rock Band.'?
Issuing on-the-fly setlist challenges to friends opens up a world of possibilities for hardcore gamers. But Rock Band 3 also appeals to casual players who only get their hands on multiplayer at the occasional party. In addition to the return of ?No Fail? mode, Party Shuffle lets you and your friends jump in right away and start playing songs with the added ability of skipping songs as if you shuffling through an iPod. There's a new drop-in/drop-out interface that makes the menu system more personalized. Not everyone is taken back to the starting menu if one inexperienced drummer happens to cycle back three menus by bashing the wrong drumhead.
Road Challenges is the bridge between the hardcore and casual, as it takes the campaign mode and reduces it to a two- to four-hour multiplayer experience. Previously, Rock Band multiplayer parties called for either get-nowhere quickplay mode or achieve-something-but-slave-through-an-endless campaign mode. For the first time, Road Challenges allows you and your friends to beat Rock Band in a night.
?Instead of this endless perpetual tour, you can conquer your east coast tour, the punk clubs tour. And that stuff is really fun, so that's a great way to have friends over for a more focused, less sprawling part experience.?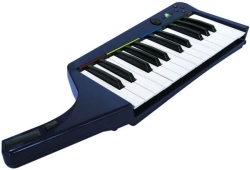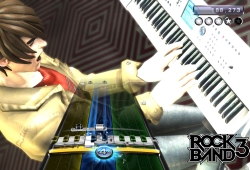 Pro instruments so real, they'll get you groupies
Karaoke-friendly songs are a constant shortcoming of Rock Band that I've criticized time and time again. Sure, certain karaoke hits don't scream rock, but whenever I'm at a party where Rock Band is also in attendance, no one ever wants to sing to tracks like ?The Hand That Feeds? by Nine Inch Nails. As much as Trent Reznor may have had a radio hit, it's not a radio sing-a-long for the mainstream. The inclusion of a keyboard instrument in Rock Band 3 helps fill the gap with songs like ?Bohemian Rhapsody? by Queen and "Break On Through (To the Other Side)" by The Doors.
?It opens up not only piano parts like that,? Drake said, ?but lead keyboard lines and synth parts like some of ours songs like [The Cure's] ?Just Like Heaven' has a great synth line and a toy piano part.?
These are upbeat songs that people sing, or at least try to sing, whenever it's karaoke night at the bar. Harmonix didn't go as far as to add karaoke and piano-inspiring super hits like Billy Joel or Elton John, but it did include the Back to the Future theme ?The Power of Love? by Huey Lewis and the News for every Marty McFly-wannabe out there.
The keyboard that you don't own yet comes packaged with Rock Band 3 for $130 or separately for $80. This MadCatz-manufactured, 25-key mini-piano has a 2-octave range and goes from C to G, meaning it's set up for Rock Band Pro Mode right away.
?It looks intimidating,? Drake warned, ?but it's sort of like the first time you saw Rock Band drums. It seems kind of crazy, but then within an hour, you got your feet wet and you're ready to rock.?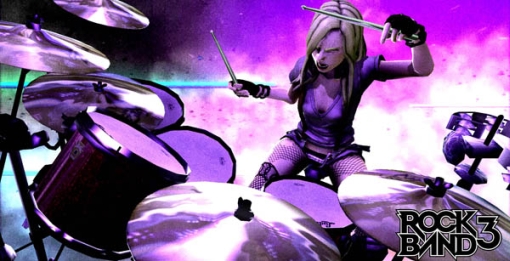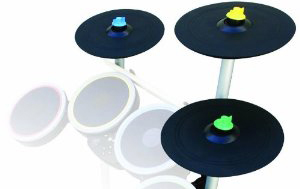 Speaking of the drums, Drake also mentioned that new MadCatz cymbals are coming for the Rock Band set and having a cymbal expansion kit is required for Pro Mode. ?You actually have to play the cymbals instead of playing whatever color you want. You have to pick one and hit it right.?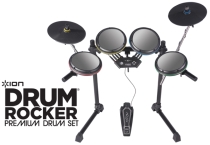 Of course, you could forgo buying that three-cymbal, $30 kit and finally step up to an ION Drum Rocker Premier Drum Set. With two 12? cymbals, quiet, velocity-sensitive pads and an all-metal kick pedal, this ultra-slick setup is going to run you $250. Add an extra $50 for the missing third cymbal to complete your crash, ride and hi-hat trifecta, and it adds up to $300. That's the cost of playing Pro mode like a real pro.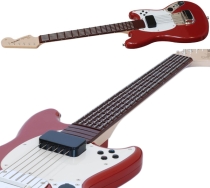 ?The Pro Guitar is probably the most important thing we've done in a really long time,? Drake admitted, as he began to show off the $150 and 100-plus button Mustang Pro Guitar by MadCatz. With a 17-fret neck that contains six buttons per fret and six strings on the bridge for natural picking and strumming, ?It's sort of a matrix of buttons," he said. "It might look a little intimidating. It's actually really easy to get into and play, especially if you play on the easier modes and ramp up.?


The Harmonix team demoed ?The Hardest Button to Button? by The White Stripes on Pro Mode using the new Squire Stratocaster, a second guitar being made by Fender. Each string had a different color on screen where the game displayed a number above each streaming note icon. This number indicates which fret your fingers should be on top of. Conveniently, as the member of Harmonix moved his hand around, the on-screen chord position changes so that he could see where his hand was in real time without having to look down.
?It's a lot to process if haven't played guitar before,? Drake acknowledged, ?but it gets to be pretty intuitive after a few minutes. We understand that this is a different kind of player than the casual party player, but hopefully some of those people will take the leap to playing a crazy, real instrument.?
Taking the leap to play a crazy, real instrument is seamless because? the Squier Stratocaster
is
a crazy, real instrument. Harmonix plugged it into an amp via a midi-out connection and played the same White Stripes song for real. Having a real guitar and 2,000 fun song tutorials at your fingertips makes the upgrade from the old 5-lane hardware a simple decision.
Re-buying (strike 1) the bound-to-be-louder guitar (strike 2) to play Rock Band 3 non-stop (strike 3, you're out of the house) might go over better if you already own a keyboard or electronic drumset with a midi-out port. In that case, the same midi-out adapter that powers the pro guitar can be bought from MadCatz for $40, allowing for a ton of existing instruments to be ready for gameplay out of the box.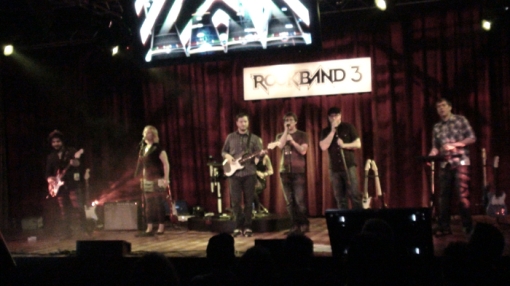 As Drake pointed out, ?That means if you want to plug an existing keyboard you own, like if you don't want to buy this and you have a keyboard from working on GarageBand on your [Mac] computer and you want to plug that into the game as your controller, they're making an adapter that will let you do that.?
?Rock Band 3 can kind of be anything for anyone,? he summarized after wrapping up the pro demo. ?Whether you're a party player, you want to check out and learn a new instrument, you want to play with a bunch of people, play with by yourself.?
?We're not stopping, we think we're the category leader,? he confidently concluded. ?We haven't made a Rock Band since 2008, so we've been working on the pro guitar and keyboard for a really long time and it's not a recent development. We really think we're the category leader here.?