Review: Because "Bullets and Money" wasn't tough enough.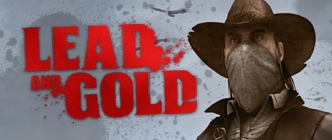 Lead and Gold: Gangs of the Wild West is an online multiplayer third-person shooter by Fatshark and publisher Paradox Interactive, currently out for the PSN and PC. The setting is, of course, the wild west ? probably because games about the tame west just aren't as fun to play. There are four characters, six game types, and seven maps to choose from. Add in quality graphics and game and gunplay that are quick to pick up and entertaining, and you've got a decent game that is worth the low price of $14.99.
The diversity of the four characters works to keep things interesting. Each one has its own ?synergy? effect that it radiates. There's the Blaster, useful for close range attacks with a double barrel shotgun as well as the ability to throw potentially devastating dynamite sticks (think grenades for cowboys ? something I wish John Marston could have gotten his hands on). He radiates the ?Armor? synergy effect, upping the defense of teammates within range. Next up is the Deputy, whose repeater carbine gives him a larger range of fire than the Blaster. He can tag enemies, making them easier for teammates to find. He radiates the ?Damage? synergy effect, increasing the ? you guessed it ? amount of damage teammates can do. The Trapper ? the only female character ? has a long-range scoped weapon, excellent for sniping from rooftops and other high places. She can also lay down bear traps ? something I found to be increasingly hilarious with each one ? and radiates the ?Criticals? synergy effect, increasing the rate of critical hits for teammates within range. The fourth and final character ? and my personal favorite ? is the Gunslinger, not just for reminding me of one of my favorite Stephen King characters of all time, but also for his general well-roundedness. He's got a revolver, and while his ammo isn't as high as the Deputy's, he has the ability to fan, which can be deadly ? and fun. His synergy effect is ?Accuracy.?
It's important to balance your team well in order to maximize the abilities, but without microphone support, communication is limited (though it's obviously not difficult to see what your team is lacking pretty quickly). Unlimited ammo makes close-up shootouts fun but hectic, occasionally relying on your reload speed to determine the winner. Teammates can also revive each other, and a ?flag? can be picked up at your base which can be used as a moving spawn point. This is good and bad ? good if you want to respawn in the middle of the action, but bad ? and annoying ? if the other team is camping the area.
Lead and Gold has six game types to choose from, in addition to a ?Practice? area where you can learn the core mechanics and kill as much AI as you want. In Robbery, one team is on the offensive ? blowing up bank vaults with powder kegs and stealing the gold ? while the other team is on the defensive. Powder Keg is similar, with one team blowing up specific objectives on the map and the other team defending them. Shootout is a typical Team Deathmatch, while Greed is a rush to get as many gold sacks as you possibly can. Gold Fever can be played with one player or two players cooperatively. Like Greed, the point is to get as many sacks of gold as you can, but now you're fighting against AI instead of live players. In Conquest, the team must take certain objectives on the map, starting on the opposite side as the opposing team and working your way across.
Add to all of that seven maps ? Bad Blood Valley, Deadwater Ranch, Devil's Pit, Fort Turnbull, Jacob's Bridge, Prospectors Peak, and Sinner's Gulch ? and this game has a lot of diverse options for hours of gameplay. (One map even features ramps and stairs that take players all over the tops of buildings, though it just doesn't seem like the wild west would be a place for rooftop shenanigans.)
The game has some down points, however. Initially plagued with connection issues, it seems that their server problems have been patched up. But while the gameplay can be fun, it's difficult to find a full game, since not many people are usually playing. It's understandable, though, with so many other games out there as competition ? including games like Red Dead Redemption and Team Fortress 2, of which Lead and Gold is arguably a mix. But even with the saturation of shooters out there, I would recommend this game to fans of the shooter genre, because the ratio of fun to money spent is actually very good.