Review: Most repeated line: ?They look like ants from up here.? My most repeated response: ?They ARE ants, Michael! They ARE ants!?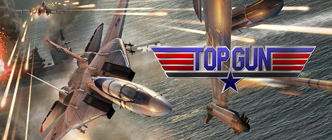 Top Gun the movie is a memorable 1986 action flick starring Tom Cruise and Val Kilmer that went on to break records in the then new VHS market. Top Gun the PS3 game, on the other hand, is this month's forgettable downloadable game with the same Paramount-owned characters. It won't break records; rather, it feels broken, underdeveloped and unpolished. The 24-year-old franchise has had a checkered past on console and portable systems, and even though this latest attempt contains two licensed Top Gun songs, neither save the studio's $15 budget-quality PSN game.
As wild card aviator ?Maverick,? players pilot a variety of jets in the campaign mode along with one Radar Intercept Officer (RIO), either ?Goose? or his replacement, ?Merlin.? My apologies if I just ruined a plot twist to a movie that's been out for almost two and a half decades. Yes, ?Goose? dies in both the movie and the game, but in the case of the game, there's no sincere feeling of loss or worry of guilt. You do all the flying, shooting and navigating through the 11 solo missions, anyway.
Piloting six sonic jets, from the US Navy's F-14 Tomcat to Soviet's MiG-29 Fulcrum, players use missiles to lock onto and destroy bogies, ground units and naval craft. The targeting controls are relatively straightforward, though unimaginative. You steer the main reticule toward an enemy and wait for another roaming reticule to pop up. Once that second reticule finds the target and turns red, the square button fires a missile, which takes care of the rest. The controls aren't new or creative in a way that reinvents how we play air combat games, but they get the job done.
On the other side of the coin, when you're targeted
by
a heat-seeking missile, it's simply a matter of releasing a distracting flare. Pressing left on the D-Pad executes this sensory-based countermeasure and directs the incoming threat away from your aircraft. You have an infinite number of flares at your disposal, but you can only disperse one every three seconds. Having to properly time the flare defense while always attempting to stay on the offense makes the gameplay feel tense and fun at times. Of course, some of the excitement is taken out when you realize that you can't see the magnificent explosion. There are no stellar lighting effects to depict the nearby blast off your shiny metal jet.
That's the problem with both the gameplay and graphics. It's based on a high-flying, fast-paced film franchise, but underwhelms in both departments. Slow-paced attack-and-defend aerial combat within less than a dozen bare-bones environments doesn't do the license justice. The developer threw in a few waypoints to inspire a bit of fun maneuverability gameplay, but everything else immediately falls back to locking on with homing missiles and deploying flares.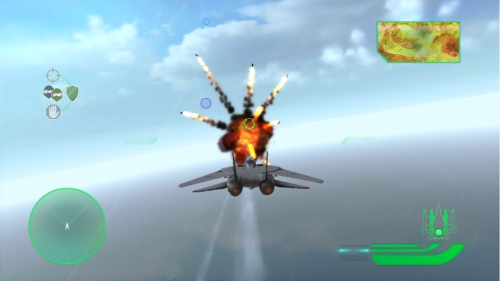 There are only three convenient cases in which you want to use machine guns. First, when you've fired all four missiles and have to wait a couple of seconds for them to magically reload. Second, when a bunch of radar jammers are in the area and missile lock is useless. Or, third, when you're facing close, wing-to-wing combat and desperately want to say the line, ?Too close for missiles, I'm switching to guns!?
Despite the fact that the game uses every other line from the movie, including the commanding officer's still-comical ?I want some butts!?, no one ever says ?Switching to guns.? It may be because players assume the role of Maverick, who says that line in the movie, but remains silent in the game. Characters like Goose, Merlin, Iceman, and Hollywood do all of the talking. This is common among story-based games, but it's bizarre when someone insults Maverick, then Goose/Merlin speak up for him. Likewise, when a commanding officer scolds the always-silent Maverick for being such an unpredictable wild card, all I want to say is, ?Really? He hasn't even said anything the entire time!? Lame.
It doesn't help that the story presentation from supporting cast members is hokey or that the dialogue takes place while airborne or through comm. chatter. Needless to say, while the movie had everyone in the mid-80s sporting bomber jackets, wearing aviator sunglasses and repeating the line, ?I feel the need, the need for speed,? the game won't have that cultural impact. No one is going to put down the controller and start using the very repetitive dialogue heard in the campaign's paltry three and a half hours.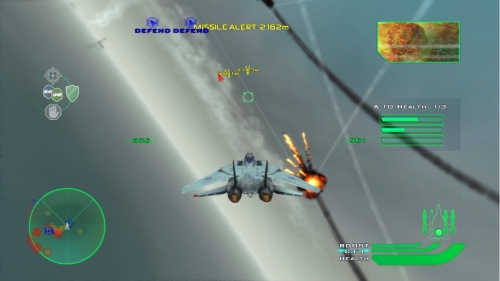 The lifeline of Top Gun is extended ever so slightly with multiplayer and horde modes. Human bogies in multiplayer ace the predictable AI of campaign mode in a variety of game types: Deathmatch, Team Deathmatch, Capture the Flag, Top Gun (where you team up with a wingman and fight a pair of enemies who made a similar alliance), and Bombing Run (where you take turns attacking and defending targets). There are ranked matches and online leaderboards to go along with these modes, but it's hard to imagine being motivated enough to become ?Top Gun? in any of them when the gameplay wears thin after a few rounds.
Horde mode pits you against wave after wave of enemy fighters and is unfortunately a solo affair. Your only wingman is the Kenny Loggins song, ?Danger Zone,? which plays in an unfortunate loop. At first, it's inspiring to hear as you spin and roll across the horizon and consider gravity an afterthought. But, since horde is supposed to be a ?till you die? endless mode, the song is also endless and may just make you go kamikaze. Wisely, the developer used music like the instrumental ?Top Gun Anthem? for ten of the 11 campaign levels and included ?Danger Zone? in only the final match up against Russian ace Ivan. Between that long final boss fight and horde mode, I'm deleting Kenny Loggins from all of my playlists.