Review: Giant boulders? Check. Poisoned arrows? Check. Demonic monstrosities that need to be shot by a two-fisted gunfighter? Check.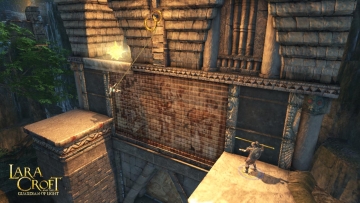 The Tomb Raider franchise, and its star Lara Croft, have gone through plenty of ups and downs over the years. After the disappointing
Tomb Raider: Underworld
, Lara Croft is once more at a low point with new publisher Square Enix planning to reboot the series again with
Tomb Raider 9
. However, in the interim, the publisher (and developer Crystal Dynamics) has given PS3 gamers the arcade adventure
Lara Croft and the Guardian of Light
.
It's easy to expect big things from Lara's first downloadable adventure. Thankfully, it doesn't disappoint as Guardian of Light captures the essence of a classic Tomb Raider game while managing to feel like something new.
Eschewing the traditional third-person gameplay, Guardian of Light takes an overhead isometric viewpoint that makes the game feel a bit like
Smash TV
and other twin stick shooters. Of course, it helps that Lara's trademark pistols are controlled by holding down the Right Trigger and aiming with the Right Stick. Weaponry will not be in short supply as Lara has been brought to Xolotl's tomb by a band of mercenaries. Naturally, Xolotl escapes and slaughters the mercenaries (who leave behind such heavy ordinance as flamethrowers, grenade launchers and rocket launchers). Xolotl's awakening also causes the release of Totec, the titular Guardian of Light, who assists Lara in putting the genie back in the bottle (or, in this case, the demon back in the mirror).
While the shooting action can be intense at times (Lara and Totec will battle giant spiders, wizards, lizardmen and ogres, among other beasties), the game's real focus is in navigating the puzzle-based, booby-trapped tombs. Most of the puzzles are of the "push this switch to open that door" variety, but some are downright devious. For example, early in the game, Lara has to traverse a retracting bridge as a spiked roller blocks her way. The solution requires shooting an exploding barrel that is leaning against the gear mechanism, detonating a bomb (Lara has an unlimited supply) under the now-loose spiked roller and diving underneath it when the explosion pushes the roller off the ground.
Moving through the levels will force Lara to make use of her trusty grappling hook while Totec has an endless supply of spears that can be stuck in walls and used as platforms. Jumping across bottomless pits and lava-filled hallways will eventually lead Lara to the first of several aptly named "Trap Halls." With its spring-loaded walls, crumbling floor tiles and falling boulders, this mad dash made me feel like Indiana Jones. Thankfully, these halls are a recurring part of the game as Lara will later have to dive down a ramp to dodge a giant spiked ball, run up an exploding staircase and escape from a hungry sea beast as it rips up a building. They're great for a shot of adrenalin after a particularly nasty brainteaser has left you feeling stupid. Oh, who am I kidding, they're just plain awesome. I actually wish Guardian of Light came with an option to replay these sections over and over again.
Lara Croft and the Guardian of Light was designed with co-op play in mind. This is obvious. But due to some behind-the-scenes problems, the game did not ship with the promised online co-op. Instead, Guardian of Light on the PSN (like the XBLA release before it) only has local co-op play (for now anyway, Square Enix has promised they will patch online play into the game in the future). Local co-op still works great though and, thankfully, the game is just as much fun to play solo.
The scope of the environments is amazing. Several stages feature a vertical climb past columns and crumbling platforms. During this climb it's possible to catch a glimpse of the beginning of the level far below thanks to the wide-angle camera. The level design makes it easy to feel like you ARE a Tomb Raider. Guardian of Light was built with the same technology used in Underworld and it shows.
Keeley Hawes returns to give Lara and her tomb raiding escapades the sophisticated English accent you expect. Less complimentary things can be said about Jim Cummings, who voices both Totec and Xolotl. His very American accent seems out of place on the lips of two Aztec gods.