Specials: BlizzCon 2010 has come to a close, but we can't get the music of StarCraft II out of our heads.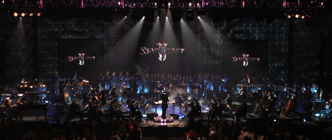 Stream the main title intro music from StarCraft II.


Ah, nothing fills the cold vacuum of space like a little music! Think back on your favorite film or TV space opera and it's a good bet you'll find a powerful score inextricably linked to the experience. Would the force have been as strong with Darth Vader without his Imperial March? Do you find yourself humming the Blue Danube when docking with space stations? Perhaps nobody can hear you scream in space because of all those swirling melodies.
Be that as it may, the release of StarCraft II: Wings of Liberty brings with it yet another ambitious soundtrack that is likely to leave an impact on players for some time to come. The well-regarded scores from the Diablo and Warcraft games attest to how seriously Blizzard takes its music, but the jump back into the sci-fi realm with this latest title seems to have given the team the chance to take things to a whole new level. To find out just what went into making this massive four hour long score, we spoke with audio director Russell Brower.
The Very Model of a Cartoon Individual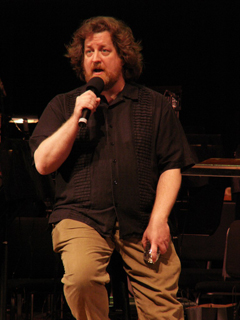 Brower is an imposing figure with a hint of an impish smile beneath a fluffy light brown beard. He has worked with sound and music for well over two decades ? first in Hollywood with TV shows like Animaniacs and the animated Batman series, and later in video games with several entries in Novalogic's Delta Force franchise. For the past few years Brower has headed up Blizzard's music department, working on the soundtracks to World of Warcraft: The Burning Crusade and Wrath of the Lich King among others while the company has steadily improved the quality of its music with newer technology and ever more generous live recording budgets.
?I played StarCraft, Warcraft III and Diablo I and II before there was even a glimmer of an opportunity for me to join the Blizzard team,? Brower recalls, ?and I'll never forget the impression that the music made on me. It's especially true of Glenn Stafford's melodies that they communicate effectively whether they are being played by a full orchestra or a lowly General MIDI device. I believe that's a hallmark of great composition.?
That appreciation of the original StarCraft's music definitely became an advantage since much of the vision for StarCraft II: Wings of Liberty's score came from what Stafford and his colleagues had established over a dozen years ago. Luckily, Stafford and Derek Duke from that original music team have remained at Blizzard in the intervening years, and along with film and TV composer Neal Acree, the group led by Brower was looking solid indeed. And the first order of business was to prepare for the game's spectacular unveiling at the 2007 Blizzard World Wide Invitational in South Korea.
All Marines Prepare to Drop
The game's official announcement called for two major pieces of music right off the bat. With composers Cris Velasco and Sascha Dikiciyan of God of War and Prototype fame enlisted to score the CGI teaser trailer, Brower and his team started work on the game's main title music that would accompany some of the early gameplay and concept art at the event.
?My personal role was to keep an eye on continuity of style for our players, while incorporating some new twists,? says Brower. ?For instance, Chris Metzen approached me very early on in 2007 and suggested we incorporate a more epic ?Western Space Opera' feel into the cinematics and the central main titles.?
Metzen further had a specific approach and style in mind for the main title, even contributing the ?middle eight? to the composition. ?Basically, the idea was to come up with an umbrella musical statement about the StarCraft II world (at least specifically Wings of Liberty), since the musical styles contained in the project are so varied,? explains Brower. ?We also simply wanted to pull out the stops and use all the power of the orchestra to announce that StarCraft II has arrived! What better way than to hire a full ensemble and choir to perform it live at the event in Seoul? It's fun to do things big.?
There's a lot of StarCraft II to try and fit into a title theme, but by the time the piece evolved into the seven minute behemoth that made it into the game, one could almost sense the story's arc before playing it. Incorporating the diverse styles and emotions of the game, the main title music introduces the roughneck Terrans with a twang, evokes the chaos of the story's epic confrontation, and even works in a stunningly beautiful ?love theme? as well as a wistful piano and strings interlude that would be at home in a Final Fantasy game. But of course it's the powerful militaristic theme that shows off the full force of the orchestra and choir and will be marching through player's heads when all is said and done.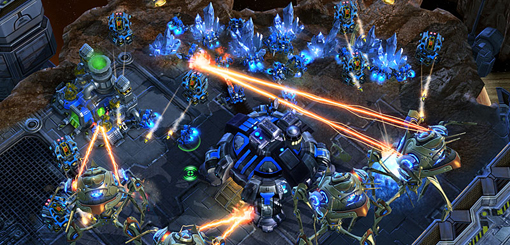 Fire and Fury
Things were off to a good start, but with close to another four hours of music needed, there was certainly plenty of work yet to do. Early on the composers revisited some of their favorite space and Western film scores for perspective, but certainly the most important inspiration came from the Wings of Liberty development team, the wealth of concept art, and of course the music from the original StarCraft titles.
?We remained faithful to the original StarCraft, so the Terrans received the sort of music they might actually listen to ? Freedom Rock-inspired anthemic scores in a more traditional song form,? says Brower. ?The Zerg retained their other-worldly electronic soundscapes, while the Protoss sound is more ancient and speaks of rites, rituals, and nobility. One of the joys of working on StarCraft II has been the tremendous variety of musical styles, instrumentation and implementation we have experienced. Each of us was able to stretch out into new territory on this project.?
?The actual in-game music is mostly a backdrop, and allows for a great deal of freedom in composing,? Brower continues. ?The cinematics, alternatively, were scored very much in a traditional film score style. Finally, the narrative story-mode musical stingers fall somewhere in between those two extremes.?
?Each of us handled a share of the cinematic cutscenes ? Neal Acree was drawn to the battle and action cues, consequently focusing his efforts there. He, in fact, scored all four of the pre-rendered movies. I tended to do the emotional or ?themey' cues, while Derek Duke and Glenn Stafford handled the more complex dialogue scenes. Not that there were any rules, this is just what we each happened to be drawn towards. Meanwhile, Glenn scored the Terran cues, Derek handled the Zerg, while I wrote for the Protoss.?
With a solid plan in mind and the work assigned to each composer, it just remained to keep everyone on the same page. ?As much as possible, we all attended each story/content meeting together, and compared notes before composing,? Brower says. ?Orchestral sessions tend to be grouped together, so most of us were present for the recording of every music cue; each person's music then has a chance to make an impression on the others, ensuring we were all fluent in all the established themes and the musical vocabulary of the project.?
Heaven's Devils
Work on the project proceeded steadily as the months passed, though the team devoted time to the World of Warcraft and Diablo III projects in addition to StarCraft II duties. By last summer the orchestral cues had been written and prepped for recording, and it was time to have the material performed by a large orchestra and choir. While the orchestral music from the World of Warcraft updates have often been recorded at a large chapel in Seattle, Brower instead chose to record the orchestra for StarCraft II at Skywalker Ranch in Northern California in order to get that particular Hollywood film score sound required of the game's atmosphere.
?The entire orchestra performed together in a series of sessions, while the choir recordings happened a few days later,? Brower recalls. ?A few percussion overdubs were done, mainly because some of that stuff is just too loud to record in the same room with the other instruments. There were 78 members of the orchestra, and 32 singers. We did triple-track the choir, so it sounds like a larger group at times.?
The choir was recorded separately in Seattle because of scheduling, but sounds quite impressive nonetheless. Sadly, the text being sung from won't offer too much enlightenment, but there may be a few surprises for the keen listener. ?Choral lyrics in StarCraft II are pretty rare; usually the vowels and consonants are chosen purely for sound and impact in context with a given musical line,? Brower explains. ?Whatever ?language' you hear is definitely made up. A few Protoss words appear here and there; those are generally provided by a combination of Evelyn Fredricksen of Creative Development, and Chris Metzen. Of the composers, Derek Duke is often the one to spin out lyrics to the melodies composed by several of us.?
Additionally, there are plenty of other solo instruments throughout the score. For example, main character Jim Raynor is often accompanied by a square-neck dobro, performed by Laurence Juber. The legendary Tommy Morgan lent his harmonica magic to much of this music as well. ?I really have enjoyed the variety of musical experiences we've had on this project,? Brower enthuses. ?Everything from my first time at Skywalker Ranch ? which was one of the best musical experiences of my career ? to the sheer fun of watching an incredible live band lay down the Terran tracks in a legendary old studio in Woodstock.?
Hell, It's About Time!
While writing music for a game like Wings of Liberty would be a dream job on many counts for just about any game composer, Brower ended up being drawn most strongly to the story and deep characterizations. ?Some excellent time was spent mining all the depths and nuances of Jim Raynor, Tychus Findlay and Arcturus Mengsk,? he says. ?Their respective story arcs really made StarCraft II stand out from a more typical game project.?
That character-driven experience allowed for a very thematic approach to the music which is quite the contrast to some of the more ambient requirements of a game like World of Warcraft. ?The idea of themes assigned to individual characters played out in StarCraft II more than I recall in a while,? Brower says. ?It's more typical in StarCraft II for the music to be tied to a character or event, rather than location. Much of the game's music is heard during the single-player story-mode experience, and StarCraft II contains some of our richest characterizations to date.?
And while the vast majority of the resulting score is new, fans should be happy to hear that there are a number of references to older themes as well. ?Some themes were reprised very literally, while others (such as Glenn's Terran music) maintain the feel and vibe of the original, yet are all new compositions,? Brower notes. ?The main title cue, ?Wings of Liberty,' even re-visits some music from the StarCraft: Ghost cinematic.?
A Better Tomorrow
Now that Wings of Liberty is out the door, Brower and his team are back to focusing on the fantasy realms of Diablo III and World of Warcraft: Cataclysm. But with two more installments of StarCraft II on the horizon, it's a good bet we haven't yet heard the last of their space-faring scores. Until then, there's still plenty to hear in this first chapter.
Though it only contains 67 minutes out of the game's more than four hours of music, the official soundtrack album collects most of the important cues on one CD (for those that bought the collector's edition of the game), or it can be downloaded from iTunes instead. ?We're immensely proud of the soundtrack album!? Brower says. ?Several cuts are montages, exploring the many sides of a given character. We always like to take the listener on a ride, hinting at the high points of story along the way.?