Review: It's no ?whole new world,? but hakuna matata ? you'll find it's got more than the ?bare necessities.?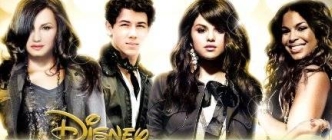 When I first found out I could review Disney Sing It: Party Hits, I was actually pretty thrilled. Why? Because in my head, I envisioned myself belting out songs from The Lion King, Aladdin, Beauty and the Beast, and other time-honored Disney favorites. I was crestfallen to discover that, instead, I would be singing Paramore, Justin Bieber, and?the Black Eyed Peas? Really? I once caught a marathon of Wizards of Waverly Place, though, so seeing Selena Gomez ? and my guilty pleasure Kelly Clarkson ? on the lineup gave me the oomph I needed to try it out.
And I'm glad I did. If you're into karaoke, or just singing in general, this game can be ? dare I say it? ? a lot of fun. Knowing very little about the actual mechanics of singing, I decided to start out with the vocal coach and see how I fared. Demi Lovato walks you through not just how to sing, but how to sing well. I found it to be helpful and encouraging. ?Don't be afraid of looking or sounding silly,? Demi tells you. ?Later, when you sound amazing, it'll all be worth it.? These are strong words for a child to hear ? while kids are often more fearless than adults, they do still get embarrassed, and it's important to have this kind of boost to their self-esteem.
Demi also discusses things like posture and breathing while talking you through each technique. She starts with a ?Warm Up,? which includes ?Posture,? ?Three Voices,? ?Vocal Chords,? ?Scales,? and ?Arpeggios.? Next is ?Power Singing,? with topic titles like ?Fast,? ?Curve Up? (my favorite), ?Rhythms,? ?Long Notes,? and ?Power.? After that is ?Riffing,? with ?Glissando 101,? ?Glissando Challenge,? ?Riffing 101,? ?Riffing Challenge,? and ?Star Quality.? Things get even more complicated with ?Duets,? which requires two microphones, and focuses on how to sing each part of the song and culminates in the ?Duet Challenge.? Finally, there's ?Scoring Tips,? in which Demi teaches you how to build up points and get bonuses.
I felt confident enough to sing once I had my training with my coach, so I dove right into the ?Sing It? option on the menu. I had a blast singing some of the songs, especially One Republic's ?All the Right Moves? and Jordin Sparks' ?Battlefield.? I even had fun with the Paramore songs and yes, I did sing some Justin Bieber as well as the Black Eyed Peas' ?Boom Boom Pow.? And I'll admit it ? I even sang some Kelly Clarkson and Selena Gomez. In fact, while writing this review, I took a break to sing a song or two, and ended up going after a few more trophies. These catchy tunes will have you singing in the shower...or hiding the microphone from your kids.
There are also cooperative play options, like ?Pass the Mic? and ?Team Play? games, which require two microphones ? though you don't need the SingStar microphone, and the manual lists all compatible models. There are Duets as well as a competitive mode called ?Sing Off.? There's also an Online option in which you can buy more songs from the PSN store (right now, all I'm seeing is ?Ordinary Girl? by Hannah Montana? for free). There are also Leaderboards here, so you can see how you stack up against your friends.
Each song has a video playing in the background, some of which give the vibe of those silly videos that play during a song when you're at a Japanese karaoke bar. They may be the actual videos for the songs ? I haven't seen a music video in a very long time, probably since MTV actually showed music videos ? but some of them seem a little campy, which I guess is normal for Camp Rock 2. But like the music itself, the videos are fun and cute and on the perfect level for kids. In addition, you can unlock and apply various themes, changing the backdrop. While you're stationery, perhaps deciding which song or mode to play, songs play in the background, so it's neat to be able to change the backdrop with the different options.