Review: I will not say "This. Is. SPARTA!" I will not say "This. Is. SPARTA!" I will not say "This. Is. SPARTA!" I will not say "This. Is. SPARTA!"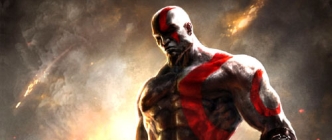 God of War: Ghost of Sparta for the PSP is another successful foray into the tragic life of Kratos. It was developed by Ready at Dawn Studios and Santa Monica Studio, the same team that worked together to make God of War: Chains of Olympus. Taking place on the God of War timeline between the first two games for the PlayStation 2, Ghost of Sparta explores the time between the death of Ares and the ascension of Kratos to his godly throne. In this new storyline, we are introduced to Kratos' brother, Deimos, and are witness to yet another heartbreaking scene in the life of the new God of War. The real question is: where does Ghost of Sparta rank as another God of War game, and is it worth purchasing?
Storyline
Still plagued with horrible nightmares from his violent past, Kratos must make one final pitstop before ascending to godhood: he must find his brother, Deimos, kidnapped when they were children. The game starts out in a familiar way: with cryptic visions, vague messages from the gods, and tons of brutality. Athena tries to stop him, but he is stubborn: he must save Deimos. His conviction takes him far and wide, from Atlantis to the Death Gate. Over the course of the game, he finds out more about his brother's kidnapping ? and about the gods whose ranks he will soon join.
A warning to those playing this game out of sequence ? this game contains spoilers for God of War II, so I advise not playing it until you've beaten the first two games. Having played 5 of the 6 games in the franchise ? though now that I have a smart phone, Betrayal might be in my near future ? I would recommend playing them all in the order they were released. This keeps the storyline cleaner and cuts down any chances of confusion.
Gameplay
God of War: Ghost of Sparta is as smooth and intuitive as Chains of Olympus. As with previous games, Kratos has new weapons, magic, and combat moves to help him throughout yet another journey. Immediately, we're given a new move, titled the Hyperion Charge, which allows Kratos to charge an enemy, pin them to the ground, and mercilessly pummel them. The Blades of Athena are still chained to his arms, only now a new magic ? Thera's Bane ? imbues them with fire, indicated by a third red bar below his health and magic. Kratos can still breathe underwater with Poseidon's Trident from the first game. Later, he obtains the Arms of Sparta, a very helpful spear and shield ? the spear can be thrown at enemies and the shield can protect him from the elements. The new magic is useful and fun, with the Scourge of Erinys being my favorite. It allows Kratos to toss out a black ball that sucks the life out of enemies, adding it back to his health bar. You can also collect various artifacts which can be used after the game has been beaten, each one unlocking different abilities.
In addition, some other new gameplay mechanics have been introduced. Kratos can now jump from one object to another ? ledges, ropes, etc. If he's hanging from one, he just needs to face the direction of the other and jump. It's not a completely free system ? it's dependent upon whether or not he needs to go in that direction. So unlike other games, where you can jump off of a ledge or rope and potentially fall to your death, Kratos only jumps if there's something to jump to. It's a helpful system, and also one in which you feel as though you have more choices than you really do. And, of course, there's another sex mini-game, possibly the funniest of the series yet.
Visuals
Visually, the game is stunning, with cut scenes and gameplay even sharper than in Chains of Olympus. There were some issues I found in which I was worried the game was going to freeze ? they weren't framerate issues, but rather moments when the audio continued but the visuals stopped moving altogether and then seemed to chug into a cut scene. There was also one scene in which there were several enemies on screen at once and one enemy was using a lightning-heavy attack, and as the game transitioned into the cut scene, it again seemed to freeze for a moment. I was playing it on UMD, so perhaps digital users didn't experience the same issues.
Audio and Voice Acting
Epic as always is the music, with highs and lows as dramatic as the scenes themselves. As with previous God of War games, the music feels like a part of the story ? not to subtle as to be ignored, but not too loud as to drown out what's happening. This high-quality audio is standard fare for the franchise. The voice actors, as always, do a great job, but there's not much that stands out here in that department. Nothing can really top Harry Hamlin as the voice of Perseus, so I wasn't expecting much beyond the regular cast.
Where it Ranks in the Pantheon
So where does Ghost of Sparta rank in the series, and is it worth purchasing? More importantly, should you play this game despite the fact that there may be no games that further the storyline of Kratos ? or explain what happens after God of War III? Chains of Olympus was my favorite in the God of War series, and because of that, I was very excited about Ghost of Sparta. The PSP is an excellent platform for these games, both intuitive and amenable to the attacks and puzzles. The story is typical for the series ? nothing surprising, mostly traumatizing. For the most part, I enjoyed the game ? which took me between 7 and 8 hours to play ? but I found it to be exceedingly easy. Monsters, even large groups of them, weren't very challenging, and the bosses weren't anywhere near as frustratingly difficult as they have been in previous games. I found that using Thera's Bane maxed out usually killed just about anything pretty quickly, and while using it, it's almost impossible for a foe to stun you. My advice: if you're a huge God of War fan and have been with it since the beginning, buy it. If you want to know more about the life of Kratos and loved the controls on the PSP, it's worth buying and beating ? but maybe try it on a harder difficulty setting if you want to be challenged. If God of War III was as far as you want to travel with him, though, skip it ? or rent it.