Interview: It's Nov. 30, which means Disney Epic Mickey is on store shelves today. Warren Spector, the legendary game designer behind this Wii title, chatted with us about his work and everything Disney.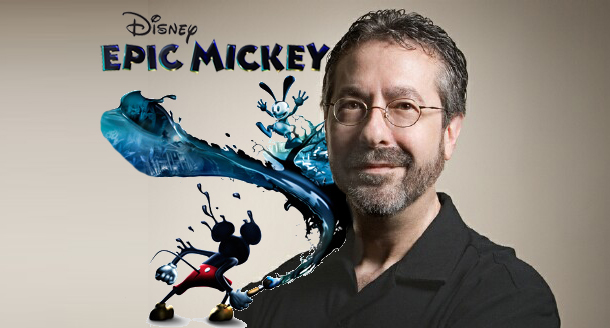 When legendary role-playing video game designer Warren Spector pitched an idea for a new game to Disney Interactive, little did he know that their disinterest would be his keyblade to Disney's most hallowed archives. The company asked if, instead, he was interested in hearing their pitch for a Mickey game.
?My God, they're offering me the opportunity to work with a character as popular, and successful and recognizable as Mickey Mouse?? the 55-year-old Spector recalls thinking. ?Yeah, I want to hear that!?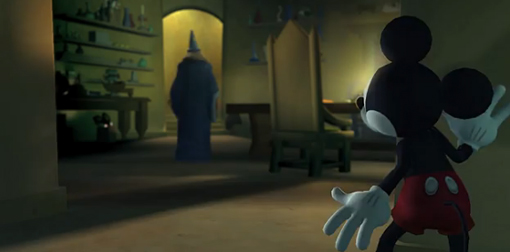 Mickey's absence from starring in positively reviewed video games dates back to the Super Nintendo. Following a string of poorly developed GameCube and Game Boy Advance games, Disney Interactive Executive Vice President Graham Hopper decided to give the iconic character a rest in the video game space. He's been locked away in the Disney vault for seven years, but it feels more like 16. He hasn't starred in a
good
game since 1994's Mickey Mania, which happens to be the first game that Twisted Metal and God of War designer David Jaffe worked on. On November 30, the seal breaks as Spector brings the mouse back into everyone's living room with Disney Epic Mickey for Wii.
?I guess they thought I was the right guy with the right idea with the right game to bring him back,? Spector said of his role to resurrect Walt Disney's most valued creation. ?Honestly, the hardest part was just the massive amounts of information we had,? he admitted. ?Disney threw open the floodgates. We had full access to all of the Disney archives.?
Spector, who said his teams often describe him as ?The Kitchen Sink Designer? because he throws in everything, was overwhelmed, admitting, ?Deciding what not to include was the toughest part.? His first visit to the Imagineering archives was met with an unnecessary apology by the archivist walking him through the history-filled storage location. ?I'm sorry, we've only scanned 90,000 images so far,? the archivist said to Spector's amazement.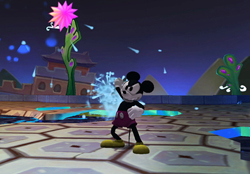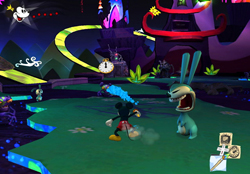 It turns out that his most recent visit to the archives proved that ?there are constant surprises being found there. I was in the archives last week [when] one of the archivists there started pulling out Oswald material that I didn't know they had.? This is surprising for the man who is in charge of bringing life back to Oswald, the character that acts as the game's villain and is a Walt Disney creation that pre-dates Mickey Mouse.
?There are a bunch of underground tunnels at the studio,? Spector told us, explaining that the Imagineering tunnels housed Disney treasures before being archived at a dedicated facility. ?[To] the woman I was walking with, one of the archivists, I just said, ?Do you think there's still stuff hidden back here that no one knows about?' And she said, ?Oh yeah, for sure.'?
?She goes down there all the time and unlocks doors that haven't been unlocked in 50 years and finds stuff. Finds magical stuff.?
Shocking Disney fans and his closest ?No? from Disney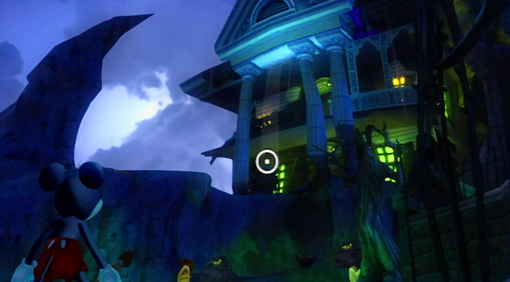 ?That could shock a lot of Disney fans,? Spector said, describing his depiction of rundown, color-drained places we're familiar with like
It's a Small World
and
Main Street U.S.A.
?Mickey himself isn't darker; the world he is in is darker than people might expect.?
?I kind of like darker stuff, personally,? he went on to say, noting that his credits include cyberpunk-themed video games like System Shock and Deus Ex. Amazingly, he described Disney's tolerance toward creating a darker environment around the always pleasant and cheerful Mickey Mouse as, ?Absolutely, completely, totally, utterly, without limitation open.?
The closest ?No? that Spector received was when he wanted to use rejected concept art for Tinkerbell. ?In the archives, I came across all of these amazing, early, rejected concepts for Tinkerbell,? he recalled. ?Some of them were really punk, some were actually a little sexy. It was crazy.? However, someone at Disney brought up the fact that there's ?a big fairy thing going on at Disney right now.? Spector agreed that it didn't make sense to confuse the two, saying, ?There was sort of a mutual decision not to go there.?
What Spector learned from Pixar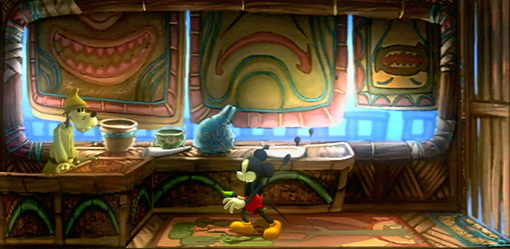 ?I never knew about [color scripting] before I visited Pixar,? Spector remarked, pointing out that this was the first time he had talked about a technique he learned about from the Emeryville, California-located animation studio. ?They have these color scripts posted. Which, they're not storyboards, but they sort of provide an overview of the colors that dominate the scenes in different locations as the story progresses. And I was really taken by that.?
Spector accused games on most platforms, not just the Wii, of being either visually cartoony - full of bright, primary colors - or monochromatic. He went on to imitate the video game industry, saying we're in a period of time of ??Is this year the year that all games are gray, or is this the year that all games are blue or brown?'?
His desire to capture the lushness of traditional Disney features in the game's graphics was helped by this color scripting. From the beginning, Pixar's technique allowed the team to say, ?Here's what each world is going to look like from a palette standpoint.? Spector was also struck by a comment that Pixar Chief Creative Officer John Lasseter said in their first meeting.
?[Lasseter] said, ?At Pixar, we don't make movies for a target audience, we make entertainment for everyone,'? quoted Spector. ?Why can't a game inspire to the same goal? I'm not saying we succeeded, but it was our goal to make a game that kids and adults, boys, girls, men, women could all appreciate.?