Hands-On Preview: Red River, Red River, come on over.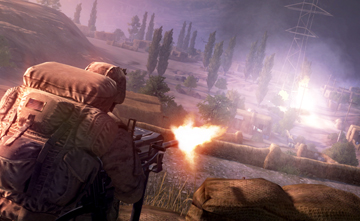 ?We just lost Zone 1,? my grenadier barked over enemy fire. My squad's grip on this little hill in Tajikistan was loosening, mainly because I couldn't shoot straight. In my defense, the M-16's recoil was intense, like it was trying to jump out of my noobish hands and beat an early retreat. For the point man of a Marine company, this is a problem. I hit the ground behind some meager cover and switched to single fire. Ignoring the dirt enemy fire was throwing in my face, I steadied, aimed, and squeezed. ?Nice shot,? Sion said. ?That's your first Red River kill.?
Thankfully, Sion (pronounced Sean) Lenton, the creative director for Operation Flashpoint: Red River, was more supportive than the hardnosed AI. He's probably used to seeing journalists play his game in the Call of Duty mindset. ?If you play this game on Rambo mode, you won't last five minutes,? he told me. For the average gamer, looking down the holographic sight of an AR-15 is old hat, and those Modern Warfare instincts kick right in. They won't do you much good in Red River, at least not once you've pulled the trigger.
Recoil is not the only thing Flashpoint's creators have agonized over. The game is textured with so many gritty little details. For one thing, your squad's equipment is not fresh off the shelves. Guns are held together with shoelaces and gaffer tape; the humvees have burns, dents, and other battle damage. But the gear isn't the only thing that's taken a beating; the soldiers are some world-weary characters. These aren't the over-the-top, fearless marines from Gears of War, but rather, kids in a crazy situation. Some of them are playing it tough, others are wearing the fear on their sleeves. Sion was excited to tell us about the influence of shows like Generation Kill and the documentary Restrepo on his game. ?[The auto-rifleman], he's very much the kid, the noob of the group?we discovered that the guy who gets the big, heavy machine gun is actually the new guy, because it's big, heavy, and no one likes carrying it.?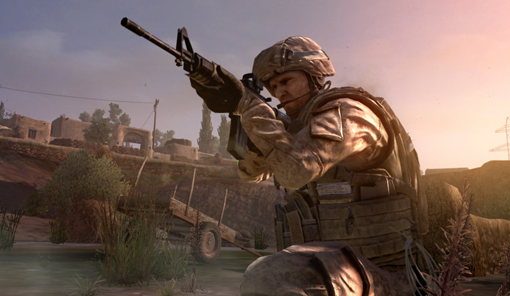 The hard-schlepping auto-rifleman is one of four classes that Red River will introduce. The other three are the riflemen (a high-tech twist on your standard gunner), the grenadier (according to Sion, the ?brick sh*t-house of the group?), and the scout (the nimble, don't-call-me-a-sniper ranged warrior). These aren't the only new things on the table; Red River is built around drop-in, drop-out online co-op with four game modes. There's Last Stand, which is the hold-the-hill scenario that I played, a convoy escort (tentatively titled ?Rolling Thunder?), search and rescue, and a counter-insurgency, sweep and secure mode. With two maps designed specifically for each mode, it's a quality over quantity approach.
The co-op concentration is an interesting choice for the Flashpoint series. A military sim that was doing modern warfare before it was cool, they now seem to be gunning more for the audience of team vs. AI games like Left 4 Dead (Sion expressed his enjoyment of Valve's zombie shooter more than once) than Call of Duty. It feels like a very natural step for the series. If the bit of Last Stand I played is any indication, those who burn the midnight oil playing Gears of War's Horde mode are in for a treat. Red River hasn't left the single players out in the cold though, either. My AI squad mates performed admirably, whether or not I took advantage of the streamlined command interface. That being said, it still felt like playing multi with bots, so you're going to need some friends if you want the definitive Red River experience.
All you hardcore Flashpoints fans out there, listen up. You probably snorted at my anecdote about recoil. We all know you haven't prayed and sprayed since the training wheels came off your bike. I bet you're concerned about the watering down of your precious military sim. Take note, there has been some retooling of the franchise's more punishing aspects. For instance, the consequences of getting shot in the leg. You'll still need to stop the bleeding, a tense moment requiring some good covering fire. Instead of having to limp for the rest of the mission, you can continue to heal and get your stride back. As Sion puts it, ?it's risk for reward; the longer you stay on that button the more likely you'll get shot?it's being authentic without being shackled by realism.?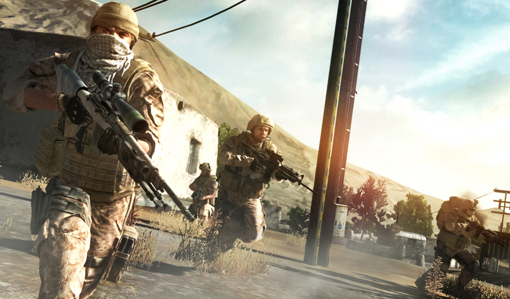 Whether or not you agree with Sion, there's a lot of real life in this game. For instance, Codemasters actually sent a photographer to Tajikistan. Whereas the last Operation Flashpoint had levels based just on satellite photos, Red River has made use of ground-level references. There's also the autonomous AI with a true-to-life concern for its own well-being. Enemies react: lay down some fire and they'll dive for cover. However, they're ready to pull the same tricks on you. During my hill encounter the insurgents had a line of heavy gunners suppressing me while their scouts advanced. Sound realistic enough for you? It's enough to get real men in uniform switched on, Sion told us. He had the pleasure of watching some actual troops play his game. ?They go right into soldier mode,? he laughed, ?they sound like the characters in-game; it's hard to tell them apart.?