Review: 4, Four, it's all good.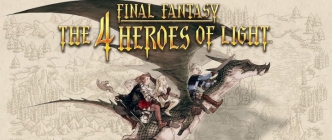 Square Enix's latest foray into the Final Fantasy universe is with their adorable DS-only Final Fantasy: The Four Heroes of Light. It was created by the same team that brought the remakes of III and IV on the DS, and I had very high hopes about it. Unfortunately, my hopes were dashed by the monotonous gameplay, mediocre story, and sharply varying difficulty levels found within the game. I want to say this was one of my favorite games of 2010, but all I can say is that it was one of my favorite games to demo of 2010 that sadly didn't deliver.
The game begins simply and charmingly enough, much like many Final Fantasy titles do. Your main characters have some challenge they must face; they accomplish it, and it is followed up by an even greater responsibility; crystals and some sort of job system are involved; etc. The lackluster story does nothing to draw you in or attach you to the characters. The game is very cute, and the brand new crown system is innovative and creative, but there's just not enough here to really keep one's interest for 30-40 hours.
The battle system often vacillates between frustrating and overpowered. There are many moments in the story when you're forced to go at it alone with one character, and those times can sometimes be unreasonably difficult. I like the battle system itself ? you get five AP points, which can be used to attack, use an item, cast a spell, or use one of your abilities. You can also ?Boost? through a turn to raise your depleted points. Depending on which crown you're wearing, the abilities can take more or less points. For example, if you're wearing the black mage crown, those spells use up one less AP than normal. This can be extraordinarily useful when you've got all four characters in your party. But when it's just one character, it's difficult to decide which crown to wear and which abilities to use.
One major drawback to the battle system is that you can choose your actions, but you can't choose who those actions are applied to. No matter what you're doing ? attacking, healing, or taking an Ether ? the game decides for you. This can be annoying when you're in the midst of a boss fight, one character is out of AP, and you take an Ether ? only to have the game decide, for whatever reason, that another character needs it more. I completely gave up on using items after a while because it was so aggravating. While I did enjoy this aspect of the battle system with regard to taking on the enemies, I hated that it was so broken when it came to dealing with my party.
The crowns themselves are creative and useful. Monsters can sometimes drop gems, so whenever I was low on them, I would have someone wear the Merchant crown and use the ?Finder? and ?Keeper? abilities to get gems more quickly. I tried out all the crowns at least once, but found myself always defaulting to two white mages and two black mages whenever I had a serious battle to fight. You can enhance the crowns by placing gems in them, and these two classes have very powerful spells when they're enhanced all the way. But this, too, is a disappointment ? being able to switch between jobs with no ?job sickness? and have these two overpowered classes do all the work made parts of the game stale and boring.
Without spoiling anything, I will say that the final dungeon was one of the most frustrating and tedious endings I've ever encountered in a game. There are quite a few bosses at the end, some of which I was able to beat quickly, and others I had to grind for hours to beat them. I found myself not just leveling but trying to get more gems so I could upgrade my equipment in order to raise my defenses. It got to the point where I finally decided to go all the way, leveled my party up to the max (99), upgraded our equipment the best I could, and dove back in. I'm no stranger to this series, so I know this is something that occasionally has to be done. But the fact that the last dungeon was nearly a quarter of my total time spent on the entire game is absurd.
The one thing that did blow me away was the music. I loved every moment of the music, from the random monster encounters to each individual town to the boss fights. The final boss fight was the most epic ? a fitting rock ballad to end the game. It was very reminiscent of the old Super Nintendo Final Fantasies, in which the music stood out no matter what the situation. I also enjoyed the graphics, which were cute and just what you'd expect from this team. If you were as charmed as I was by the remakes of III and IV, you'll definitely find this game adorable.
The 4 Heroes of Light also includes online play, in which you and up to three of your friends can play together. In this mode, you can take on some special side missions and earn Battle Points, which can be traded in for equipment. There are also some cool mini-games located within the main story, in which you can earn extra money and items. In addition to all that, once you've beaten the main story, there's everyone's favorite new game plus, in which you can continue adventuring with your friends if you want.