News & Gameplay Video: Xbox 360 owners will be zip-lining in this Call of Duty expansion before PC and PS3 owners. See what else is in store for this $15 DLC.

**Video is below**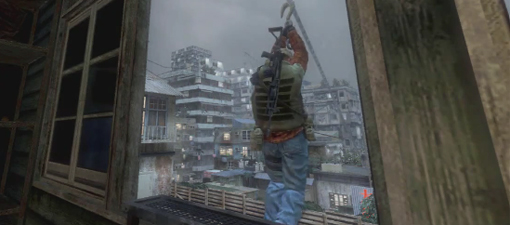 Traveling from point A to point B is being taken to new heights in the first multiplayer map pack for Call of Duty: Black Ops.
Kowloon
, the rooftop-hopping level from the single-player, returns with zip-lining action in this five-map DLC pack.
"The trade-off to [Kowloon's zip-lines] is that you're completely exposed while you're on the zip-line," warned Treyarch Online Director Dan Bunting. "You can't use your weapon. It's going to get you to your location much faster, but there's also the risk that you're going to get shot."
Discovery
is an Antarctic-set former German WWII outpost. It features a deep chasm with a land bridge in the middle. Obviously, controlling the narrow crossover is the key to dominating this snow-covered level.
The real-life Checkpoint Charlie is now a tourist attraction, but in Black Ops'
Berlin Wall
map, it lives on as a competitive dividing ground. Players will find themselves in East Berlin, West Berlin or the dangerous No Man's Land in the middle.
"You can take the risk of going through No Man's Land to get a faster route," said Bunting, "But there's a good chance you're going to get mowed down by auto-turrets."
Stadium
, the last multiplayer map in the pack, puts its emphasis on close quarters combat. Bunting called this his favorite map, saying, "It's going to cater to a lot of the players who just like the frantic solid gameplay that Call of Duty has to offer."
There were no details on the one zombie map other than the fact that it's the fifth map in the DLC. All five maps will be available for Xbox 360 on February 1, while PS3 and PC owners will have to wait for an unspecified date (probably a month later given the length of past timed exclusive maps). This should give us plenty to work with until the second DLC arrives and the inevitable
Call of Duty 8
is announced.