News: The long-awaited thriller from Rockstar Games and Team Bondi is almost here. We have the release date and second trailer for this PS3, Xbox 360 title.

Buy LA Noire at Amazon - Current Price: $59.99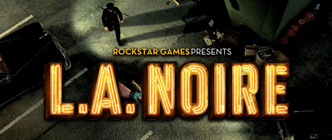 In a one-two punch, Rockstar Games has announced the release date for LA Noire and provided the game's second trailer made up entirely of in-game footage (as the trailer emphatically insists at the end). More and more, this dark crime thriller is looking like an interactive version of
LA Confidential
. That should draw no complaints from players looking for a rich, story-driven action game for Xbox 360 and PS3. There are few with a better track record for such games than the publisher behind Red Dead Redemption and Team Bondi, a Sydney-based developer led by key members of PS2's The Getaway.
When does LA Noire come out? May 17, 2011 if you haven't already scrolled down to the video below and discovered the launch date for yourself.
With all of the quick clips, I really didn't notice the MotionScan facial capture as much as when it was pointed out to us in the previous trailer. Hopefully, we can appreciate the new technology when things are slowed down and those small clips are seen in full on LA Noire's May 17 release date.
Update:
The
LA Noire release date in Europe
has been announced, too.
Buy LA Noire at Amazon - Current Price: $59.99