Review: As close to THQ/Aki's WWF No Mercy as we're going to get.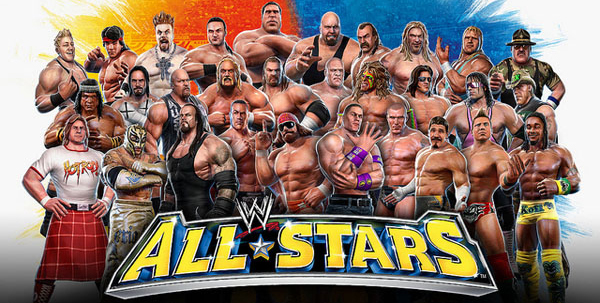 I don't know if anyone has told you this before, but wrestling is fake. So, it's curious to see videogame developers attempt to make wrestling titles that are simulations when this is sports
entertainment
. There's certainly a place for realistic WWE games like
Smackdown vs. Raw 2011
by THQ and Japanese developer Yuke's. However, my heart has always belonged to over-the-top wrestlers, namely the four N64 games released by THQ and another Japanese developer, Aki Corporation. Their games,
WCW vs. nWo: World Tour
,
WCW/nWo Revenge
,
WWF Wrestlemania 2000
and
WWF No Mercy
featured cartoony graphics, liberal physics and a perfect grappling system that people still talk about today. But while Yuke's has been making its Smackdown sim with THQ since 2000, Aki took its memorable grappling system to EA and produced just-as-fun brawler
Def Jam Vendetta
in 2003. Since then, Aki changed its name to Syn Sophia and, much to the chagrin of macho wrestling fans, the company has been making a line of girly games. Any hope for its return to the world of professional wrestling videogames has been dashed.
WWE All-Stars
attempts to reclaim the Aki approach to fun and ridiculous wrestling games and new developer THQ Studio San Diego succeeds in many ways. Obnoxiously large-muscled cartoon wrestlers will take you back a decade, while their fast-paced strike and grapple gameplay will take you several hours to want to put down. Except for maybe Andre the Giant, all of the wrestlers here are larger than life and their moves are equally exaggerated. Red-flashing wrestlers tell you when they're hurt, yellow-glowing bodies signify when they're ready for a powerful pounce and rippled-shockwaves appear in the air whenever a bone-crushing move is performed on the mat. Granted, I haven't seen a red-and-yellow wrestler on a WWE broadcast outside of a specific Mysterio costume, but that doesn't matter in this appropriately lightweight wrestling game.
Its satisfyingly basic look and feel doesn't extend to the available modes, thankfully. Exhibition matches include Standard, Tornado Tag Team, Steel Cage, Extreme Rules Match and Elimination. There's no Royal Rumble, but its void is filled by exclusive game modes Path of Champions and Fantasy Warfare, both of which bring this game's roster of superstars and legends together for story-based and ultimate match-up gameplay. Fantasy Warfare is especially enjoyable because you see archived footage of two iconic wrestlers build up the hype and yet these match-ups have never happened in real-life. You've just always wanted to see it.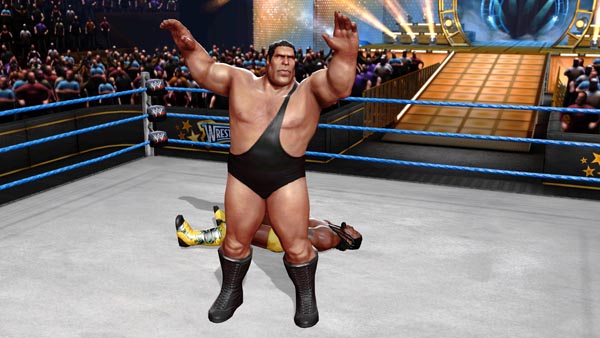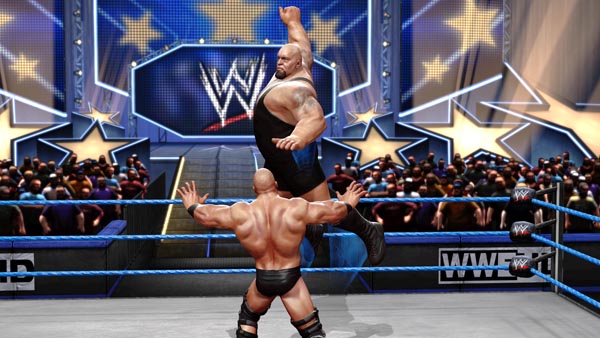 Case in point, Andre the Giant vs. The Big Show brings these two titans together in a clash of the ?Greatest Big Man? event. In reality, The Big Show made his debut a little over two years
after
Andre the Giant died. Fantasy Warfare is true to its name and its 15 match-ups enable this wrestling game to glorify the past. It's a perfect counterweight to
Smackdown vs. Raw
.
With its simplified controls and routine move sets,
WWE All-Stars
is an easy-to-play wrestling game for your entire crew. This makes it ideal for gamers who dabbled in watching wrestling a decade ago and would be lost in the annual, Madden NFL-like releases of THQ's
Smackdown vs. Raw
line. Effectively,
All-Stars
can act as a gateway steroid drug for anyone looking to get hooked on the subgenre all over again. Of course, by spurning realism and lacking depth, this game isn't going to appeal to the vocal, hardcore wrestling fan base. Many have taken to forums crying, ?If THQ San Diego made a sim version of this game, it'd be the best wrestling one? to criticize the look. Conversely, other people are nitpicking the moves with, ?[There] are the few super unlrealistic [sic] moves like The Rock performing his Peoples Elbow leaping far into the air doing a three sixty to the connection of the elbow.? But the exaggerated wrestler models and moves go hand-in-hand.
THQ needed to keep this game fun, light and simple and that's exactly how I'd describe
WWE All-Stars
. But, there are a few missing elements that keep the ten-year-old
WWF No Mercy
as king of the arcade wrestling ring. Aki's grappling and throwing opponents to the ropes mechanics were more fluid than what I found here. I remember when a group of friends and I used this to our advantage in a Royal Rumble. We turned off pinfalls and KO's, while turning on disqualification by ring exit. With two of us taking on a marathon of 50 wrestlers two at a time, we beat them up only for a second or two to get them loopy. We'd throw them against the ropes with the Irish Whip move and, as they bounced off and back toward us, rushed to clothesline them so they'd bounce over the ropes and hang onto the other side for dear life. Running into the ropes at full speed ensured their rapid exit onto the floor. This became as much an action and strategy game as a wrestling game.
Sorely missing from
WWE All-Stars
is the ability to set submissions and KO off and ring exits on, so my desired ring out scenario is DOA. Likewise, tinkering with
any
of the rules has been ruled out. The only thing that this game takes seriously is its lack of options. Admittedly, I can't criticize hardcore wrestling fans for lamenting this game for a lack of realism, then two paragraphs later scold the game for its lack of adjustable rules, so I guess all of this makes sense for a stripped-down wrestling title. What doesn't make sense, however, are the lack of a training mode and the longer-than-desired load times. Knowing that the appeal is to ex-wrestling fans and people who haven't touched
Smackdown vs. Raw
in several years, you'd think there'd be a little more hand-holding. But no, taking an hour or two to learn the controls with a whole lot of trial-and-error is the only way to practice.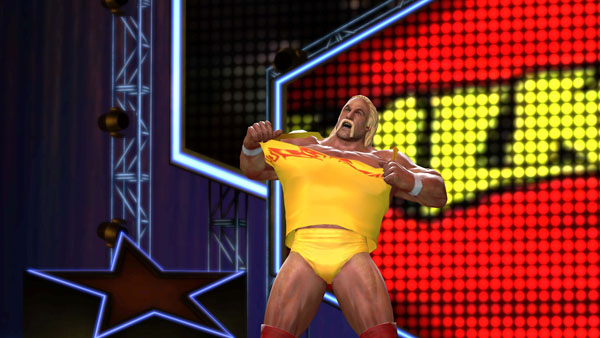 Being a novice wrestler is only a temporary setback; load times are a constant. Having to wait close to 40 seconds before entering the ring is an annoyance that defies what this otherwise fast-paced game is all about. Add five seconds between every wrestler's intro and you're up to a full minute from the last menu until your four-way match-up begins. By the way, menus? Yeah, they suffer from lag, too. It's almost as if THQ decided to mimic a first-generation DVR box. Thank goodness it didn't try to write that into the game with the excuse: ?Watching wrestlers from the 90s is authentically like controlling your cable company's crappy cable box from the 90s!?