Xbox 360, PS3, Wii, DS 3DS Preview: I'm sure former Spider-Man (N64) developer Edge of Reality so wanted to make this title.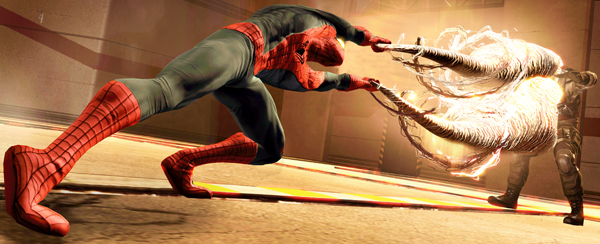 And then there were two. We got a chance to play as four versions of Spider-Man in last year's
Spider-Man: Shattered Dimensions
. This year, Activision's upcoming
Spider-Man: Edge of Time
will allow us to spend a lot more time with two of those four: the default Amazing Spider-Man and his futuristic counterpart Spider-Man 2099. They no longer have to share gameplay time with Spider-Man Noir and Ultimate Spider-Man. Costume changes are going to be so much simpler this time.
Coming out for Xbox 360, PS3, Wii, 3DS and Nintendo DS, this fall-bound videogame will feature the superhero pair in a time-focused plot in which Miguel O'Hara (alter ego Spider-Man 2009) must ensure that Peter Parker (Amazing Spider-Man) survives attacks by enemies from his end-of-the-century future. In other words, it's Spider-Man meets Terminator and that sounds pretty good to us when it comes to standard-fare SciFi scripts.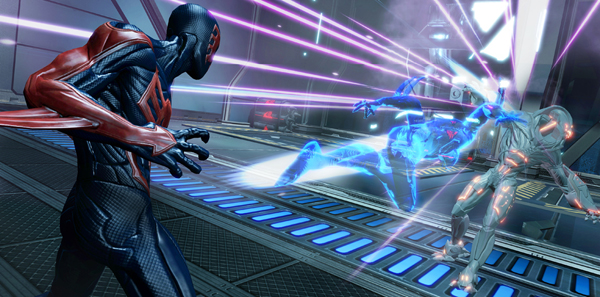 Even better is the fact that the actions you perform in the "past" (our present) are supposed to directly affect what happens in 2099. Being a Spider-Man game, we don't expect this to be as deep as, say,
Fable III
, but it's positive to see the developer add a little more depth to this licensed series.
Speaking of the developer, Quebec-based Beenox is at the helm of this project after putting out the decently received
Spider-Man: Shattered Dimensions
last fall. We are looking forward to more improvements with the company's second effort and see a whole bunch of agility-emphasized gameplay ahead in the time-shifting teaser trailer below.