XBLA and PSN Review: Who knew stacking dolls could be so fun?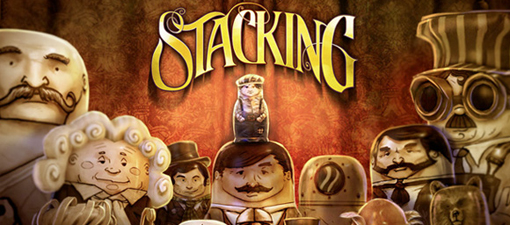 Charming. That pretty much sums up Stacking, the latest game from the creative minds of Tim Schafer, Lee Petty and the team at Double Fine Productions. Known for their quirky, off-the-beaten-path games like Psychonauts, Brutal Legend and Costume Quest, Double Fine comes through with yet another whimsical and incredibly fun adventure for all ages.
Stacking takes place in a stylistic fantasy toy world of wooden Russian stacking dolls. Huge credit goes to the developers for pulling off the difficult task of giving every doll a unique personality, despite them having a static painted face and animation that is limited to the movement of their top and bottom halves. You really do feel like the dolls behave as they should if they came to life, and it can't help but bring a smile to your face.
You play as Charlie, the youngest and smallest member of the Blackmore family of chimney sweeps. You are immediately swept up into the story, which plays out as a silent movie puppet show, complete with dramatic old-fashioned piano accompaniment. Your family is kidnapped by the Baron, an evil industrialist who rose to power on the backs of child labor. It's up to you to save your family and free the children, but how can a little kid hope to overcome the powerful Baron and his minions?
Simple ? by jumping into other dolls and taking them over. As cute as he is, Charlie is also a sneaky little body snatcher, and can quickly hop into a doll one size larger than him. You also gain the abilities of the doll you're in, like playing a violin, maintaining valves, slapping people across the face, or blowing noxious farts. Stacking up or down to gain these abilities are vital to solving puzzles and ultimately rescuing your family.
You are presented with several objectives and have at least three ways to solve them. You only need to solve it once to advance the story, but nailing every solution earns you Achievements and helps you towards the satisfaction of 100% completion. For example, early in the game you have to break into an exclusive private club and clear out the patrons. You can stack into a maintenance doll to open a vent and sneak in Sam Fisher style; or you can stack into a sexy widow and lure away the door guard by ?seducing? him; or you can stack into an obnoxious fellow with a gas problem and fart into the vent to drive everyone out. Yes, it's silly, but the game's unique style and charm will thoroughly entertain you all the way to the end.
Some solutions are pretty easy to figure out, while others can get fairly involved. If you're stuck, the game has a progressive hint system that, if maxed out, will literally tell you what to do. It can be a crutch for the impatient, but some solutions are pretty bizarre and unintuitive, forcing you to use it more often than you may like.
You can also collect special dolls, which are distinguished from regular dolls by a shiny gleam on their painted surface. However, the gleam is difficult to spot, but this may be on purpose since it encourages you to hop into dolls that can highlight these special dolls with a big blue aura.
You can easily zip through the story in a couple of hours, as long as you aren't concerned with finding every solution to each objective. You can return to each of the four amazingly designed locations (train station, steam ship, zeppelin, and a huge triple decker train) and complete any unfinished solutions or Hi-Jinks.
Hi-Jinks are fun little mini-tasks that can only be completed by using specific abilities, like hitting or scaring dolls, or stacking certain dolls together. You can bring up the list of Hi-Jinks for each level, but again, the descriptions can be very vague and there are no hints. Often you end up unlocking Hi-Jinks at random, which can be both satisfying and frustrating at the same time.
Stacking is very enjoyable, a great game for people of all ages. The only downside is that once you've collected every special doll and solved all of the puzzles and Hi-Jinks, there's very little replay value. That's a shame, since as good as the game is, it does make you pause at the $15 price tag. However, the beautiful style and design of the game world are among the most engaging and unique you'll ever find, and the cool period silent movie score by Peter McConnell is top notch.