News: How will receive enough votes to grace the cover of Madden NFL 12 on Xbox 360, PS3, PSP, Wii, DS and 3DS.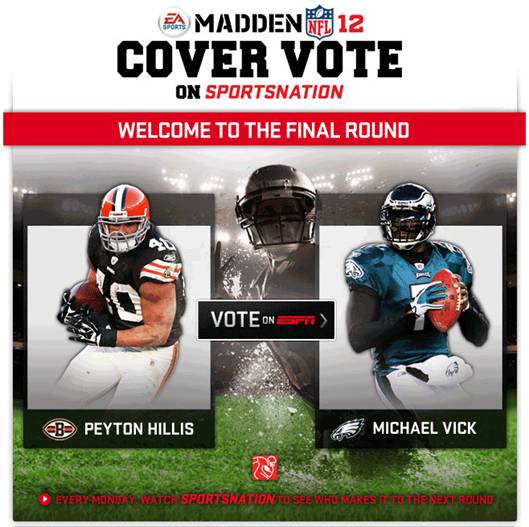 And then there were two. This is the second post, following the dual-superhero Spider-Man: Edge of Time preview, in which I begin with the iconic phrase. In the case of this Madden story, though, the two refers to two super athletes, as EA's Madden NFL 12 cover athlete fan vote enters its final round.

No. 10 seed Peyton Hillis (RB, Browns) upset No. 1 seed Aaron Rodgers (QB, Packers) in a 61% to 39% match-up. Meanwhile, No. 3 seed Michael Vick (QB, Eagles) advanced over No. 9 seed Adrian Peterson (RB, Vikings), 59% to 41%.

Will the more popular Michael Vick come out ahead when the winner is announced on ESPN's "SportsNation" on April 27? It'll only further cause the media focus on the rehabilitation of his shattered image. If that happens, expect both forward-looking positive news stories as well as past-dwelling negative news stories.

Of course, if the underdog Peyton Hillis obtains enough votes for a surprise victory, expect Michael Vick to still receive unwanted dog-torturing opinion treatment. After all, no one in the media can pass up creating terrible, terrible headlines involving the words "Michael Vick," "underdog," and "beaten by."

For us, either way, the outcome seems pretty much the same in terms of our news coverage. But for you, the average football fan, it's the difference between owning a game that features a 4x Pro Bowler in comeback mode or a 2008 rookie that will cause a lot of people to express "Who Dat?" for the second year in a row (as New Orleans Saints quarterback Drew Brees was last year's cover athlete).

Check back with Gaming Target on April 27 at 4 PM for the news. Until then, you still have a say in this final round at www.ESPN.com/MaddenVote.