Xbox 360, PS3 Review: For the first time, you too can play the Augusta National Golf Club without having to be a celebrity golfer (or a man).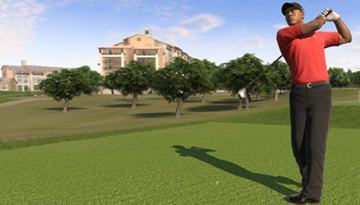 The Masters is the premiere golfing tournament of the PGA. Strangely enough, it's taken more than a decade to get Augusta National into EA Sports' Tiger Woods PGA Tour franchise. It would seem that now with the preeminent golfer and tournament finally in the game that Tiger Woods PGA Tour 12: The Masters would be the best golf game developed to date. That might have been the case if anything else in the game had changed over the past few years, but Tiger 12 feels so much like Tiger 09, 10, and 11 that it's often hard to tell the difference.
Getting the chance to play Augusta National Golf Club after all these years is really a treat. The course looks fantastic, and since I'm likely to never play there myself, I'm thrilled that such a seminal sports landmark is included in the game. The Masters is really the central star of this year's game, and EA Tiburon has included several different ways to play the course in addition to just playing a straight 18. Your entire created character's career is about progressing through the ranks of the PGA in hopes of getting an invite to the celebrated tournament. You can either earn a high rank amongst the other players, or complete a series of classic Masters Moments like Tiger's miraculous chip shot or Jack Nicklaus' three hole eagle-birdie-birdie streak to get invited. It shouldn't be easy to get invited to one of the most exclusive sporting events on the planet, and it's not. The Masters Moments are particularly challenging the first time you have an opportunity to qualify, and getting ranked in the top 100 players takes more than a few tournaments.
Thankfully, this year's other major addition, caddies, helps ease some of the burden on the player. Much like Madden 11's Gameflow, Tiger 12's caddies offer suggestions on how you should approach a given shot. Most of the time the caddie offers you two choices (one safe, one aggressive) to pick from before swinging, and for the most part they're pretty solid. Like your own created player, the better you play a given course, the better your caddie will become at reading that particular course's fairways and greens. Ultimately it's up to you to decide whether or not the caddie is offering a good shot, and whether or not you should create your own. Early on, I found myself listening to the advice just to get a grasp on how competent the AI was, and rarely took my own shots. As I progressed through the amateur tour and into the PGA, I started making my own decisions based on what the caddie offered. I didn't suddenly fly up the ranks, but I found there was a happy medium between taking advice and following my gut.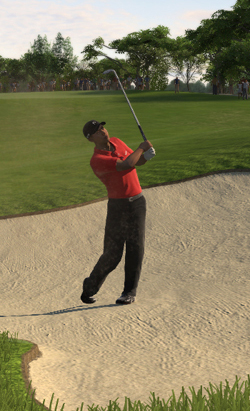 Leveling up your created character has never been easier than it is in this year's title. The slew of minor tasks you can complete to earn experience add up really quickly, and though putting is an exercise in frustration until you start leveling those skills up, you'll be able to hang with the leaders in just a few tournaments. There are also challenges you can complete for both a sponsor and against another opponent to earn bonus experience. Completing sponsor challenges will also earn you some new gear, and some of those upgrades will even include stat bonuses. Major paydays come from completing Masters Moments, and finishing a three-day tournament with a good score is also worth a great deal of XP. While shaping your character to be the best virtual golfer he or she can, you can adjust the experience you've put into a given trait if you find that you need better stats somewhere else.
In addition to the career mode, there are a handful of entertaining options to kill some time. Even more classic Masters events unfold in Tiger at the Masters, where you relive the greatest moments the famous and troubled golfer had at Augusta. You'll also be able to play through any of the 16 default courses whenever you want, or even partake in the President's Cup. Online, tournaments are happening quite frequently, and you can also upload particularly crazy or cool shots for other people to try and replicate. There's a pretty hefty amount of DLC available, and while that's great, it's also a bit of a burden. Many of the tournaments that take place both in your career and online use these courses. While it's perfectly acceptable for online tournaments to utilize DLC courses, the fact that you have to either skip tournaments or buy them in order to progress in the offline career is a bit unfair. It's bad enough there are tournaments your created player can't qualify for, but missing out on a tournament because you didn't buy the course is just lame.
After playing through Tiger 12, it's clear that the graphic engine is in desperate need of an upgrade. While everything looks good, nothing looks great anymore, and even player character models are starting to lose their impressiveness. As nice as it is to have crowds on the course, they really serve no purpose other than to stand there. I'd rather have that processing power devoted to better textures and more impressive lighting and weather effects. The commentary, though new, is still as boring as ever. If I hear Jim Nance tell me I'm on the dance floor, but I can't hear the music one more time, I just may drive to his house and smash his car windows with my club. I know golf isn't exactly the most exciting sport for commentators to get hyped about, and I'm not looking for Gus Johnson levels of verboseness, I just don't want to hear the same things repeated ad nauseum.