PSN Status Update News: PSN and its PlayStation Store are back. See what's in STORE for PS3 and PSP gamers looking for new downloads starting today.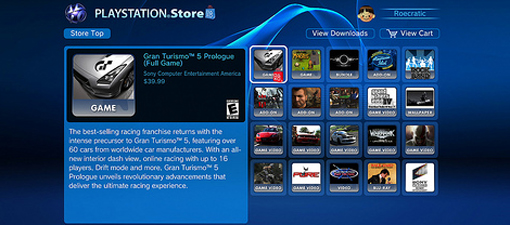 Downtime, offline and outages are no longer the words that describe PSN and its PlayStation Store. The PS Store is is back up right now, albeit with a few error messages along the way. And while the "Welcome Back" package hasn't been rolled out quite yet, Sony has nevertheless rolled out the red carpet with a plethora of updates, PSN game downloads, demos and add-on content.



PlayStation 3

Working through backlog of downloadable games, PS3 gamers now have access to Alien Crush, Bonk's Adventure, Wizardry: Labyrinth Of Lost Souls, Sega Rally Online Arcade, Star Raiders, Under Siege, Back To The Future: The Game ? Episode 3, Dragon's Lair II: Time Warp, Bomberman '94 and Learning With The Pooyoos ? Episode 1. These games range from $6 to $20.

Demos are even more in demand, with inFAMOUS 2, Red Faction Armageddon, MotorStorm Apocalypse Single Player, The Fight: Lights Out Stress-Buster, Star Raiders, Lego Pirates Of The Caribbean and the aforementioned PSN download Wizardry: Labyrinth Of Lost Souls. Obviously, all of these short demos are free of charge.

Lone PSone Classic Missile Command joins a host of new add-on content in the PlayStation Store. Notable add-ons from the extensive list include the free Dead Space 2 Outbreak Map, Fallout: New Vegas ? Honest Hearts DLC and Crysis 2 ? Retaliation Pack. There are also 50, that's right, 50 new song available for purchase for Rock Band 3.

PlayStation Portable

The PSN and PlayStation Store outage also affected PSP users, though it didn't get nearly as much attention. Still, the downtime affected Sony's soon-to-be-last-gen portable and a lot of games accumulated.

PSP also gets Alien Crush and Bonk's Adventure, same as the PS3 versions, as well as Lego Star Wars III: The Clone Wars and Bomberman '94. These games are $6, except for Lego Star Wars III, which, as a full game for download, costs $30. The handheld system's add-on content consists entirely of Dissidia 012 DLC, from BGM track packs to additional costumes.

PSP Minis sports a little more variety with Star Hammer Tactics, Best Of Solitaire, Block Cascade Fusion, Sky Force, Card Shark, Days Of Thunder and Top Gun. Prices range from $1.50 to $5.

Are you able to download anything from the PS Store? Or are you receiving

error messages

too? What are you getting as part of the

"Welcome Back" package

? Let us know in the comments.