Trailer News: Naughty Dog designers Evan Wells and Christophe Balestra show off Uncharted 3: Drake's Deception

Uncharted 3 Late Night with Jimmy Fallon trailer video is below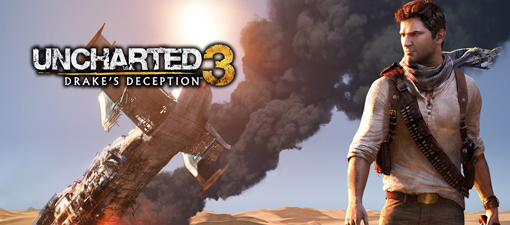 If you didn't get enough of that impressive
Uncharted 3: Drake's Reception trailer
from Sony's E3 2011 Press Conference, then Late Night with Jimmy Fallon shows off even more of the highly-anticipated PS3 game in a hands-on demo. Fallon is joined by Naughty Dog designers Evan Wells and Christophe Balestra, who go through a cruise ship that's infested with pirates. During the nearly four-minute video, the sinking ship level transitions from shooting pirate enemies to avoiding rushing water to, eventually, swimming to safety.
This water-filled level stands in contrast the trio's
world premier demo of Uncharted 3
last December. Fallon, Wells and Balestra played through a level featuring a burning building and a similarly thrilling escape attempt.
As Wells was playing through this latest demo, Balestra was free to mention the upcoming Uncharted 3 demo that is happening at the end of the month. There will be a co-op and a multiplayer beta on PSN started on June 28. Considering the November 1 Uncharted 3 release date, this is going to be a treat for PS3 owners looking to test out Drake's Deception more than four months before the full game comes out in stores.
Enjoy Jimmy Fallon's hammed-up demo video below and keep up-to-date with
Gaming Target
regarding the launch of the June 28 Uncharted 3 co-op and multiplayer beta.