News: Already on XBLA, BG&E is finally coming to PS3 following PSN outage. No sign of Beyond Good & Evil 2.

Beyond Good & Evil PS3 gameplay trailer video is below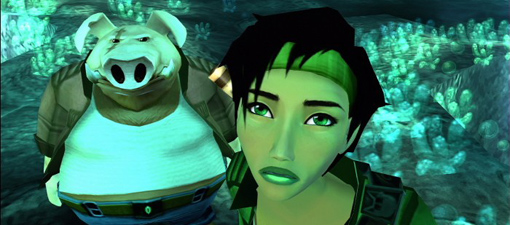 Beyond Good & Evil HD
can be in your hands, well your virtual PSN avatar hands, starting Tuesday, June 28. That's when Ubisoft is finally able to bring the remastered videogame to PS3 consoles. This last-gen, critically-acclaimed adventure game was ported to Xbox 360 on March 2, 2011 from its standard-definition origins on PS2, the original Xbox, GamCube and PC, circa 2003.
However, its May 2011 release date on PS3 was hampered when
PSN went down for 42 days
, right smack in the middle of Beyond Good & Evil's scheduled launch. Since PSN was restored on June 2 and we've pretty beaten our
free PSN Welcome Back games
and inFamous 2 (read:
inFamous 2 review
), this Ubisoft-published Ubisoft Shanghai is exactly the type of game we're in the mood for.
Surely, Beyond Good & Evil is a distraction from the fact that the publisher is still mum about the status of
Beyond Good & Evil 2
. The company has reportedly bantered about the sequel being best suited for next-generation consoles. So that could mean anything from Beyond Good & Evil 2 for
Wii U
in 2012 to PS4 or the next Xbox, speculated to arrive sometime in 2014.
The good news is that Beyond Good & Evil HD is almost here for PS3 owners and it's an one of Ubisoft's most outstanding games and a bit of a sleeper-hit when you compare its reviews to how it sold on PS2 in 2003. Even better news, if you stuck it out with a hacked PSN account and are buying the game within the first two weeks of its release, you're entitled to two free PS Network avatars. It looks like good things really
do
come to those who wait.