Deus Ex 3 Review: Matt Swider spent more than four years waiting for a Deus Ex 3. Eidos Montreal's debut game doesn't disappoint, unless you're stuck on your CoD ways.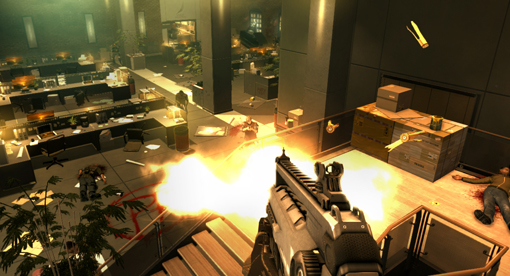 Deus Ex: Human Revolution is coincidentally set in the now-popular video game plot year 2027. Already, first-person shooter Homefront gave us a glimpse of what the world might look like 16 years from today with its own speculative fiction version of events. Homefront was heavy on changing the world map, yet lousy on incorporating new inventions within society. Its depiction of 2027 looked more like a war-torn 2011, whether that was due to North Korea trying to take over the world or the game's lack of development. The world map in this Deus Ex game, the long-awaited prequel in the series, meanwhile, doesn't have a strikingly revised world map. But its advancements in human technology make for an intriguing, thought-provoking narrative about the future. This leads to the most significant difference between the two FPS titles: Deus Ex: Human Revolution is worth playing.
The world of Deus Ex: Human Revolution portrays the next stage in human development - a promising, scary and lucrative future all at once. That's because corporations in this story are enabling people to use ?augmentations? to become transhumanists. Whether they're enhancing their mind and body or eliminating war wounds and the natural aging process, these ?augs? are essentially pushing the barriers of evolution. Not everyone is down with the A-U-G, namely the morally opposed radicals and the poor (it's an expensive process your insurance doesn't cover). The pro- and anti-augmentation movement gives the population of this game a nice, natural divide.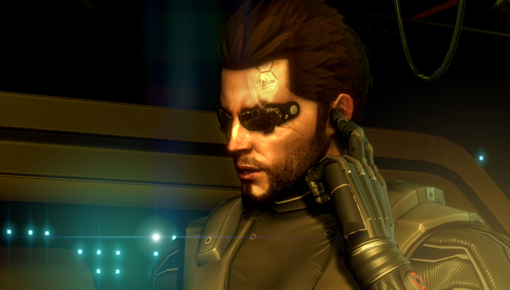 Somewhere in the middle of this social divide is protagonist Adam Jensen, a security specialist for one of these powerful bio-tech firms called Sarif Industries. He doesn't seem to care for the transhumanism movement at first and, for that reason, he's a well-written conflicted character. For example, he points out that most clients seem to be from the Department of Defense only to get a spiel about how augmentations also benefits teachers, doctors and construction workers. Seeing a demonstration of a deadly typhoon weapon, he quips, ?You're right, a teacher would just love having one of those things.? Throughout the game, Jensen, with his dark, sarcastic personality, seems to be voicing the BS you're always wanting to say from behind a controller.
Jensen's skepticism begins to change when the Detroit-based Sarif headquarters is attacked, people he loves are killed and his own body is left in critical condition. He's fitted with a number of life-saving augmentations ? without his consent - that radically change his appearance and, to an extent, his attitude toward transhumanism. His acceptance isn't exactly black and white (or, if you're following this game's fitting art style, black and gold), a revelation that becomes clearer as he hunts down the killers and the game's mystery deepens.
Deus Ex: Human Revolution is a first-person shooter, but it's not another Call of Duty clone; Homefront tried a 2027-set carbon-copy of CoD's arcade gameplay and that failed to impress. Here, overused run-and-gun mechanics are replaced by stealth and strategy. The combination of the two comes into play when looking for diverging paths. Confronting enemies by going for the typical shoot-out is the obvious, overly complex route to an objective. Well-hidden vents are more obscure, but easier on the ammo and, therefore, worth seeking out. Often, you'll stumble upon the end of a hard-to-find alternative route, mistakenly follow it backwards and realize that it's the easier path you should've taken fifteen minutes ago. It inspires a second playthrough.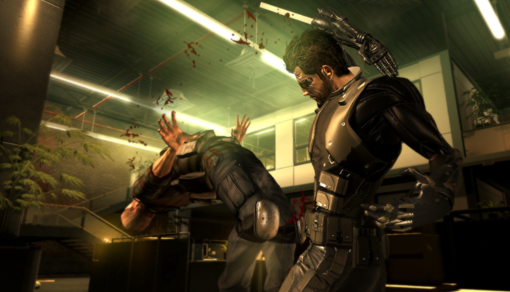 Likewise, augmentations offer diverging gameplay because DE:HR doesn't provide a god-like Adam Jensen from the get-go. His battery life is limited, so meleeing every enemy in sight is out of the question; his radar isn't fully equipped, so you don't have the unfair 411 on every unsuspecting enemy; and his hacking skills start out at a level zero out of two, so there are secrets that you'll have to painfully skip. It all depends on which upgrades you take advantage of early in the game. A hoarder, for example, is going to have trouble with the tight inventory space. In order to keep more weapons, energy bars and other tempting pickups, he or she will want to max out Jensen's three-tiered carrying capacity as quickly as possible. A minimalist who is able to manage their inventory list to a science should opt for stealth enhancers instead, like the cybernetic leg prosthesis augmentation, which allows you to gracefully run and walk in silence.
The diverging paths and character makeup are joined with social gameplay in which dialogue choices allow you to choose the direction of the script. We've seen this in a number of games this console generation, most recently LA Noire. But unlike Rockstar's 40s-set cop drama, Eidos Montreal's 20s-set (that's 2020s-set) Deus Ex 3 doesn't feel as though it's funneling you into the same game ending. Pressing the button to advance the story isn't going to cut it in this very different sci-fi experience. As a result, I didn't feel half-pride when beating a boss.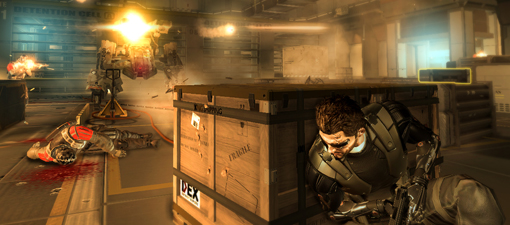 Deus Ex 1 and Deus Ex 2: Invisible War had AI problems and Human Revolution amends that - for the most part - by ramping up the difficulty. Besides the aptly named ?Tell Me A Story? easy setting, the ?Give Me A Challenge? and ?Give Me Deus Ex? difficulty levels require developing a strategy to take down enemies. But, no matter which of the three settings you choose, AI always seem to be careless in the way of animation. While equipped with a machine gun behind cover, thugs will nonchalantly flank my cover with no hesitation, as if I'm not packing and ready to fire. The game tries to make up for this with accurate-as-hell AI and by bumping your health down to a couple of hits, License to Kill-style. More dynamic-
acting
AI would have been great if it were married to the thugs' bullets, which successfully act much deadlier than their attitude.
The art director didn't go for a super-realistic interpretation of the future and instead created a look that evokes a ?Cyber Renaissance.? That theme, along with the black and gold color scheme, creates a distinctive look that contrasts with other FPS games. It also ties into history's Renaissance era, when science, medicine and experimentation were part of the new culture movement beginning in the 14th Century. The only complaint that I have with the graphics is that both the NPCs and enemies are extremely fidgety during dialogue sequences, as if they're scared of the cyber-enhanced Adam Jensen or on a serious caffeine-high.
As advanced as the future is in this version of 2027, a number of modern-day refinements could've made Deus Ex: Human Revolution even more revolutionary. In real life, I'm pretty sure I can melee a person from across the couch. I haven't tried it, but I'm fairly certain of this one. Adam Jensen, however, can't seem to pull that off. Even with his humanoid implants, he has to go from the back of the couch, turn right to travel along the side of the couch, turn right again when he's near the first cushion and awkwardly choke the confused enemy. Sneaking up behind an enemy can be so lame in the future!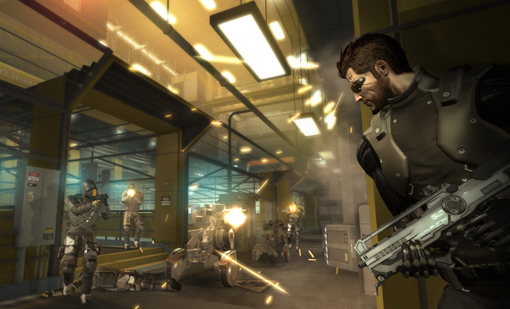 I have no complaints about this slower-placed, strategy-focused FPS, as much as I know avid Call of Duty fans are going to be in for a shock. While it's okay to be different than CoD, it's not okay to lock down the control scheme to one option on the Xbox 360 and PS3. Case in point, pressing in the left thumb stick in an effort to sprint only to all of a sudden start crouching and traveling at a snails pace instead is annoying beyond belief. What was the thinking in the meeting room behind that? Eidos Montreal: ?Instead of assigning the L3 button to the action they want, let's assign it to the opposite of what they want [Crouching, meaning you go slower].? A lesser annoyance, the X button on Xbox 360 and Square button on PS3 are used as your go-to action button (to carry objects, activate doors, select options in the menu, etc) instead of the usual A and X button. Someone at Eidos Montreal must be an avid Nintendo DS owner. Luckily, PC gamers get off easy with fully customizable buttons in the options menu.