Gears of War 3 Review: Gears is back and better than ever!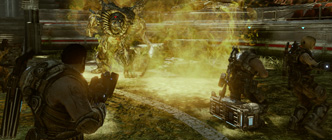 With finely tuned gameplay, immaculate presentation and so much content you may not eject the disc for a month, Gears of War 3 is the definition of a triple A title. While it's unclear if this will be the last Gears game, it's most certainly the best to date, and it (along with it's PS3 rival the Uncharted series) makes a compelling argument for system exclusives and owning the biggest television you can afford.
Beyond it's stunning HD graphics, charmingly gruff characters and influential cover system, the Gears of War series will be remembered for it's sprawling, muscular five act campaigns. GoW 3 outdoes the last two, boasting the biggest, most varied, and indeed most epic campaign of them all. Just as fledgling genre filmmakers study ?Die Hard? and ?Star Wars? for their masterful pacing, Gears 3 will teach young game designers how to make a string of combat scenarios into a hero's journey. The game's transition from act two to three is an absolute master stroke. On hijacked blimps, Marcus and Delta squad fight their way to a friendly fort. Below them the locust army marches to the same destination. Arriving just in time to warn them, they join their allies in defending the fort.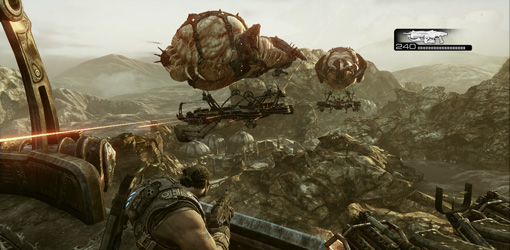 It's this deft blend of story and action that makes Gears one of the blockbusters of gaming. In fact, it outdoes the mega-budget films it imitates; spectacle is infinitely more engaging when the viewers takes part, rather than just having a wave of special effects crash over them like in ?Transformers.? Having traversed this world, you have a sense of it's size. You know how large and relentless the enemy's forces are, you just floated over them. You know how small and desperate the fort is, you've seen it from above. What the Gears of War series lacks in character development and bedrock drama, it makes up for in scale and perspective.
Yes, GoW 3 has the same narrative shortcomings of its predecessors. It substitutes charm for depth, crafting characters that are better with one-liners than poignant moments. Taken as a whole, GoW 3 may not be a satisfying conclusion to a trilogy, but moment for moment it's engaging, even in its quieter moments. There's an eerie trek through a bombed-out city, where the former citizens have been reduced to statues of ash. Killed in an instant, they're frozen as they carry their injured, crawl desperately from wrecked automobiles, and futilely attempt to shield their children from the blast. Like Tai's suicide in Gears 2, it's one of the moodiest scenes the series has ever offered. With it's echoes of Hiroshima and Nagasaki, it's a reminder that Gears is partly a horror game, and these are the horrors of war.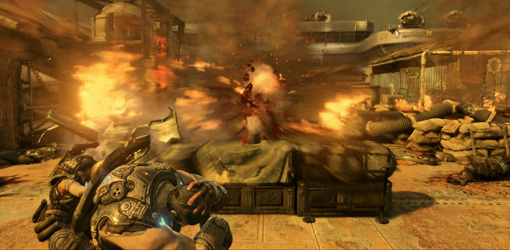 When things are at their heaviest, you'll hear the soundtrack hard at work. It runs the gamut from somber to bombastic, and fills in whatever emotional gaps the narrative leaves. There's a sequence toward the end with piano and violin music that recalls Gear's first striking ad campaign, featuring the Gary Jules cover of ?Mad World,? made famous by ?Donnie Darko.?
One place where Gears needs no help is in the combat department. The trademark cover system has truly been honed. Gone is the somewhat finicky roadie run of the past the games, which had players sticking to objects they meant to sprint past. There's still no room for clumsiness, however, the wrong use the of the A button will make you leap from behind a wall you meant to take cover on.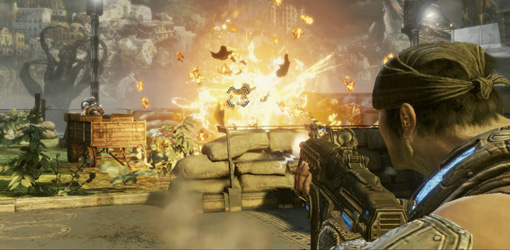 While the cover based combat is great, GoW 3's campaign is so successful because of how many breaks you get from it. The extended vehicle and rail shooter sequences are so engaging, I hesitate to use the term ?rail shooter.? When these wrap up and you get back to the corridor and courtyard shootouts, it's a refreshing return to the familiar. The cover system is at its best, and the game's pace is designed to keep it fresh.
The game also drops you into the boots of Delta Squad characters you've never controlled before, such as Baird and Cole. This gives the narrative a few inspired character-driven moments, such as Cole's return to the Thrashball stadium, but it's only the returning Delta squad members that get these moments. The new additions to the cast are only there to facilitate the new four-player campaigns. Still, having four people in the campaign is spectacular, and it's about the best thing you could add to a game known for its co-op. There are numerous portions of the campaign that will undoubtedly be played over and over online.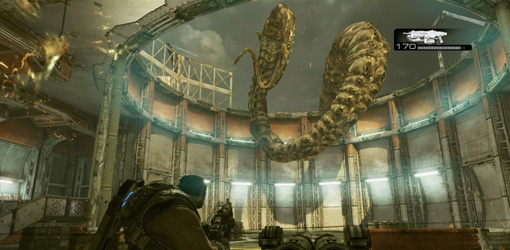 With ten maps and six modes, GoW 3 is destined for a long life online. Gameplay has been tweaked to encourage teamwork and conservative, cover-based gunplay. Team deathmatch now gives teams a limited number of respawns, making it necessary to stick together for covering fire and help downed teammates. We'll have to see how the community reacts to this, since Xbox Live players are rarely kind to those they consider dead weight. There's also the ability to ?spot? targets, which places a marker over a sighted enemy.
One of the greatest pleasures of Gears is getting a buddy on the couch next to you, and going online together. Wingman is a mode built for this, it now features four teams of two, and plays a bit like ?Army of Two.? Enemies must be finished with executions, lest they respawn. This encourages players to cover each other while performing these gory finishing moves.
Horde mode has been given some of the best tweaks, adding elements of tower defense that offer players new opportunities for strategy. Every kill now earns you cash that can be put toward laying razor wire, setting up decoys, and installing automated or player-manned turrets. The fortifications not only soften up your targets, they offer warnings of incoming attacks.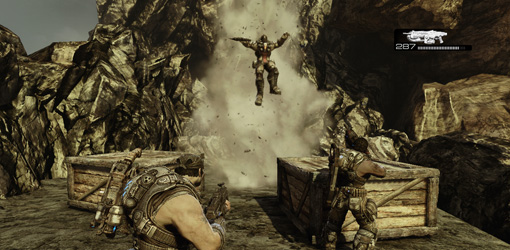 Horde is at its best, but the real stand out is Beast mode, where you can control a variety of Locust creatures. You work your way up the food chain, unlocking bigger and badder beasts with every kill. The control schemes for these monsters is incredibly well executed, and rivals Left 4 Dead's zombies. Most impressive was the Bloodmount, where one player controls the movement and melee attack of the mount, and another rides on top as the gunner. If you have no rider, the AI mans the guns, and the player can use target spotting to control the gunner.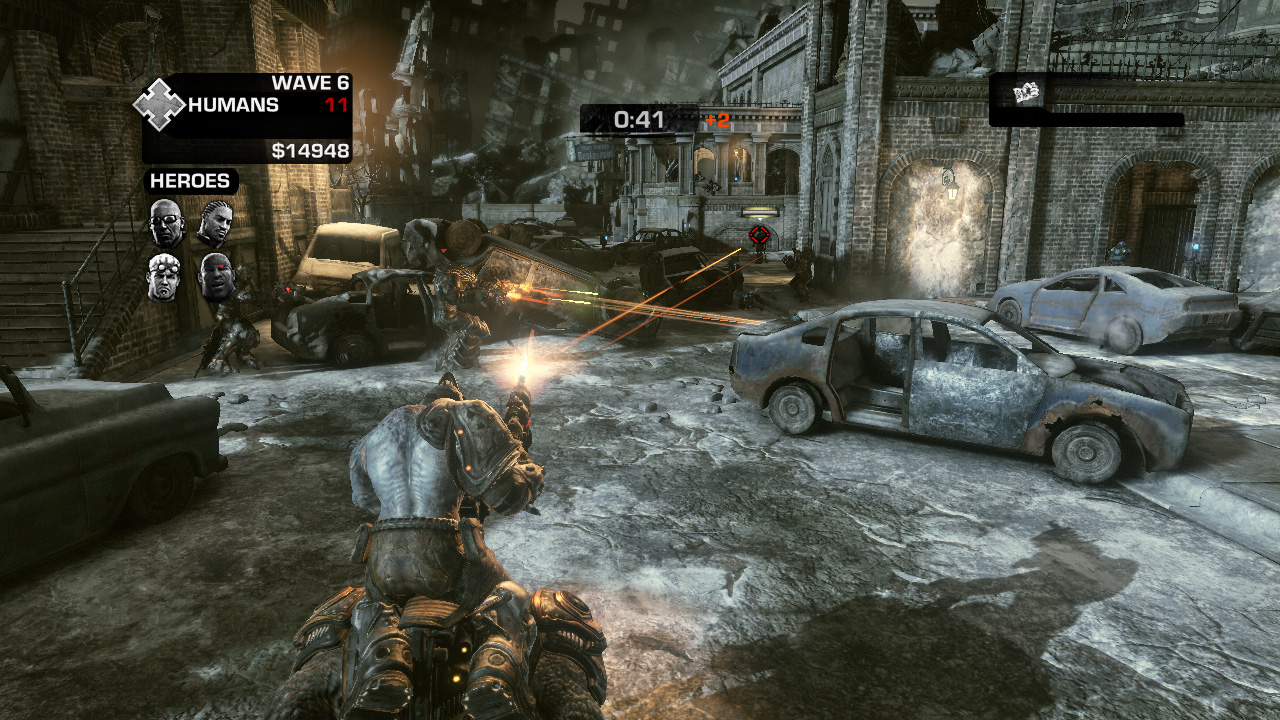 Beast mode is so much fun it's a shame you can only play against the AI. If anything represents the potential future for Gears games, it's this. There's an excellent class-based game to be made from combining Beast and Horde mode into some kind of man versus monster fight like Left 4 Dead.
Gears of War 3 is such a balanced and polished version of its predecessor one could accuse it of lacking ambition. Still, it would have been a foolhardy move to vary such a successful core formula. The closest the game comes is in the form of a single weapon, the Digger, which launches a burrowing mine that can bypass cover to explode in your face. It flaunts the one steadfast rule of Gears, which is that if you're behind cover you're safe as can be. It's interesting that the Digger appears very rarely in the campaign. I look forward to seeing the strategies people come up with for using or avoiding it online. The only tweak I wish Epic had made would be the removal of onscreen queues for picking up weapons and leaping from cover, which dampers Gear's cinematic presentation. As I said before, Gears of War is a reason to own an HDTV. Sony and Panasonic should buy Cliff Bleszinski lunch.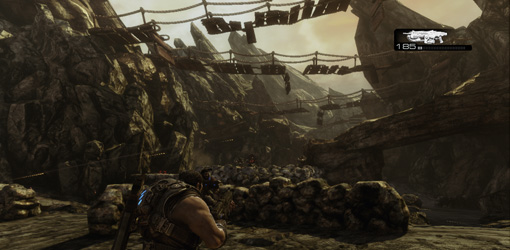 While it's truly doubtful that this is the last Gears game, it is likely the end of the Marcus Fenix saga, and probably Bleszinski's involvement with the series as well. Just as Bungie left Halo to Microsoft to move onto bigger and better things, the man's talent would be better spent on something new. Though players will miss his celebrity presence as much as John DiMaggio's gravely voicing of Fenix, I can't wait to see what sort of widescreen adventure he'll cook up next.