Star Wars: TOR News: It's not exactly guaranteed beta access, but pre-ordering MMO Star Wars: TOR will get you early access. The question is when?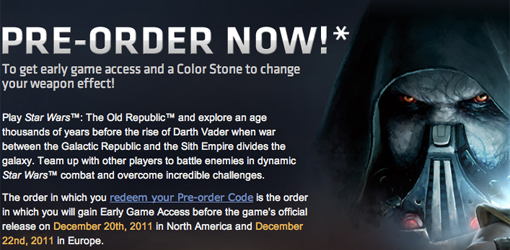 Bioware has finally set a release date for their much awaited MMO, Star Wars: The Old Republic. It's December 20 in North America and December 22 in Europe. Arriving just in time for the holiday season, the game is sure to make millions of PC gamers' Christmas lists. In fact, it will release to almost no competition on the platform, now that Diablo III has been delayed.

A pre-order gets you plenty of in-game bonuses, but the most alluring is the chance to play Star Wars: TOR early. However, Bioware has yet to say exactly how early. We finally have a release date, but we're left wondering when ?early access? will begin. Ironic, don't you think?

In their FAQ section, Bioware merely says:


Early Game Access will begin prior to the official release of Star Wars: The Old Republic. Precise dates will be revealed at a later time.


Are you planning to strap on a blaster or build a lightsaber? If so, will you be pre-ordering? How do you feel wondering about one more date? Tell us in the comments.