Rayman Origins review: Bye-bye Rabbids and look out Mario, Rayman is back and better than ever!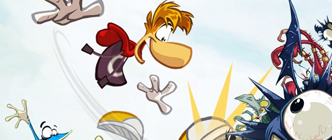 Lovers of side-scrolling gaming, well executed co-op, and all things whimsical and weird, Ubisoft has your early Christmas present: Rayman Origins. While the market is currently flooded with plenty of bigger and louder titles, Rayman is every bit as polished and well-designed as something like Uncharted 3. The game just oozes craftsmanship and effort on the part of its creator, Michel Ancel. He's been called the ?French Miyamoto,? but judging from his new game, he's learned just as much from Dr. Seuss and Tim Burton as he has from Mario's creator.
The ?Origins? in the title refers more to Rayman's gameplay roots than the beginning of his story. The cinematic embedded below is as much backstory as you'll get, but it perfectly sets the tone for the adventure. This is a game that blends animation, music, and gameplay as well as any title on the market.
Forget 3D adventures like Rayman 64 or those tiresome Rabbids, this is a fast, frenetic, and incredibly well-styled platformer. Unlike the Mario games, which are practically a genre with their own set of rules, Ancel has been able to exercise incredible creative freedom here. Running at 60 fps, it's a magnificent technical package with simple yet satisfying gameplay.
It's very easy to compare to Rayman Origins to New Super Mario Bros. Wii. Most notably, both games have four player co-op where injured players float up into the air, waiting for rescue. Rayman borrows bits of Mario's formula, but streamlines it considerably for a much smoother multiplayer experience.
First off, unlike Mario, it's completely drop-in, drop-out. Second, if someone picks up a power-up they don't need, it's given to a player who does. No more getting annoyed with friends who carelessly grab items, no fighting your instinct to grab power-ups before they disappear. Third, there are no lives, if everyone dies, you just start over at a checkpoint. That means no running level 1-1 over and over again just to farm lives. You can replay levels for more rewarding reasons, like finding secrets or beating time trials. Lastly, characters don't bounce off each other, a feature which made Mario Bros. Wii humorously chaotic, but unplayable with more than two players in the later levels.
There are also more characters. There's Rayman, the magically limbless protagonist, his gentle giant sidekick Globox, and a handful of little guys called Teensies. Each has a distinct look, so you won't mix them up as easily as Mario and Luigi. They also have their own hilarious animations, like Globox, who latches onto ledges with his upper lip.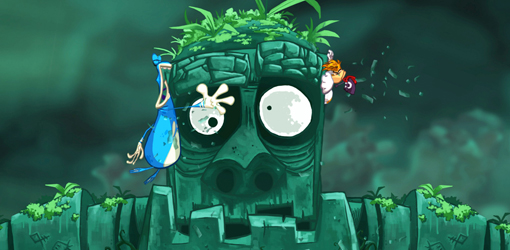 Rayman is also strikingly well-animated. Everything in the frame reacts to your presence and bounces along with the soundtrack. One look at the box art and you might think it was an ad for a new Cartoon Network series. Still, don't think Rayman Origins is for children. While the perfectly implemented co-op makes it a great game to play with your little brother, it's never childish or overly gentle. In fact, in can be quite tough and downright menacing. You'll find yourself holding your breath as you leap gaps and narrowly avoid enemies. It's like a Pixar movie, styled for the whole family and simple enough for kids to get into, but with enough depth to satisfy adults and real genre die-hards.
In true platformer spirit, there are lots of items to collect. The primary pick-ups in Rayman are Lums, little glowing guys that serve as the equivalent of coins in Mario or rings in Sonic. As I mentioned, health pick-ups are distributed amongst needy players, but the game wants you to get competitive over Lums, ranking you at the end of a level based on how many you grabbed. The competition gets you searching nooks and crannies, and racing to lead the pack in order to grab them. It's purely for sport, however, all your Lums are added together to unlock new levels and characters.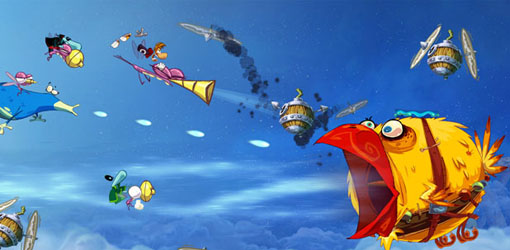 Did I mention that Lums sing? Yes, when you grab a ?King Lum? (aka a big one), all his little Lum subjects start to sing a little ditty. Grab them before they finish and they're worth double. The song is adorable and hilarious, and gets the player hustling like Mario with invincibility.
The singing Lums are just one part of Rayman's glorious use of music. As in every platformer, each zone has it's own theme and style of music, but no game's soundtrack is as varied as Rayman's. There's a mix of world music, techno, Spanish guitar and fast-paced rock. In platformers, underwater levels are known for their serene and striking music. Rayman's underwater music sounds like a Chipmunk luau. You've got to hear it, check out the video below.
Rayman can be both gorgeous and grotesque, whimsical but never childish, and the visuals are consistently engaging. For example, the game has you collecting ruby colored teeth for a skull-headed spectre of death guy. When you first meet him, he's pathetic, cowering toothless in a hole. As you bring him more and more teeth, which fly out of your hands and into his jaws, he begins to emerge, growing happy and confident. It feels like you're helping this guy, and it's genuinely rewarding.
Contrast that with a game like
Rage
, which had all the fancy character animation in the world, but it never reflected one iota of change when you helped a character. There was an old man who stood quivering and shaking, in desperate need of arthritis medication. After you brought it to him, he still stood there shaking without an ounce of detectable change. Rayman may be a side-scroller, but it makes lesser games look flat and one-dimensional by comparison.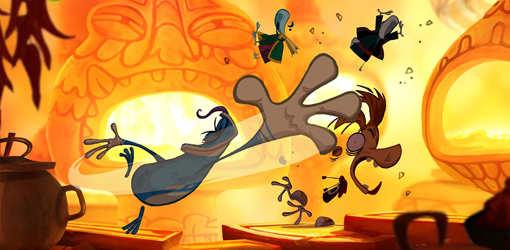 There's really only one complaint I can make about Rayman, and it has more to do with the platforming genre in general, though it is amplified by Rayman Origin's design. Platform games, when they get really difficult, can become pure trial and error. With no extra-life gathering to break up the pace, it's very easy to fall into a loop of dying and trying again. You may find yourself frustrated, which necessitates putting down the controller for a while. However, I'd much rather take a break than pointlessly replay levels to farm lives.