NFL Blitz 2012 Review: NFL Blitz is back after a decade-long absence on the video game field. How does EA Sports' interpretation of arcade classic stack up? Matt finds out.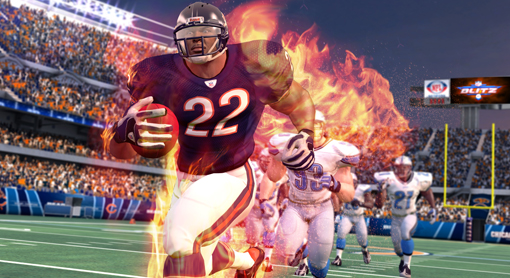 NFL Blitz was my gateway drug to liking football in the 90s because it was just as much of an action game as it was a sports game. With stripped-down rules, over-the-top tackles and two-minute quarters, this no-injuries and no-penalties version of football from Midway Games was easy to get into and immediately accessible. Of course, while this game set in motion my appreciation of football, the NFL didn't see things the same way - unsportsmanlike conduct and aggressive athletes, in their opinion, painted the league and its sometimes troubled players in an unfavorable light. This, along with millions of dollars, made giving EA and its Madden juggernaut the exclusive rights to NFL video games a very easy decision.
The penance for being a diehard fan of Blitz's lightning-fast plays and pro-pass interference gameplay has been playing 2002's NFL Blitz 20-03 for a decade. That was the last true NFL Blitz game. After that, NFL Blitz Pro came out ahead of the 2004 season sans a lot of the roughhousing that the league didn't approve of. Midway's subsequent efforts, Blitz: The League and its sequel, put up a full-contact fight, but did so with made-up teams and players. Ten years later, the Blitz license of the now bankrupt Midway Games has landed (again, thanks to millions of dollars) in the hands of none other than EA, allowing NFL Blitz to be reborn as a $15 PSN and Xbox Live download.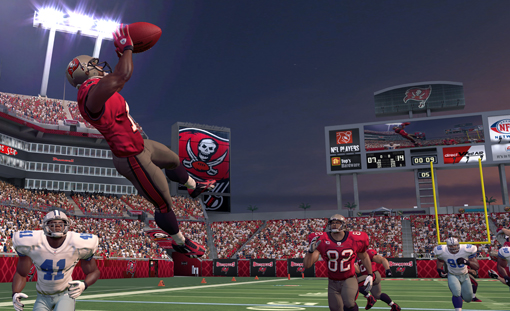 EA's NFL Blitz is a 7-on-7 battle for more yardage on the gridiron, and with 30-yard first-downs and rampant interceptions and fumbles, this is the electric gameplay that made Blitz a classic. Best of all, it can be picked up and played right away; a lot of the controls, sound effects and plays haven't changed. Everything suited for arcade play, from the ultra-quick analog stick passing method over the inferior icon-over-the-head system, to the 100-plus cheat codes that you can punch in during the loading screen before the start of each game. From fantasy teams to oddities like Big Head Mode, this NFL Blitz is full of nostalgia.
Key differences are that NFL Blitz is presented in high-definition, a first for the franchise since it's been dormant for a decade, and it runs at a speedy 60 frames per second. Players don't feel quite as fast and lightweight as they were in NFL Blitz 20-03, which is a shame. But they're more nimble compared to their real-life counterparts and Madden simulations. Every one of the players on the 32 licensed teams feels like he's part of an arcade game, but the ability to violently move about the screen has been tweaked just a bit. This could certainly be tied to the NFL's restrictions.
I interviewed the new NFL Blitz team
back in October, a time when late-hits, the meaningless but fun roughhousing at the end of plays, were still intact. ?We have late hits in the game,? they said. ?But the game is still not finished and it's still under review by the NFL.?
It looks as if the NFL erred on the side of caution because you're locked out of controlling players at the end of each play. Likewise, wildly dive tackling, then immediately switching players, then repeating the same carnage-resulting maneuver until every offensive player is on the ground, has also been subdued. Lastly, when a player is down, they only need to be touched. Stopping a player who has caught on diving pass no longer requires the equivalent of being pile-driven into the ground. This version of NFL Blitz is still out of control compared to every other unsuccessful arcade Blitz-clone EA has attempted. But with the lack of late-hits and the tamer tackles, it's almost as if the series had the adrenaline-pumping hits at 11 and now it has been relegated to a passable 9.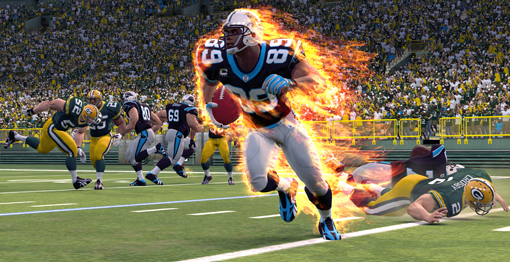 The same can be said about the commentary from returning play-by-play announcer Tim Kitzrow and new side-man in the booth Brian Haley. The combination of the legendary NBA Jam/NFL Blitz voice with the fresh-faced actor/comedian can be entertaining at times, but there's not enough dialogue to last a mere three games. More disappointingly, neither calls out the names of players. I have fond memories of playing prior Blitz games as the (then suped-up Super Bowl champs) Tampa Bay Buccaneers, a team with Brad Johnson as the QB and Keyshawn Johnson as the star wide receiver. ?Johnson, to Johnson, the pass is complete to Johnson!? Ten years later, it's I'd hate to think that EA told Kitzrow and Haley that it's only a $15 game and decided to cut the recording session short.
What NFL Blitz lacks in full-on violence and commentary, it tries to make up for with new modes. Blitz Gauntlet, akin to Mortal Kombat's Challenge Tower mode, sets you on a quest to climb an ever-increasingly difficult ladder of opponents. Uniquely, this mode incorporates fantasy teams. Every fourth rival acts as a ?boss,? so you'll have to face off against a 7-man squad of Cheesehead fans, robots, aliens, pirates, etc in full fantasy garb. While Blitz Gauntlet is fun and makes sense as an arcade campaign mode, Blitz Elite is a little more tedious and unrewarding. The main objective is to collect NFL player cards using in-game Blitz Bucks and risk them against opponents a la Madden Ultimate Team. But it seems more fitting for a simulation game. And players seem to agree - there are a lack of competitors in this Risk and Reward game type.
The real online competition comes from Blitz Battles, where you're risking your status on state, regional and national leaderboards. This mode begins with relatively easy home state competition, but as soon as you're promoted to a regional leaderboard like West, you begin to face better Blitz players and, if you lose, can actually be humiliatingly demoted back down to state level. To further the embarrassment, the number of demotions extends to your permanent Blitz record for all to see. With your pigskin pride on the line, not a meaningless card currency, Blitz Battles is the previously unattainable online mode fans have wanted for ten years.