PS Vita Launch Titles Hands-On Preview: Will the Vita's 25 titles be enough to get it off the ground when it launches in North America on February 22?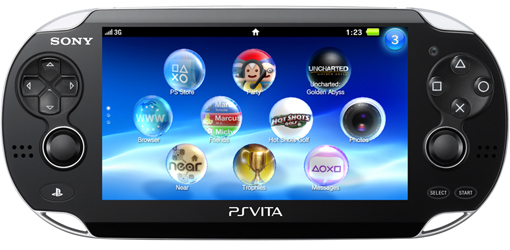 On February 22, Sony's PS Vita is launching in the U.S. with over 25 titles. It's a diverse line-up of boxed releases and PSN exclusives, with every genre accounted for. Recently, I found myself crammed into a little venue on Santa Monica's Main Street with about ten of them. I waded through the crowd of press, PRs, and developers to get as much time with the software for Sony's mean little machine as I could.
It was a strong showing of console ports, licensed games, sports titles and shooters,
definitely enough to get Sony's new handheld off the ground, but I still believe the PS Vita needs a signature original property to maintain orbit.
Let me give you the blow-by-blow:
Wipeout 2048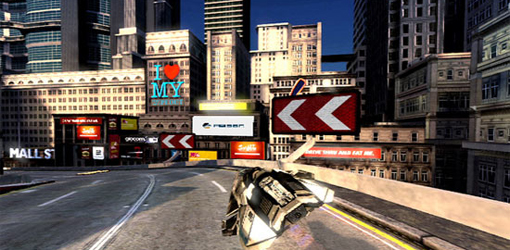 The fastest, shiniest racer on the PS3 is soon to be the fastest, shiniest racer on the PS Vita, in the form of this racing prequel. That's right, the handheld version of Wipeout takes place in the somewhat-nearer future of 2048. The developers have used this prologue-type setting to design racetracks that represent the early days of anti-gravity racing. Players will rally through malls, across freeway ramps, and straight up the side of skyscrapers in harrowing roller coaster climbs.
Fans of the series will notice that the
tracks have been widened and have fewer places where racers can fall to their doom.
According to the developer on hand, this is in response to players who found the series too unforgiving. I would bet that it's also to accommodate the motion control mode, which is a tad sensitive for the game's breakneck speeds. Purists will be pleased to know these controls are optional, and they can race on the tracks from Wipeout HD using the Vita's Crossplay feature.
Ultimate Marvel vs. Capcom 3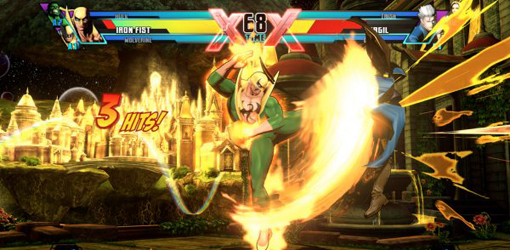 Capcom has brought a verbatim version of the smash hit PS3/Xbox 360 fighter to the Vita. Running at a snappy 60 frames per second, it's a port that feels nothing like a port. All 50 characters that made this game what it was on console are here, and looking great on the Vita's sharp little screen. Also,
any DLC you bought for the console version of Ultimate is yours on the Vita, free!
You can also use the Vita as a touch screen controller for the PS3 version. While you'd have to be a real die-hard to double up on copies of Capcom's second VS game in less than a year, these are some pretty thoughtful features.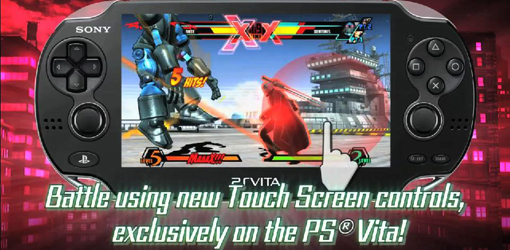 While using the Vita as a PS3 controller is a nice novelty,
the standard touch controls for UMvC 3 are rather tacked on.
To attack, you touch the enemy, and your character unleashes combos that would make a controller-smashing six-year-old proud. Special attacks are activated by simply touching the Hyper Combo gauge. It's button mashing without the buttons, and while the series has always had the noob-pleasing ?Easy? control style, it's a ridiculous feature. Thankfully, it's easily disabled in both single and multiplayer.
Despite the screen spamming,
this was my favorite game of the show
. It looked great, there's nice multiplayer potential, and a fighting game has the sort of pick up and play appeal mobile games need.
Super Stardust Delta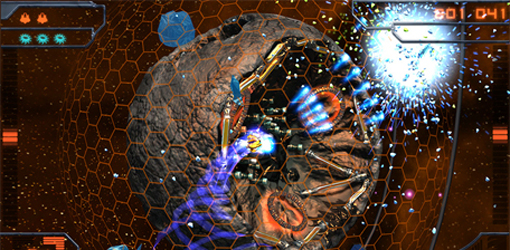 The Stardust series of twin-stick shooters also has big pick up and play appeal, putting one on the Vita must have seemed obvious. Enter Super Stardust Delta, its neon color palette and sharp graphics look great on that powerful OLED screen. For the most part Delta's touch controls feel natural.
Guiding bombs by fingertip and launching black hole attacks using the rear touch makes for devious multi-tasking.
However, the mini-games based around touch controls felt a bit gimmicky. One of the games had you ?pinching? asteroids using the front and back touch, another is a pure shooter where you guide your reticule by tilting the Vita. I was told that some of these games would be sold separately as day one DLC. While Delta itself is as good as any other Stardust game, I'd recommend checking out reviews before buying any of the extra content.
Hustle Kings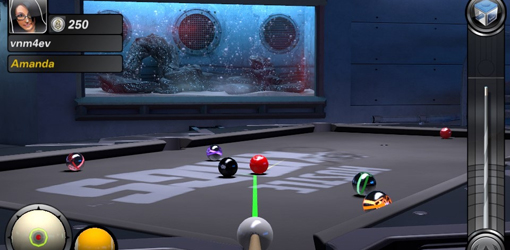 Probably the most straight-forward game on the system, Hustle Kings is pool (billiards, snooker, whatever you call it) on the Vita. It's got everything you'd expect: touch controlled stick stroke, online multiplayer, and a ton of pool tables. It's got one stand out feature that might make it a multiplayer hit: a
Word with Friends-style turn based multiplayer,
where you can take your shot and then wait for friend to answer back on his coffee break. You can have multiple games going, just like on everyone's favorite Scrabble-ish iPhone game.
Resistance: Burning Skies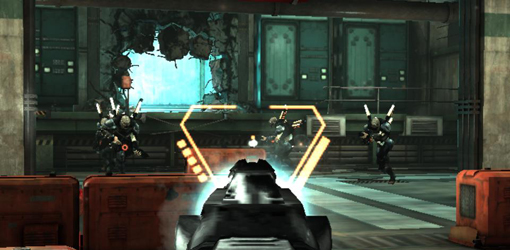 The Vita version of Resistance was the only game I demoed that won't be available on day one of the Vita's North American launch. Its release date is still TBA, with some sources saying Summer. What I played was an early build, but besides the long load times, the game was playing quite well already. My demo took me across a war-torn vision of the New York-New Jersey George Washington bridge.
First off, as an FPS, it works solely on the strength of the Vita's dual control sticks and shoulder buttons.
All your natural shooter instincts come alive,
with the shoulder buttons sighting and firing just like on a Sixaxis controller. The game also has an simple cover system that allows you to peak up from behind cover and quickly duck back down without having to ?snap? to cover. The smidgen of auto-aim gives popping up and blasting a very natural, shooting-gallery rhythm. The game also makes nice, simple use of the system's touch features, letting players use on-screen buttons for weapon selection, grenades, and melee attacks.
Ben 10 Galactic Racing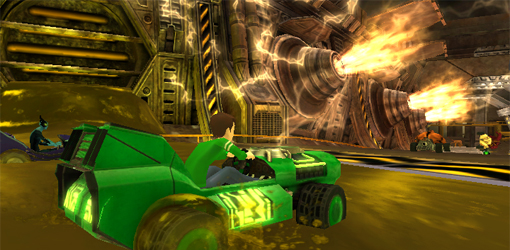 Since I haven't seen Cartoon Network's after-school programming since the days of Toonami, licensed kart racer Ben 10 Galactic Racing was a surprise for me. The developers called it a ?kids' game? and I won't argue,
it'll definitely appeal most to young fans of the show, but it is well made.
Good thing too, Sony must know that a smattering of licensed titles is a must, not just for kid appeal, but so parents who want a Vita for themselves can more easily justify the purchase. The pricey handheld will be a lot more appealing if moms and dads can pick up games for their kids at a decent price.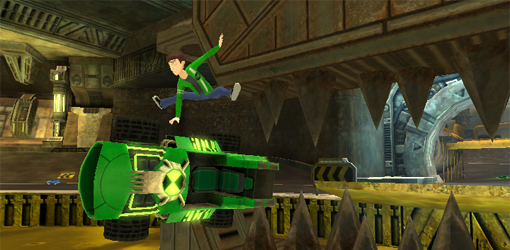 It also helps if these licensed games are good, and Ben 10
is
good, and goes for only $30. The combination of drifting turns and firing off items follows the Mario Kart standard, but the special attacks racers unleash by landing tricks adds something new to the equation. And you do have to actually
land
these tricks via timing, which adds a nice bit of challenge.
Plus 15 racers and 25 tracks means kids shouldn't be asking for a new game too quickly.
Plants vs. Zombies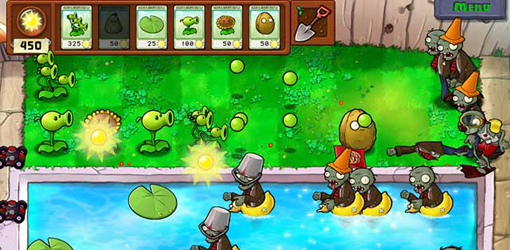 Plants vs. Zombies may seem like a random choice, but it makes perfect sense. It's synonymous with the sort of cheap, addictive Angry Birds-type gaming that's exploded on the iOS/Android market. Ostensibly it doesn't need any promotion, but having it at the event must be Sony's way of saying, ?we know these games are hugely popular, so we're gonna have one of the best at our party to show how we're embracing this market.? And Sony does seem to have embraced it. A PR rep told me PvZ would be a PSN title, and that the price would be ?probably $10.? Good to know that Vita customers will be paying about what iPad users are charged for these games.
As the latest version of a three year old game, the Vita version of PvZ has it easy.
The developers had the pleasure of cherry picking the best features from other releases, and now the PS Vita port tops the game's previously released GOTY version
. Basically, it's the same game you know and love, but with a feature or two you may not have seen. There's the mini-games from the PC version, the ?Zombatar? zombie-creator (put hats and wigs on zombies, a big hit with the kids, I'm told), and a simple motion control: give the Vita a shake to collect Sun and Coins.
To me, games like this are the reason the Vita has a touch screen
. While I enjoyed ?bigger? games that used touch controls subtly, like Resistance and Stardust, the board-game like PvZ is perfect for it. A touch screen means the Vita will get all those cheap, fun little games that usually stick to cell phones and tablets.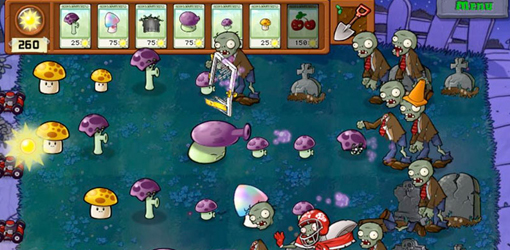 Rayman Origins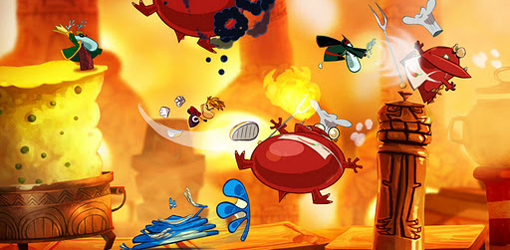 Rayman Origins is an awesome game, I already said so in my review
. The game may be on consoles, but its outrageous visuals and the Vita's sharp OLED screen are the perfect reason for it to jump ship.
It's one of the best styled games in recent memories, with a look like the drug addled doodles of Tim Burton and Dr. Seuss
. The game has style, humor, pick and up play appeal, but enough challenge and depth to hold your interest.
It didn't get a bunch of unnecessary touch features on it's way to the Vita, either. There are a few simple things that compliment the aesthetics, like pinching and zooming iPhone-style to get a closer look at those awesome animations. I'd like to say it'll be a great title for Wi-Fi co-op, but I'm not sure what kind of multiplayer support it will have. Unfortunately, there was no one from Ubisoft at the event to answer my questions. Poor Rayman Origins was the only game there sitting by its lonesome. It was hard to even get your hands on the game, people were using the table to sit down and have a snack! I've e-mailed Ubisoft to see what kind of multi Rayman will have (we know it won't have online co-op, but I'm wondering about local Wi-Fi multiplayer) and I'll update this post when we get an answer.
Escape Plan
If the Lemmings games had the tragicomic tone of Portal 2 and a striking black and white aesthetic, it would be pretty close to Escape Plan. I suppose that's heavy praise right out of the gate, but
this might be the most original title launching with the Vita
.
The game stars Laarg and Lil, two bipedal creatures that look like something Calvin of
Calvin and Hobbes
would draw. Players must guide these hapless creatures through a variety of hazards. Since you don't have direct control over the characters you have move quickly to clear a safe path, lest your minions meet a noisy, splattering fate.