Nexuiz 2012 News: We reported Nexuiz's release date and price. Now watch the dynamic mutator trailer.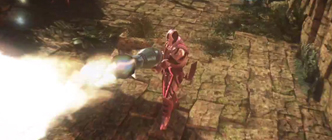 Denver-based developer IllFonic is bringing classic Arena FPS game to a new generation of gamers on February 29, newly announced release date for Nexuiz. While Nexuiz does cost money this time around (it was freeware when the original released on the PC back in 2005), this new version will sport updated graphics thanks to the CryENGINE 3 engine and new game-changing power-ups via dynamic mutator gameplay.

With on-the-fly upgrades such as jetpacks, uber-nukes, low gravity and big head mode, Nexuiz's dynamic mutator power-ups should add to the already chaotic gameplay of the seven-year-old original. The latest trailer, clocking in at 1 minute and 27 seconds, proves that with trigger-happy Arena gameplay that appears to be worth all 800 Microsoft Points.

Xbox Live gamers get a hold of this updated classic first, while PS3 and PC gamers are promised a spring 2012 release date.