Written by
GT Staff
on
February 17, 2012
Mobile News: A lot of our focus has been on iPhone games, but there plenty of people have to work with Blackberry phones. These are the top games for those folks.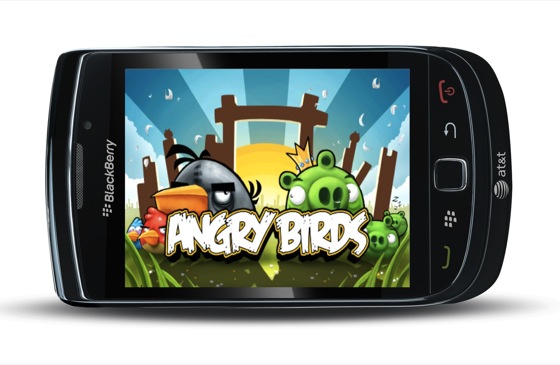 A BlackBerry smartphone is a device that does more than just send and receive calls. In addition to features like email and web browsing, many users choose to download BlackBerry apps and games for their device. Games for the BlackBerry are very popular and can be downloaded directly from the phone. There are many games that are considered the most popular and are downloaded to the most devices. All games can be downloaded from the BlackBerry App World.
Fruit Ninja is a game that ranks very high among BlackBerry users. Fruit Ninja remains a favorite paid app for mobile phones. In the game, users compete in different modes to cut and slice fruit, racking up the highest score possible by creating combos and hitting bonuses. This game is easy to play and appropriate for all ages, with a cost of just $1.99.
Angry Birds is a popular game that can be found on many people's cell phones. Angry Birds allows users to shoot birds to destroy the evil pigs that stole their eggs. With over 200 levels, there are many different challenges throughout and lots of fun to be had by players of any age. The Angry Birds app for BlackBerry costs $4.99.
Similar to Angry Birds, Angry Pigs is another top paid BlackBerry game. Pitting pigs versus wolves in over 100 different levels, this game is sure to offer hours of fun for anyone of any age. Players can also purchase an additional add-on to help through the most difficult levels. The price for Angry Pigs is just $2.99 and remains a BlackBerry favorite.
For free apps, Hangman is a favorite choice. Hangman is the original game that involves guessing words and phrases by picking one letter at a time. Pick too many wrong letters, and your game is over. It is a fun game for both kids and adults and can even help expand vocabulary. Hangman for BlackBerry is one of the top apps that can be downloaded from the App World for absolutely free.
Free Solitaire is another favorite BlackBerry game. Many people are familiar with the one person card game that has been played for years on computers and mobile devices. It is a great choice for a free game to download.
BlackBerry users can find these fun games on their mobile device by navigating to BlackBerry App World to download all of the newest and most popular BlackBerry apps and games. Adding these games, and the many others that are available for download, can help a BlackBerry user have fun while on the go, right from their cell phone.