FF XIII-2 Reviews: Featuring the most complex roman numeral the series has seen yet, plus moogles.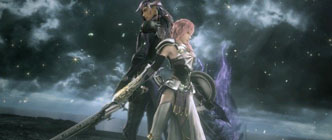 The sequel to one of 2010's most polarizing games has finally arrived with Final Fantasy XIII-2. Square Enix listened to a lot of the complaints leveled at Final Fantasy XIII and came back with an improved game with XIII-2. I will say right from the start that I was in the group of people that thoroughly enjoyed Final Fantasy XIII. The linearity didn't really bother me as it was a narrative driven experience and I am a person that really gets into the story of a game.
With that said, Square has opened things up in XIII-2. You can now jump to different times and places utilizing the Historia Crux. The incredible battle system from Final Fantasy XIII has returned with some additions and tweaks that make it even better in XIII-2.
As soon as you begin the game you are almost immediately thrown into battle as Lightning. You are fighting against a man named Caius and are treated to a really cinematic showdown. Caius has Chaos Bahamut with him and Lightning has Odin to assist her. This whole battle looks spectacular as you are battling on the shores of Valhalla before it gets taken to the city itself.
This is also where you are introduced to a ?cinematic moment? in the game, which is basically a quick time event. If you're not a fan of quick time events in games you don't have to worry because this mechanic is used sparingly throughout the game.
After finishing the game I was really surprised at how little it was used. It's generally only used for important moments during a boss fight and it really does bring something to the game. Assuming that you hit these quick time events perfectly (which is really easy to do) you'll get rewarded with various items throughout the game.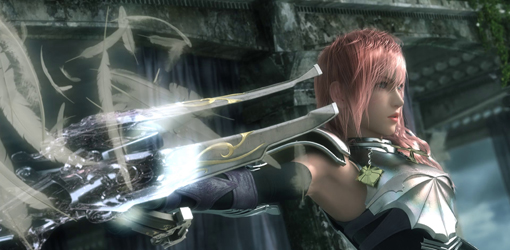 As I mentioned above, the incredible battle system from Final Fantasy XIII has returned in XIII-2 with some tweaks to the formula that make it even better. One big difference is that you can change the party leader during the heat of battle. If Noel's health gets down to zero then you automatically gain control of Serah.
In Final Fantasy XIII if the party leader got eliminated then the entire battle was lost. That's not the case in XIII-2 which definitely helped me out in some tough battles.
Paradigm Shifts have returned, however, Square has done away with the majority of the animations that you saw in XIII when you would switch between Paradigms. This allows you to switch between different Paradigms quicker and it ramps up the speed of the battles overall. I really appreciated that I could heal a party member much quicker, and in some cases, right before the enemy was about to strike. The paradigm shifts themselves work pretty much the same way they did in XIII.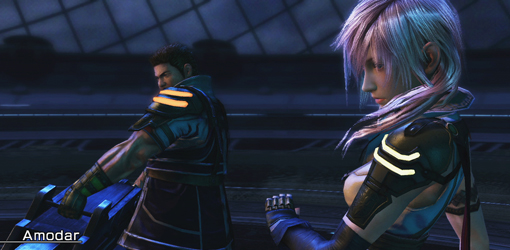 One notable change though is the inclusion of monsters in your party. Throughout the game you will control two humans (Serah and Noel) and then have that third slot taken up by a monster you've tamed.
As you progress through the game you'll fight various monsters and get a crystal for defeating them. This crystal allows you to add them to your party and, by the end of the game, you'll have a huge stable of monsters at your disposal.
They can even learn abilities and level up just like Serah and Noel. I'm sure you'll have your favorites that you utilize a good amount of time but if you are having trouble with a particular fight you might want to try using a different monster than you usually do. It can really make the difference in battles if you learn how to utilize them correctly. My favorite ones to use were monsters that had the commando role. That way, even if my party was busy healing, the monster would still continually attack the enemy. It adds another layer of strategy. Unlike in Final Fantasy XIII you get access to the full battle system pretty quickly in this game so you won't have to wait too long until you can experiment for yourself.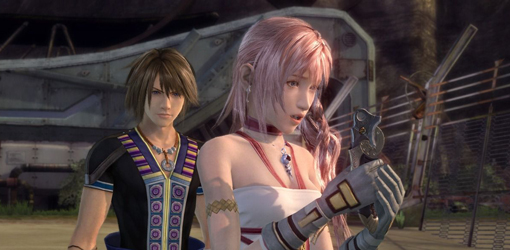 The Crystarium has also made its return to XIII-2, however, it too has received some overhauls, and become much more streamlined. At the beginning of the game you will only have access to a couple of different classes. As you scroll through the different classes that are available, the abilities that you are able to learn are on the bottom right corner of the screen. Every time you pick a class that role goes up a level. Say, for example, you want to learn ?launch? from the Commando class. By looking at the bottom of the screen you can see that you will learn that ability once your Commando role gets to level ten.
Each time you select a role it goes up one level. You simply have to pick the commando role ten times to get it to level ten.
Of course you need the required CP (Crystarium Points) to do so and you earn those points through battle. Instead of being on a path like you were in XIII, you simply pick a role and it gains a level. As you level up you will get to the point where the Crystarium expands. This is where you need to put your priorities in order. You will be given some different options such as earning a boost for your commando role, gaining access to another class, adding another slot to your ATB gauge and more. Even after you have learned all of the abilities in a role you will still want to keep leveling it up as it will still continue to give you more health and magic to work with.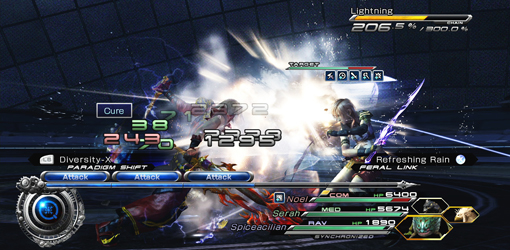 The story for Final Fantasy XIII-2 picks up three years after the conclusion in Final Fantasy XIII. Lightning has disappeared, she's in Valhalla trying to protect that realm from Caius who is trying to destroy it. Since her job is to protect that realm she can't leave it unguarded so she asks Noel to travel through time and space to track down her sister Serah.
The story for XIII-2 is pretty interesting in that it introduces time travel, spacial distortions and paradoxes. Serah and Noel have to resolve these paradoxes and protect their future by altering the timeline itself.
One of the ways you do this is through Temporal Rifts. These are puzzles you need to solve to help re-establish order in the timeline. There is one where you need to connect colored crystals, almost like you are reconnecting time itself. Then there is a clock based puzzle. To resolve this particular anomaly you have to erase all the crystal numbers from the clock face. If you made one wrong move and left any of the crystal numbers on the clock face then you have to start over. This particular puzzle could be pretty infuriating and there were times when I wanted to smack whoever put it into the game. Throughout the game you will visit familiar locales from Final Fantasy XIII as well as some new locations. You'll visit locations on numerous occasions but in different times. One of the first locations that you will go to is the Bresha Ruins in the year 005 AF.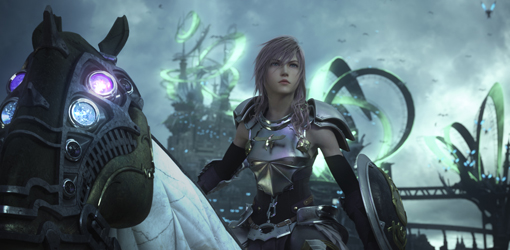 After you are done here you'll unlock a new timeline and be able to visit Bresha Ruins 300 AF and so on and so forth. In addition to being able to visit different timelines for areas, there are also parallel timelines which are represented with an ?X? in the name. These new timelines can make familiar locations seem new due to events that are taking place in each timeline. In Academia 400 AF there are enemies crawling around everywhere and almost the entire city is a battle zone. However, if you go to Academia 4XX AF, the city is a bustling metropolis and is probably more akin to cities you are used to seeing in other Final Fantasy titles. Serah and Noel aren't the only ones trying to fix the timeline though, and you will run into some old friends throughout your travels.
Moogles have also made their return in XIII-2 (kupo!) and a specific moogle named Mog becomes an important part of your party.
He can locate treasures for you and give you a heads up about other things you might have otherwise missed. There will be times when you come across a chest where you can see the outline but you can't do anything with it. That's because a chest is trapped in a time paradox, however, Mog can use his powers to get it out of that paradox which will give you access to it.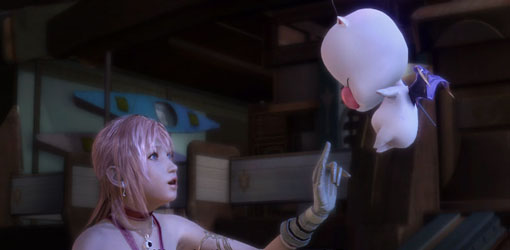 A couple of really nice features that Square implemented here is the amount of freedom you have. What I mean by that is that you can return to the Historia Crux at any time and when you return you will respawn exactly where you were when you left. When you return to the Historia Crux your progress is automatically saved so you don't lose anything by leaving.
You also have the ability to save anywhere, at any time, simply by pausing the game. This save anywhere feature really is something that every role playing game should utilize.
There are, of course, some exceptions but they are few and far between. Utilizing the Historia Crux to travel to different places and time periods can make for a pretty interesting story, however, the overall plot can be hard to follow at times. Because you're given complete freedom and allowed to jump to different times whenever you want the story isn't nearly as focused as it was in XIII. There is an interesting new feature you will sometimes come across called a ?Live Trigger?. When you are presented with this you have the option of how you want to act or respond. The selections that you make can leave their mark on history and you may acquire some items based on how you handled the situation.
With all of that said I don't really have a whole lot of complaints about this title. The temporal rift clock puzzle was really annoying as I stated above. The story can be a bit hard to follow at times, however, you have a lot more freedom to explore in XIII-2.
The last location that you visit before the final battle was probably the one I hated the most. Believe it or not this location featured a lot of platforming and you had to work your way through a maze in the process.
Platforming doesn't really belong in a Final Fantasy title and I was happy that it was only in this one part.
Additionally, the ending to the game offers very little resolution making me think this isn't the last time we will visit Cocoon and/or Pulse.