PS3 Previews: Gears of War without cover? More like Battlefield in space!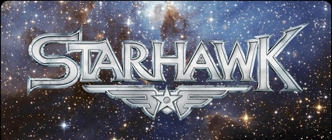 Jets, ?mechs, speeder bikes and tanks, who doesn't love a game that feels like a toy box? That's what we thought playing
Starhawk
, the upcoming vehicle obsessed shooter exclusive to the PlayStation 3. Senior Producer Harvard Bonin couldn't agree more. ?Basically, we give you the toys, you make the plans.? He and his team at Sony's Santa Monica Studios are whipping up one hell of a sequel to the 2007 multiplayer gem
Warhawk
.
It's a sequel, but don't worry about catching up on the story. The original
Warhawk
didn't have a single-player mode. It was too busy hosting massive vehicle-centric maps with a whopping 32 players. So no story mode, but it's not like it was slacking off or anything.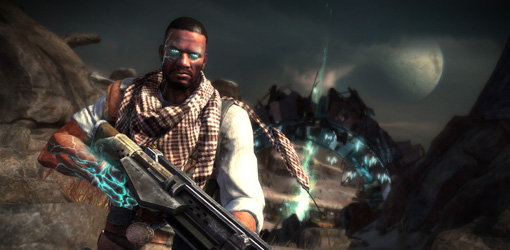 Space does weird stuff to you, man
Starhawk
shares its little brother's love of everything that's mechanical and loaded with explosives, but this time it's packing a campaign mode. Basically,
Warhawk
has gone to space, and watched a few episodes of Firefly on the way there. It's a gritty, blue collar take on the whole outer space as Wild West idea. The characters feel more like workers on an oil rig than soldiers, which makes for fresh characterizations. The visuals and voice-over are strong, it all adds a texture that the original lacked.
The campaign mode is appreciated, but
Starhawk's
best advancement over its predecessor is the ability to ?Build n' Battle.? With just the click of a radial menu, mission control will airdrop you structures, walls, vehicles, anything you'd want to steamroll the other team's base or keep the bad guys out of your backyard. You can select right where you want it built, in a way that makes for the strategic deployment of an RTS.
Starhawk
is not an RTS though, it's far more immediate than that. It's a third-person shooter with cool vehicles and a very neat resupply feature. You don't drop a bunker so you can order troops into it. You and your buddies run into it, grab the ammo, start shooting out the side, and plant some turrets on top of it when you find a spare moment.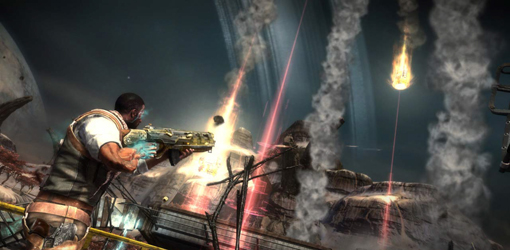 Getting resupplied never looked so good
Our first mission had us burning across a barren alien landscape on speeder bikes. To put it in Star Wars terms, the place may have had a sand and canyon Tatooine look, but we felt more like Luke racing through the Endor forest. We got to our destination, a supply base over run with hostiles. After clearing them out, we got word that enemy reinforcements were enroute. A timer appeared on the screen, showing us how many seconds we had to brace this base for incoming waves of unfriendlies. That's when things kicked into high gear.
We felt like kids building forts, in the best possible way. Instead of pillows and blankets, we had steel bunkers and mechanized machine guns. The next mission had us taking on a much harder target. Having to build on offense was a lot more stressful, and made us feel a lot greener.
Like any shooter, combat in
Starhawk
is hectic. It takes a cool head and a familiarity with the controls to call in the right equipment while under fire. We could feel the potential for some harcore strategic play. Average gamers will appreciate getting some training offline.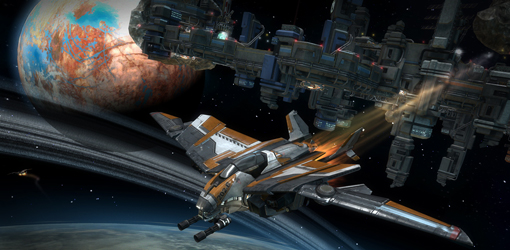 Jets. In space!
With its over the shoulder camera view, it's tempting to call
Starhawk
Gears of War
without cover, but the big maps and vehicles make it more like a third-person
Battlefield
.
Starhawk's
aiming isn't as slick as what you'll find in Gears, but the intuitive vehicle controls more than make up for it. Gears may have chainsaw bayonets, but we flew jets in space, jets that turned into Gundam-style ?mechs. Marcus Phoenix can't even get a Silverback whenever he wants.