Borderlands 2 News: Before blasting through Borderlands 2 this fall, see what's in the Deluxe Vault Hunter's Collector's Edition and Ultimate Loot Chest Limited Edition.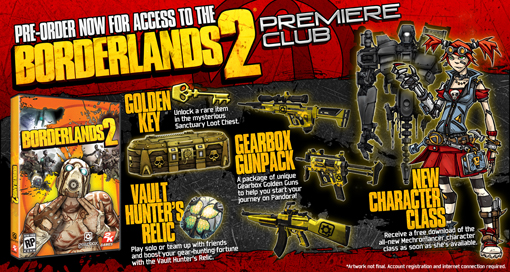 Borderlands 2 collector's edition, according to Amazon, GameStop and Best Buy, is coming is two flavors: Deluxe Vault Hunter's Collector's Edition and Ultimate Loot Chest Limited Edition. The differences may not be immediately clear from these official descriptions, but you probably already know two things. First, the collector's editions are much cooler than the standard boxed copies of the game. Second, they're more expensive. Of course, because Borderlands 2 is a four-player first-person shooter, you can always split the cost of these more expensive collector's editions. Before breaking down how much each of your friends will owe you come September 18 (aka the Borderlands 2 release date), let's break down what exactly is inside the collector's edition.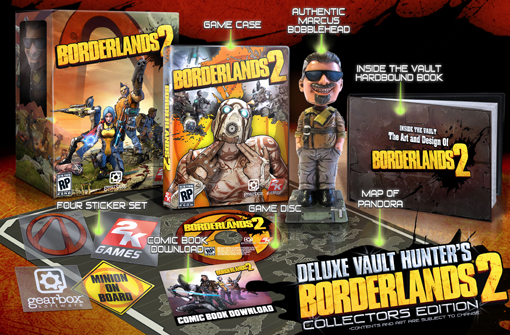 The Borderlands 2 Deluxe Vault Hunter's Collector's Edition contains the game (I'd hope so), an a marcus Kincaid bobblehead, four exclusive sticks, map of Pandora, comic book download and an art Borderlands 2 hardbound art book called ?Inside the Vault.? Bonus digital content is also promised with this collector's edition of the game as part of the premiere club (detailed in the first image). Interestingly, publisher 2K Games calls the bobblehead doll an ?Authentic Marcus Kincaid Bobblehead,? as if there's a counterfeit version being sold in the parking lot of your local GameStop. The price of this swag-filled version of the Borderlands 2? $99.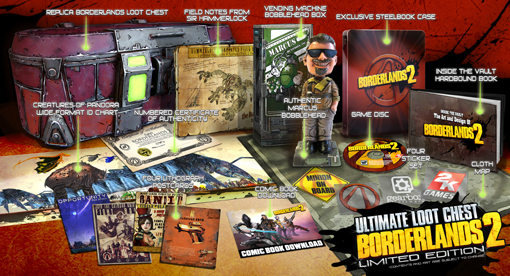 Borderlands 2 Ultimate Loot Chest Edition, if you have $50 extra to spare on top of the Deluxe Collector's Edition, comes four lithograph postcards, steelbook case for the game, creatures of pandora wide format ID chart, field notes from Sir Hammerlock, cloth map, and, if you're really into the collector's part of the ?collector's edition,? a numbered certificate of authenticity. This is on top of the previously mentioned goodies, the bobblehead, four stickers, comic book download, ?Inside the Vault? hardbound art book and bonus digital content. All of this comes packed inside a really cool looking replica Borderlands 2 loot chest and pushes the grand total to $150.
If you're a thrifty vault hunter looking for a better price, the standard $59.99 copy of the game on
Amazon nets you a $10 pre-order credit
after the Borderlands 2 release date.