Dust 514 Beta News: Learn more about the Dust 514 beta that is expected to have a release date on PS3 later this month.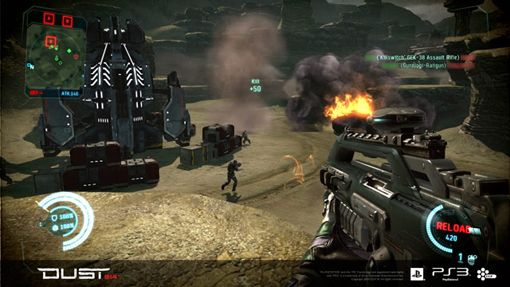 Dust 514 is getting an open beta soon and CCP Games has a release date window in mind: this summer. The Icelandic publisher also went into detail about how the game supports the PlayStation ecosystem with a custom PlayStation Home Space. To go along with the PlayStation Home Space, CCP also revealed a PlayStation Vita companion app, Dust 514: Neocom.



The first Dust 514 open beta event to take place will begin on June 29 and will run through that weekend. Gamers who register at www.Dust514.com/beta before the release date will be chosen at random to participate. CCP has promised that this is only the first event of the summer and that more information will be revealed ?in the coming weeks.?

Debuting as part of Sony's Virtual E3 Experience, the Dust 514 Home Space is a way for users to get up close and personal with the New Eden universe. In addition, the first 10,000 visitors to the Dust 514 Home Space will be able to get ?All Access? beta keys, guaranteeing them access to all the Dust 514 beta events over the summer.

Dust 514: Neocom is an app that integrates services that incorporate the feel and functionality from Dust 514 on the PS3. Each character can be customized and configured using Dust 514: Neocom. Players can create and edit customized fittings (load-outs) with a huge variety of dropsuits, weapons, equipment, modules and vehicles. The Vita app will also access a wide range of social features. These features will include the in-game mail system and friends list to keep up with game dynamics and players can purchase new items, weapons and vehicles from the Dust 514 marketplace using either ISK (in-game earned currency) or Aurum (purchased currency).

Dust 514: Neocom is set to be released later this year alongside Dust 514. What do you think about the PS3 exclusive Dust 514 and the upcoming open beta?