Doom 3 BFG News: Pre-orders start rolling out now that the Doom 3 BFG release date has been announced.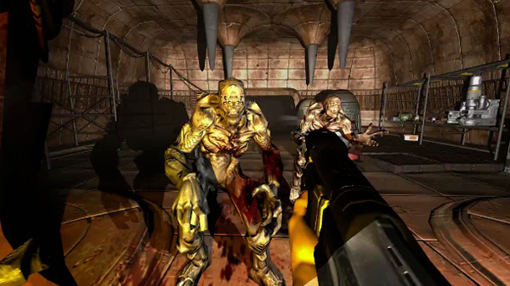 Doom 3 BFG Edition has a release date: October 16 here in North America and October 19 in Europe. Pre-orders are to follow. The original game will be remastered for the Xbox 360, PS3 and PC, giving players access to the single-player campaign and multiplayer in HD, 3D, 5.1 surround sound, and Xbox 360 Achievements and PS3 trophies. Looks like Doom 3 BFG PC players will be playing without the latter meaningless, but fun perks.



The PC version, however, will retail for $29.99 vs. the PS3 and Xbox 360 versions' $39.99 price tag. Additionally, Doom 3 BFG on the PC be compatible with Heads-Mounted Displays (HMD). id Software co-founder John Carmack was showing off a homemade 3D virtual reality headset at E3 2012 -- it'll will make you forget about the lack of PC achievements in Doom 3 BFG.

Doom 1 and Doom 2 will round out the Doom 3 BFG Edition package and, finally, the controls have been tweaked for consoles, allowing you to carry both a flashlight and a gun via an armor-mounted flashlight. We'll let you know how all of these changes work out, and maybe field-test the Head-Mounted Display, when the Doom 3 BFG release date rolls around on

October 19

October 16. In the meantime, check out the Doom 3 BFG trailer from E3 2012 while you wait for the release date.

Updated

to reflect the right BFG release dates. Thanks to Michael in the comments for pointing it out.