Civ V God and Kings expansion News: Civ V mods for Stream Works make access easier for gamers and, at the same time, Civ V: Gods and Kings adds new quests.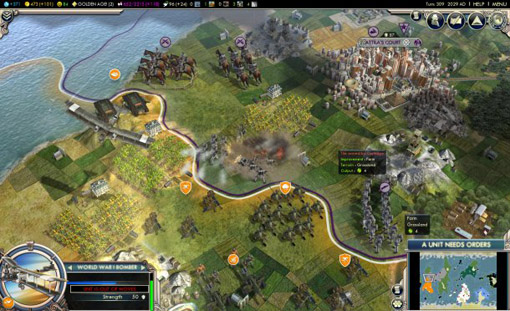 Civilization V is building on top of 2K Games' success by having the game become part of the Steam Workshop and adding the Civ V expansion, ?Gods and Kings.? With this new partnership, gamers can browse, comment, rate and subscribe to Civilization V mods directly from the Steam Workshop.



?Civ fans now have the added benefit of using Steam Workshop for theirCivilization V modding,? said Sarah Anderson, senior vice president of marketing for 2K. ?With this partnership and the Civilization V: Gods and Kings expansion pack due out on June 19, it's a great time to be a Civ fan.?

Civilization V mod authors can now post their mods in Steam Workshop. Additionally, Civ fans can now use Steam Workshop to browse mods in-game or on the Steam Workshop website, keep track of mods from their favorite mod authors, create mod collections to share with friends, and more.

?Civilization V is a fantastic addition to the Steam Workshop,? said Jason Holtman, Director of Business Development for Steam. ?We hope that the Steam Workshop will provide another avenue for the many talented Civ Vmod creators to have their work seen and played by millions of Civ V fans.?

Civilization V features fully animated leaders interacting with players from a screen-filling diplomatic scene and speaking in their native language. Wars between empires feel massive, as armies dominate the landscape and combat is more exciting and intense than ever before. The addition of ranged bombardment allows players to fire weapons from behind the front lines, challenging them to develop clever new strategies to guarantee victory on the battlefield. Civilization V also features an even more extensive suite of community, modding and multiplayer elements with the addition of Steam Workshop.

June 19 also marks the Civilization V expansion release date which is titled, ?Gods and Kings.? Civilization V: Gods and Kings takes players through time as they engage in new quests and global competitions, interact with new types of city-states, and master exciting new systems for land and naval combat. Nine new civilizations, each ruled by a new leader; nine new wonders; three original scenarios; and dozens of new units, buildings, technologies and resources have also been added, offering even more ways for players to expand their empire on their quest to rule the world.

Take a look at a below for Civilization V: Gods and Kings trailer and tell us what you think in the comments.