NHL 13 Cover Athlete News: The Xbox 360 and PS3 NHL 13 cover athlete will be Claude Giroux, a Philadelphia Flyer.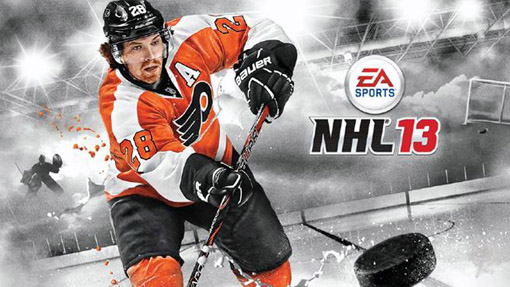 The NHL 13 cover athlete is going to be Philadelphia Flyers Forward Claude Giroux, who was picked after fans cast nearly 26 million votes for a player to be the face of the Xbox 360 and PS3 game. This was the first fan vote that EA Sports had for the hockey video game, following the trend set by the successful fan cover athlete vote Madden NFL every year.



?The support fans have given me throughout the campaign has been unbelievable,? said Flyers forward Claude Giroux. ?I am very excited to be on the cover of NHL 13 and I want to thank everyone who campaigned and voted for me - especially my teammates, the Flyers organization, and of course all the NHL fans who voted and tweeted.?

The NHL 13 release date isn't until September 11, 2012, but Claude Giroux is already gracing the cover of the game in these promo shots. Fans cast ballots between March 29 and June 4, reach a total of two million votes in the finals, which saw Claude Giroux skate away with the win.

?The level of passion that the fans, players, and NHL teams have displayed throughout the first ever EA SPORTS NHL Cover Vote campaign has been overwhelming,? said Dean Richards, General Manager, NHL, EA SPORTS. ?The EA SPORTS NHL Franchise has had a rich tradition of outstanding cover athletes and quality games, and we feel privileged to introduce Claude Giroux as the face of NHL 13 as selected by the fans. With Giroux on the cover and our revolutionary new True Performance Skating engine, we feel great about delivering our most innovative title yet with NHL 13.?

The best part for Claude Giroux is that the NHL cover athlete doesn't have to contend with the annual ?Madden Curse.? Skate safe, my friend.