Darksiders 2 Pre-order Bonus News: Darksiders 2 pre-orders through THQ's website include bonuses like Darksiders 2 Season Pass and the Maker's Armor and Scythe set.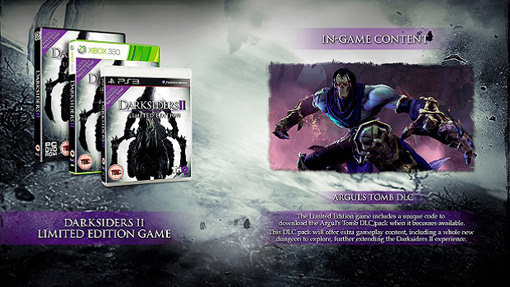 Darksiders 2 is the next big action-adventure game we're looking forward to, so we're pleased to let you know that THQ is making the Darksiders 2 Season Pass a promotional pre-order bonus if you order the game through its website, shop.THQ.com. So, gamers arguing that this Xbox 360, PS3 and PC game should should include the DLC from the beginning will be pleased to know that the trio content will be free if you chose to buy the game via this method.



The

Darksiders 2 Limited Edition copies from all retailers

already come with the first DLC, Argul's Tomb, about 30 days from the game's launch. The Darksiders 2 release date is August 14, so that puts the first content drop at about mid-September. The big news here is that THQ is throwing in the Darksiders 2 Season Pass as a pre-order bonus offered only on its website, making the Day 60 and Day 90 Darksiders 2 DLC free of charge, too.

Not as wildly entertaining as free DLC, a code to unlock the Maker's Armor and Scythe set is also part of pre-ordering Darksiders 2 through ShopTHQ. We're looking forward to trying it all out come August 14, when Darksiders debuts Death and more stellar action-adventure gameplay.