Transformers Fall of Cyberton News: This Transformers Fall of Cyberton trailer looks at the customizing and robot killing gameplay in the Xbox 360, PS3 and PC Transformers sequel.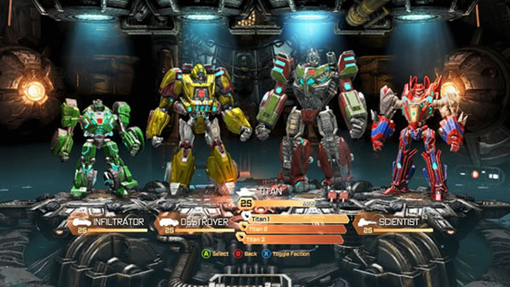 There's a new multiplayer trailer for Transformers Fall of Cyberton on YouTube that, first, demos the immense amount of customizations options, then sends those beautiful creations into destructive combat. The upcoming Xbox 360, PS3 and PC game is the direct sequel to War for Cyberton from two years ago - although developer High Moon Studios also did last year's Transformers: Dark of the Moon too, it has distanced itself from that movie-based game by another team within the company. And that's good, because Transformers Fall of Cyberton is going to be more like the 2010, but better.



As we learned in our

Transformers: Fall of Cybertron preview

alongside the developer in Las Vegas, the multiplayer will feature intricate parts in which you can build and fine-tune your very own Transformer. The coolest part that we saw was that once you have the configuration in place, you can not only customize the color, but the degree of the metallic. The metallic slider goes from looking like a robot wrapped in shiny foil to a more painted metal.

The actual multiplayer gameplay in Transformers Fall of Cyberton takes place on 10 multiplayer battle maps and the trailer also briefly demos the co-op escalation mode, which we haven't gotten a chance to check out yet. That'll have to wait until August 21, the

Transformers Fall of Cyberton release date

.