NBA 2K13 News: The NBA 2K13 teaser video included words by famed Chicago Bulls player Michael Jordan. We knew it had MJ written all over it.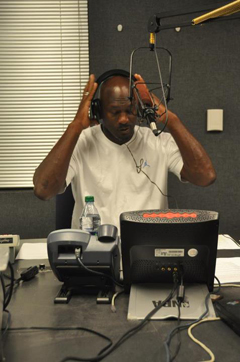 That NBA 2K13 video that was uploaded by Jay-Z to YouTube announcing his involvement in NBA 2K13 Executive Produced By Jay-Z did indeed include Michael Jordan's voice. As pointed out by Gaming Target reader Mario Mendez in the original news story, the unseen and uncredited guy speaking about a ?champion? sounded an awful lot like the former NBA player and Chicago Bulls basketball champion.

Sure enough, NBA 2K13 publisher 2K Games officially confirmed our suspicions by uploading a photo of MJ as he contributed his baritone voice to the twenty-second YouTube video.

?A champion never rests, never stops, never settles. So we didn't.? is spoken by Jordan followed by a short clip of Jay-Z's song Public Service Announcement. Jordan continues, officially announcing ?NBA 2K13 Executive Produced By Jay-Z.?

There's still no word on what Jay-Z's official involvement in the game will be outside of having his name on the NBA 2K13 cover and maybe songs on the soundtrack - the inclusion of Public Service Announcement from The Black Album certain hints at that. We'll let you know as the NBA 2K13 release date nears in the beginning of October.