Madden NFL 13 News: Calling and making pre-play adjustments in Madden NFL 13 for Wii U is just like you'd expect when using the Wii U GamePad.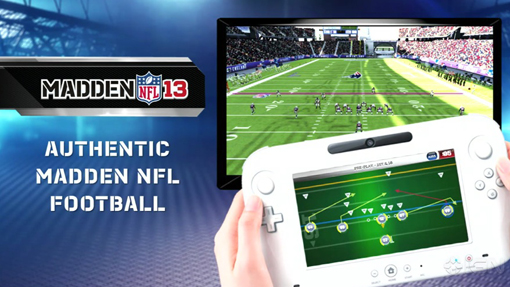 The first details about Madden NFL 13 for Wii U were announced at EA's Summer Showcase this afternoon, including how example of you'll be using the GamePad. Controlling this season's Madden on the forthcoming Nintendo console needs little explanation, though. It's just as you would imagine it. There are two columns to the left of the GamePad screen with play categories and specific play names. The right side of the GamePad screen is taken up by the play diagrams and you're allowed to scroll through them using the GamePad's touchscreen interface.



?You'll be able to use the touchscreen to navigate and access every corner of your team's playbook by simply using a series of quick taps and swipes,? said lead designer of Madden NFL 13 Wii U Yuri Bialoskursky.

The Wii U GamePad touchscreen interface in this version of Madden NFL 13 is also useful on the field right before the snap. Pre-play adjustments can be made to create custom hot routes while on offensive of change player assignment while on defense.

Besides these Wii U exclusive controls, Madden NFL 13 Wii U will boast gameplay features like total control passing, read and react defense, and 430 new catch animations. Also expect a Connected Careers mode, allowing you to relive the glory of an NFL champ or create your own legendary player or coach.

Finally, Madden NFL 13 for Wii U is taking steps to finally bring a more realistic-looking version to Nintendo holdouts. Bialoskursky promised ?Madden NFL 13 for the Wii U provides Nintendo fans an authentic football simulation in high-definition.? Along for the ride is Jim Nantz and Bill Simms of CBS Sports to do the broadcast.

Gaming Target will have more Madden NFL 13 Wii U updates as the game is expected to take to the field along with the new Nintendo system this year.