Army of Two: The Devil's Cartel News: Co-op shooter Army of Two returns to Xbox 360 and PS3 and, while few details are known, a March 2013 release date has been revealed.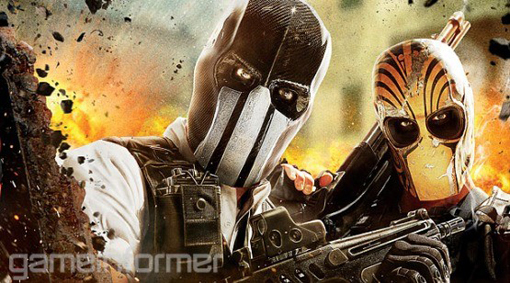 Army of Two: The Devil's Cartel was announced this afternoon by Electronic Arts and developer Visceral Games. This is the third installment of the co-op-focused franchise, but the first in which Dead Space developer Visceral Games is handling the job. Previously, that honor belonged to EA Montreal. The changes don't stop there. With a March 2013 release date already attached to this Army of Two re-set, EA promises a more mature and grittier tone on Xbox 360 and PS3.

"We wanted to refresh the Army of Two franchise for a new generation of action gamers, and at the same time, stay true to the core concept that really made the first two games fan favorites," said Visceral Games executive producer Julian Beak.



As you might expect from the name, the Army of Two: The Devil's Cartel story takes place on the deadly streets of Mexico. Not changing are the operative's assigned names, Alpha and Bravo. They're dropped into the middle of a drug war conflict and need to work together to complete objectives under heavy fire.

Army of Two: The Devil's Cartel will feature online and split-screen co-op so you can get the job done with a friend and offer an enhanced upgrade and customization system so you can create the most unique deadly pair of mercenaries Mexico has ever seen.

Visceral Games VP and GM Steve Papoutsis did drop a few more hints at today's press conference, saying that his team is ?taking the best parts of the previous two games and adding brand new characters, a new mature storyline and it's all built on the stunning Frostbite 2 engine.? However, additional details will have to wait until this month's issue of Game Informer magazine and the upcoming Gamescom convention in Cologne, Germany.

Just in case

you can't make it out to Germany to check this co-op game out, EA will be streaming the unveiling on its site.

Like your co-op buddy in the foxhole, Gaming Target will keep you up to date on the Army of Two: The Devil's Cartel news, so stay tuned for more updates on this newly announced Xbox 360 and PS3 game.