Darksiders 2 News: With less than two weeks until its release date, Darksiders 2 has a 30-second TV commercial and we have the video embedded courtesy of YouTube.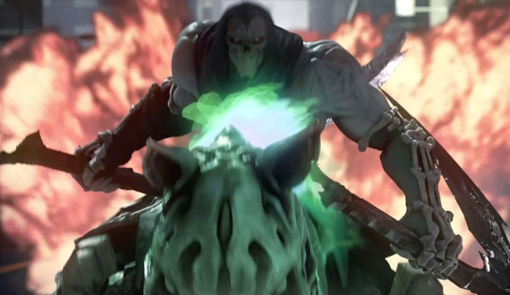 There's no gameplay video in this Darksiders 2 launch commercial, but the GC graphics of Death traversing from Earth to Hell still have us anticipating the game's August 14 release date. The 30-second TV spot begins with the new main character riding his flaming horse Despair through a populated, under assault city.



In the commotion, the commercial focuses on a scared little girl with a slow motion interlude that mimics the emotional effect of the Dead Island trailer. Although Death saves this girl and her father from immediate danger, we know from the previous game's story that total annihilation awaits all of humanity. Pitty.

?Beyond Earth, beyond Hell, Death is our final salvation,? the commercial narrator says in a determined voice as Death rides through Hell. As the grim reaper-like character prepares to take on a giant boss, the commercial narrator says the name of the game and flashes the GameStop pre-order bonus offer detailing the Death Rides Pack.

The ever-closer Darksiders 2 release date is almost upon us. Be sure to check back with Gaming Target for a full review of this game on August 14, right in line with the release date.