CoD Black Ops 2 News: The best Call of Duty: Black Ops 2 Collector's Edition is the Drone-included Care Package, but it comes with a $180 price tag.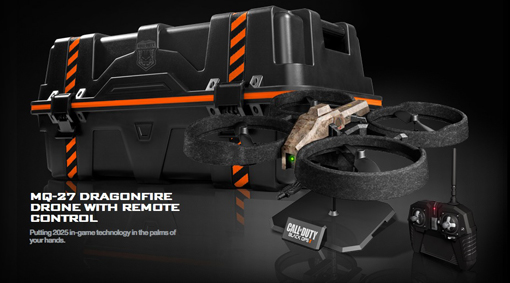 The CoD Black Ops 2 Care Package Edition fulfilled our collector's edition-loving, military-gadget-greedy hearts this morning with a YouTube video revealing the special bonus. Specifically, this top-of-the-line version of the game for the Xbox 360 and PS3 comes with an MQ-27 Dragonfire Drone and the remote to fly this "advanced weaponry" RC device.



This is great news for gamers who were disappointed with last year's Hardened Edition of Call of Duty MW3, which didn't contain one of the franchise's desirable tech toys normally found under the "Prestige" label. In 2010, the top collector's edition for the first CoD Black Ops game came with a real RC-XD remote controlled vehicle. In 2009, it was CoD MW2 delivering nifty night vision goggles. The CoD Black Ops 2 YouTube trailer doesn't show this collector's edition prize in action in the real world (it's in-game graphics, sadly), but it's a start.

The Care Package Edition of CoD Black Ops 2 also comes with everything else that is included in the just-announced

CoD Black Ops 2 Hardened Edition

. The futuristic Nuketown 2025 map and the undead-filled Nuketown Zombies map are sure to be fan favorite bonuses. Rounding out the in-game freebies are the exclusive multiplayer weapon camo, CLAW avatar prop, zombies avatar costume and player card backgrounds. Finally, real-world bonuses include a two-sided SteelBook case for the game, the

CoD Black Ops 2 soundtrack

and limited edition challenge coins.

Of course, all of these real-world and in-game perks come at a price.

Amazon and other retailers

are selling this Prestige-status CoD Black Ops 2 collector's edition at $180. We'll have more video of the Care Package Edition with a future news update.