FIFA 13 News: FIFA 13 goes from the previous year's three cover athletes to just one: Lionel Messi on Xbox 360, PS3, Wii U and other systems.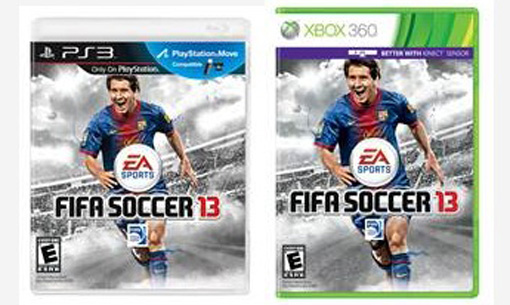 The FIFA 13 release date is now less than a month away, we while the soccer game's features are increasing, the number of cover athletes is diminishing compared to last year's title. Lionel Messi, who plays for FC Barcelona and is the captain of the Argentina national team, is running in stride on the cover of this Xbox 360, PS3, PC, Wii U, Wii, PSP, Vita and 3DS game. I'd imagine he's strike the same pose if there was an iPhone box art too (we haven't seen the home screen icon just yet).



"FIFA Soccer 13 will launch with the world's best and most exciting player, Lionel Messi, on the cover all over the world, which is a perfect way to herald the launch of the best soccer game we have ever developed," said Matt Bilbey, Senior Vice President and GM of Football, EA Sports. "FIFA Soccer 13 will deliver a game as unpredictable as Messi, and an experience that is completely connected to the heartbeat of the season."

Lionel Messi's solo presence on FIFA 13 is down two cover athletes from last year's North American version of FIFA 12. A season ago, we were greeted with the portraits of LA Galaxy forward Landon Donovan, New York Red Bulls center back Rafael Márquez and the great Manchester United striker, Wayne Rooney.

We can't wait to start kicking around the checkered football with FIFA 13 when its September 25 release date rolls around for our preferred consoles Xbox 360 and PS3., and a future date for Wii U (whenever it launches). You can check out

our FIFA 13 Wii U coverage

for more details on that version of the game.